"Rude" Heckling, Perhaps, But LGBT Job Discrimination Is In The News
After a woman heckled Michelle Obama about LGBT job discrimination Tuesday, advocates hope to keep pushing the issue. Here's what you need to know about the overlapping efforts that aim to bar anti-LGBT job bias.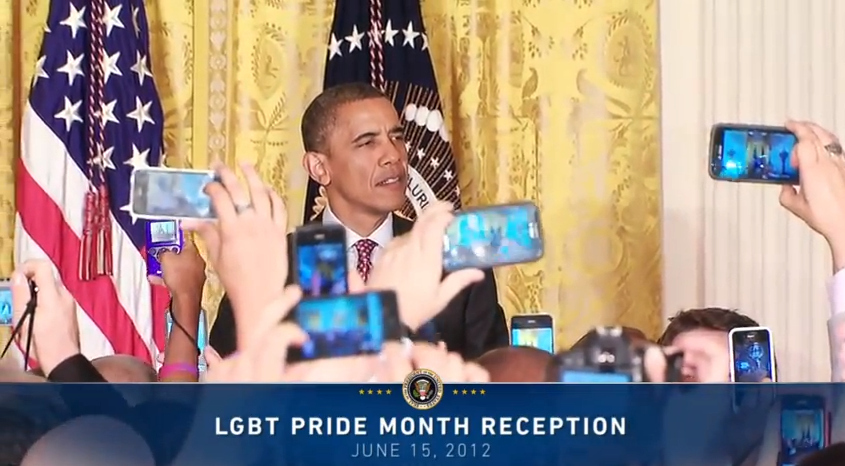 WASHINGTON — This week saw pressure on President Obama from LGBT activists — hardly a new development — but there were several differences that made this incident stand out: most notably, the immediate target of the action was First Lady Michelle Obama.
Although the action has been criticized by many — including a variety of LGBT writers — it has also led to more discussion of LGBT employment protections in the mainstream media than the issue has received since Obama declined in April 2012 to issue the executive order that Ellen Sturtz was yelling about on Tuesday night.
Even among some of the people who have been most forceful in pressing the administration for action on the executive order — which would ban federal contractors from anti-LGBT discrimination in employment — the reaction was mixed to Tuesday's heckling coordinated by the activist group, Get Equal.
"I would never treat our first lady that way," Tico Almeida, who formed Freedom to Work to push LGBT workplace issues, told BuzzFeed.
Jonathan Lewis, who has provided significant funding to Get Equal, countered, "We won't ever all agree on one pathway to our equality, but what makes this country great is that we are free to stand up and fight for and demand our rights. And while I understand some will be angry at the heckling of the First Lady at a DNC political fundraiser, the real outrage is silence in the face of injustice and inaction on promises of equality."
Almeida was ready to move on, saying, "I think it's now time to shift the national debate from heckling to how we move forward and protect LGBT employees from getting fired just because of who they are or who they love."
One of the key factors limiting the discussion of and interest in that national debate, however, is that most Americans don't know where the law stands regarding employment discrimination faced by LGBT people. And they're not alone. Many in government and the media don't either.
To be completely accurate, no one does, not precisely.
Last year, the Equal Employment Opportunity Commission, in a decision to which no commissioner objected, decided that Mia Macy was able to challenge her failure to be hired by the Department of Alcohol, Tobacco, Firearms and Explosives (ATF) as discrimination on the basis of gender identity because she is transgender. The commission said that someone who discriminates against an employee or applicant on the basis of the person's gender identity is violating the prohibition on sex discrimination contained in Title VII of the Civil Rights Act of 1964
For decades before that, LGBT activists have been attempting to pass the Employment Non-Discrimination Act — or earlier iterations of nondiscrimination measures — to protect gay, lesbian and bisexual workers at first, and then transgender workers as well, from job discrimination. An early version of the bill failed a Senate vote in 1996 by one vote, and the bill was passed by the House — without the transgender protections — in 2007.
More recently — and because of the failure to move the legislation forward even under a Democratic-led Congress — advocates began pressing for an expansion of Executive Order 11246, an order issued by President Lyndon Johnson that prohibits all federal contractors doing more than $10,000 in government contract work in a year from discriminating on the basis of race, color, religion, sex, or national origin. Advocates have sought to add sexual orientation — to protect gay, lesbian and bisexual workers — and gender identity — to protect transgender workers — to the prohibition.
The move is similar to President Bill Clinton's decision in May 1998 to add ''sexual orientation'' to Executive Order 11478, which prohibits discrimination in the federal workforce. Additionally, however, an expansion of Executive Order 11246 would enable the Department of Labor's Office of Federal Contract Compliance Programs (OFCCP) to enforce the nondiscrimination policy, which includes investigating federal contractors suspecting of violating the order and potentially barring them from federal contracts.
White House officials, however, have said repeatedly since April 2012 that Obama prefers the legislative route — despite the Republican House leadership's opposition in the past and a 2008 questionnaire in which candidate Obama said he would support an LGBT nondiscrimination policy for federal contractors. Moreover, officials have never responded to questions about the unique elements of the executive order that would not be accomplished through passage of ENDA. On Thursday, White House spokesman Shin Inouye would only comment, "As we've said before, the White House has no updates regarding a hypothetical Executive Order on LGBT non-discrimination for federal contractors."
ENDA, meanwhile, could get its first movement in the Senate in years in a few weeks, as Sen. Tom Harkin has said his committee likely will take up ENDA after the Fourth of July recess — a move that could complicate efforts to push Obama to move on the executive order.
In the midst of all of this, however, Chai Feldblum — a key player in the drafting of ENDA and the Americans With Disabilities Act — was nominated to the EEOC by Obama in his first term and recently renominated for a second term on the commission. The first out lesbian on the EEOC, she has been one of the most vocal proponents of the Macy decision — and has suggested a broad scope for the impact of the decision and future potential related decisions.
Traditionally, courts have given deference to the EEOC's interpretations of the laws to which it is assigned to enforce, including Title VII, though they are not bound to do so. This means that although the Macy case involved the "federal sector," courts deferring to the EEOC's interpretation would — and even before Macy had started to — interpret Title VII in a similar manner if and when faced with a private employer accused of discriminating against an employee or applicant because they are transgender.
Feldblum has even gone further, suggesting that a similar ruling could result from a challenge based on a claim of discrimination against a gay, lesbian or bisexual employee. Because only the Supreme Court could definitively clarify whether LGBT workers are covered under Title VII, though, most LGBT advocates — including the Human Rights Campaign and Center for American Progress — have continued to press for the explicit protections that would be provided by ENDA and, and on a more limited basis but with the additional OFCCP-related protections, the proposed executive order expansion.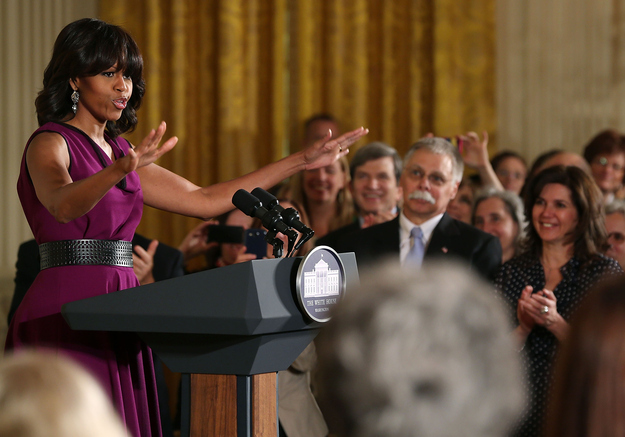 All of which leads to First Lady Michelle Obama and Tuesday's event at the home of Karen Dixon and Nan Schaffer. The couple hosted an event for the president in February of last year — before he'd begun supporting marriage equality and during the Republican primaries. With Obama re-elected, this year's event benefited the Democratic National Committee.
Ellen Sturtz, in coordination with Get Equal, paid $500 for a ticket to the reception with the first lady — which did not include a question-and-answer period. During the first lady's prepared remarks, Sturtz interrupted the first lady to question the president's continued decision not to sign the executive order.
Notably, however, a smaller group, which did not include Sturtz, already had gotten more intimate time with the first lady that evening. A $10,000-per-person roundtable was held before the first lady addressed the general reception, and no reporter was present for the discussion, which was with about 20 people. No report has thus far addressed whether the issue of the executive order was raised during the roundtable discussion.
BuzzFeed left email and phone messages seeking comment Friday from Dixon about the content of the roundtable discussion, but she did not respond. An email to the first lady's office Friday evening seeking information about whether the executive order proposal was raised during the roundtable discussion was not returned.
Almeida, who called the incident "rude" in a TV appearance earlier this week, nonetheless did implicitly credit the action with moving forward discussion, saying, "It's long past time for President Obama to keep his written campaign promise of signing this executive order, and I am glad national media is now beginning to cover this important policy issue again."
Lewis, who has said he will stop donating to the Democratic National Committee over the executive order issue and the failure to include same-sex couples in immigration reform, countered, "This was only one piece of a multi-prong approach by many different players fed up with trying to getting the President to keep his promise to sign the executive order, and I support them all."
Get Equal's co-director, Heather Cronk, told BuzzFeed the group will continue with its in-your-face brand of activism as soon as next week. Notably, the White House's LGBT Pride Month reception is scheduled for Thursday.