Marco Rubio Says Homosexuality Is A Sin — But Not In A Judgmental Way
The Florida senator says his faith informs him as a policymaker, but "not as a way to pass judgment on people." Can the Republican Party square the circle?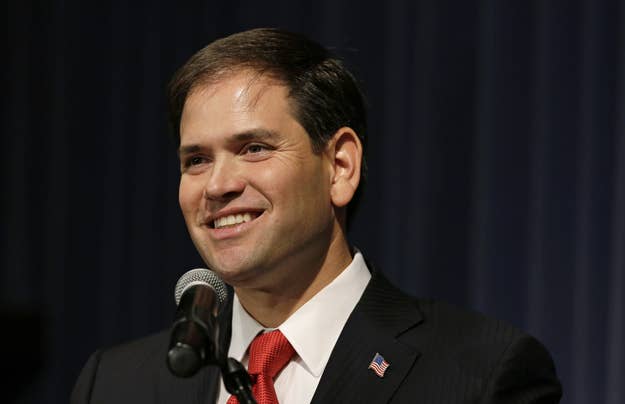 WASHINGTON — Sen. Marco Rubio said his faith teaches him that homosexuality is a sin, in response to a question Wednesday about the issue, but added he does not use his faith "as a way to pass judgment on people."
Politico's Mike Allen asked Rubio at a breakfast event Wednesday morning if he thought homosexuality is a sin, drawing the unusual comment, a mark of the Republican Party's efforts to keep faith with the religious conservatives without appearing — as the party does to many younger voters — simply intolerant.
"I can tell you what faith teaches, and faith teaches that it is. And that's what the Bible teaches ... but it also teaches that there are a bunch of other sins that are no less. It teaches that lying is a sin, it teaches that disrespecting your parents is a sin, it teaches that stealing is a sin, it teaches that coveting your neighbor and what your neighbor has is a sin," Rubio said. "So, there isn't a person in this room that isn't guilty of sin. I don't go around pointing fingers in that regard."
On a personal level, he said, "I'm responsible for my salvation, and I'm responsible for my family's and for inculcating in my family what our faith teaches. And then they'll become adults and decide how they want to apply that in life."
Regarding his choices as a lawmaker or, presumably, candidate for other office, Rubio said, "As a policymaker, I can just tell you that I'm informed by my faith and my faith informs me in who I am as a person. But not as a way to pass judgment on people."
Rubio, who gave a speech at this year's Republican National Convention on the same night Mitt Romney accepted his party's nomination, often is considered a possible contender for the 2016 Republican presidential nomination — giving his remarks further importance than they might otherwise have.
Rubio has a mixed voting record on LGBT issues in his short time in Congress, having received a 47% ranking from the Human Rights Campaign, the nation's largest LGBT rights group, in this Congress. Beyond his votes, he has opposed same-sex couples' marriage rights and recently recorded a call in support of the National Organization for Marriage's election efforts in 2012.
Of his Wednesday comments, though, HRC Vice President for Communications Fred Sainz said, "It's a shame that Senator Rubio falls outside the mainstream of the majority of people of faith who view supporting equality for LGBT people as an extension of their faith. If he's serious about his faith — and the application of the Golden Rule — he should sign up as a co-sponsor of equality-related federal legislation."
Sainz added, "Not all that long ago, many people used similar rationalizations to justify their opposition to any form of civil rights. It was wrong then, and it's wrong now. My bet is that Senator Rubio has LGBT friends and family members, not to mention constituents."
In the 112th Congress, Rubio's primary vote supported by HRC was a vote against an amendment that would have stripped provisions from the Violence Against Women Reauthorization Act aimed at protecting LGBT people, as well as provisions protecting immigrants and Native Americans.
On other measures scored by HRC, Rubio also did not vote on the nomination of now-Judge J. Paul Oetken. Thirteen senators, all Republicans, voted against the nomination. Although 28 Republicans voted yes on the nomination, six — including Rubio — did not vote on the nomination. Rubio did, however, vote against the nomination of another out nominee, now-Judge Alison Nathan. No Republicans supported her nomination, so, at least within the party, his vote was not out of the ordinary. The remainder of HRC's scoring was based on co-sponsorship of legislation, such as the Employment Non-Discrimination Act, and Rubio did not co-sponsor any of the legislation.