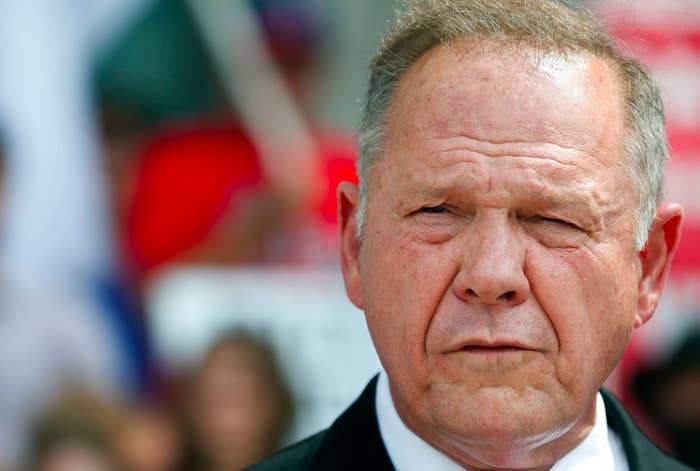 WASHINGTON — The Alabama Supreme Court on Wednesday unanimously upheld a suspension of Roy Moore — the court's elected chief justice — that will last for the remainder of his time in office.
The decision means the judge who lambasted the US Supreme Court's ruling on same-sex couples' marriage rights will not serve on the state's high court again. He is suspended until his term expires in January 2019 and is ineligible to run again due to his age.
The high court — with seven specially appointed justices sitting in judgment because all of the elected justices recused themselves — upheld a state judicial ethics board's ruling that Moore violated judicial ethics canons on six counts, concluding, "[W]e affirm the judgment of the Court of the Judiciary in all respects."
Moore found himself in the latest controversy due to an order he issued to state probate judges in January 2016 that ignored federal court rulings regarding same-sex couples' marriage rights.
The combative judge previously was removed from office by the same judicial ethics board for refusing to remove a copy of the Ten Commandments from the courtroom.
The court found that the Judicial Inquiry Commission, which investigated and prosecuted the complaints, and Court of the Judiciary, which heard the complaints and meted out the punishment, acted within their jurisdiction.

To the broader point about whether the commission proved its case against Moore, the state's high court was blunt: "The record before this Court supports the findings of the Court of the Judiciary; therefore, we cannot conclude that its judgment is plainly and palpably wrong, manifestly unjust, or without supporting evidence."
The court rejected all other arguments raised by Moore — including those questioning the authority of the Court of the Judiciary to issue the sanction of suspension.
Additionally, the court ruled on one aspect of Moore's challenge that is no longer applicable to him — whether it violated his due process rights to be be taken off the bench, as required by state law, after the Judicial Inquiry Commission filed its complaint.
The court, which ruled on the matter due to the fact that the commission is sure to file other complaints against other sitting judges in the future, held that the law does not violate due process rights of judges, in part at least, because they are paid during the time their complaint is resolved.