Rob Portman Says Immigration Law "Should Follow" State Law For Gay Couples
Ohio's Republican senator also expressed support for "the concept" of workplace protections for LGBT Americans, although he raised concerns with the current legislation.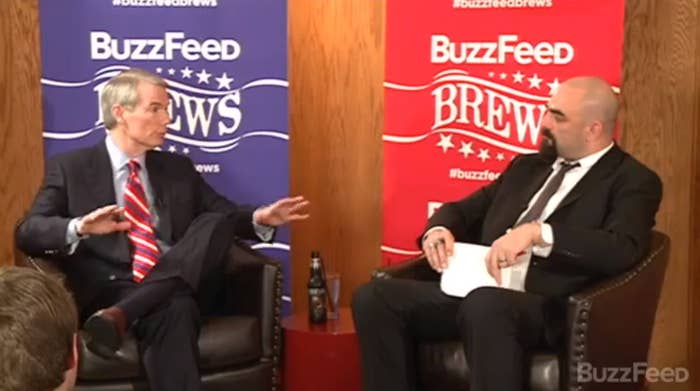 WASHINGTON — Ohio Senator Rob Portman said "immigration law should follow" state law on Monday night, when asked whether protections for same-sex couples should be included in immigration reform legislation making its way through the Senate.
Portman — who announced that he supported same-sex couples' marriage rights and opposed the Defense of Marriage Act earlier this year after learning that his son, Will, is gay — talked about his views on a variety of LGBT issues at BuzzFeed Brews Monday.
Noting that many areas of federal law address marriage-based benefits, Portman counseled against the creation of a specific category for same-sex couples in immigration law — although he stopped short of saying he would oppose such a measure.
Reiterating his opposition to the Defense of Marriage Act, Portman said his preferred way of moving forward on recognizing same-sex couples' rights in the country is through state-based decisions on allowing gay and lesbian couples to marry. Without DOMA's prohibition on the federal government recognizing same-sex couples' marriages, same-sex couples who are legally married are expected to be eligible to seek spousal-based green cards.
The Senate Judiciary Committee is expected to start addressing amendments to the "Gang of Eight" immigration reform bill this week, one of which is likely to be a measure that would create a new category, "permanent partners," to allow same-sex couples to sponsor their foreign partner for purposes of seeking a green card.
Portman also expressed general support for LGBT employment protections, saying, "I totally support the concept" of the Employment Non-Discrimination Act, which would bar most employers from discriminating on the basis of sexual orientation or gender identity.
"There oughta be a law in place," he said, expressing two potential concerns with ENDA: "litigation that could result" and "religious freedom."
Saying, "I'm also a strong believer in religious freedom," Portman noted, "ENDA traditionally has addressed that issue." The current version of ENDA, introduced in April, includes a religious exemption.
Portman said that because the bill creates a private right of action, or civil lawsuit, that could be filed by employees who faced anti-LGBT discrimination, he wanted to be sure the bill would not create a flood of lawsuits if enacted.
Asked about criticism he received when announcing his changed view on marriage equality by those who said it shouldn't have taken learning about his son for him to change on the issue, he initially replied, "Whatever."
Portman then said he hadn't thought about the issue in depth prior to learning about his son, although he said that perhaps he should have done so.
But, at its base, he said, "That's how most of us change our mind on this issue."