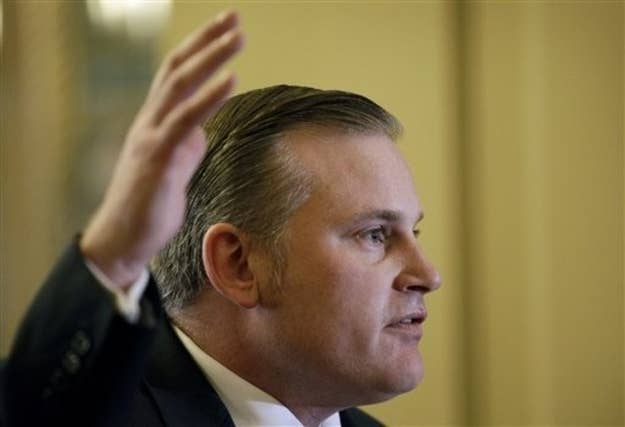 Although Mitt Romney's response to Democrats' move to include marriage equality in their platform may have been muted, social conservatives went on full attack.
The National Organization for Marriage's executive director, Brian Brown, said Democrats "hope to kill off the institution of marriage at their convention in Charlotte." He called the move ironic, pointing to the May vote in North Carolina approving a constitutional amendment barring same-sex couples from marrying.
Two of the social conservatives known for sparring with pro-gay advocates on Twitter — the American Family Association's Bryan Fischer and Americans For Truth About Homosexuality's Peter LaBarbera — focused on "perversion" and "sodomy" in their 140-character critiques:
Peter Sprigg, from the Family Research Council, went further in a statement, saying that the news "will not help the party politically in November." He noted, "Thirty-two out of 32 states where voters have weighed in on the issue have upheld marriage as the union of one man and one woman. If President Obama were to lose those 32 states, he would face an electoral debacle."
He also looked to Romney for leadership on the issue, saying, "Gov. Romney, who has signed a pledge to support a marriage protection amendment to the U.S. Constitution, should not shy away from making a clear distinction with President Obama and the Democrats on this issue."
He added of Romney's party: "We expect that the Republican Party will maintain its strong support for one-man-one-woman marriage in their platform. The current Republican platform reflects the voters in 32 states who have voted to preserve marriage."
A Romney spokesman told BuzzFeed earlier in response to the Democrats' move that Romney "has been consistent in his support for traditional marriage." An FRC spokesman did not respond this evening to a question about whether the group viewed that statement as sufficient.
NOM's Brown, whose organization backed the pledge referred to in Sprigg's response, likewise discussed votes in states on marriage, saying in a statement, "The DNC is leading Democrats off the cliff. Voters in virtually every one of the presidential swing states have voted for marriage as the union of one man and one woman.
"If the DNC gets its way the marriage amendments adopted in Ohio, Virginia, Florida, Colorado, Nevada and elsewhere will be overturned," he continued. "That makes the definition of marriage a key issue in these swing states, and we fully intend to make sure that people realize that the outcome of the election is a proxy for the survival of traditional marriage in our nation."
NOM did not, however, mention Mitt Romney by name in their statement.