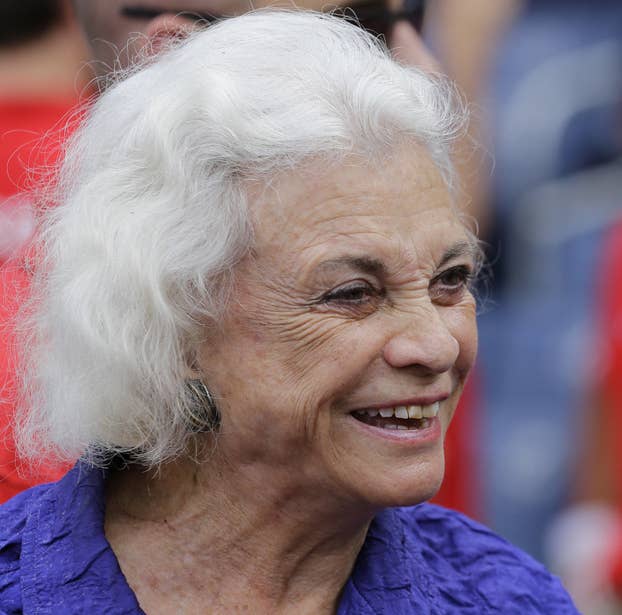 WASHINGTON — On Tuesday afternoon, retired Supreme Court Justice Sandra Day O'Connor officiated the wedding of Jeff Trammell and Stuart Serkin. She performed the ceremony in the lawyer's lounge at the Supreme Court building, joining Justice Ruth Bader Ginsburg as the only past or current justices to have performed a wedding for a same-sex couple.
"It was wonderful," Trammell told BuzzFeed following the ceremony. "It was everything you'd expect it to be: elegant, charming, very moving. She really was wonderful, in private just like she is in public."
O'Connor, who retired from the Supreme Court in 2006, was appointed to the bench by President Ronald Reagan and had, prior to serving on the high court, been a Republican state Senator in Arizona — including time as the majority leader — and state appellate judge there. Tuesday's ceremony makes the justices performing weddings for same-sex couples an ideologically diverse group, as Ginsburg, having served as a lawyer for the American Civil Liberties Union and appointed to the Supreme Court by President Bill Clinton, comes from a more liberal background.
For Trammell, though, the decision was not about partisanship — he's a well-known Democratic activist — but about friendship.
"For the last two years, I have been rector of William and Mary, which is my alma mater, and that's chair of the board. And she was chancellor, which is a 320-year-old position that George Washington once held, and a lot of people like that. So, I worked closely with her. I knew her well," he said. "And so it was logical, when we decided to get married, that I would ask her to do it. And she was most gracious, really just a remarkable individual."
Asked why he sought to hold the ceremony at the court, Trammell laughed, "That's where she was."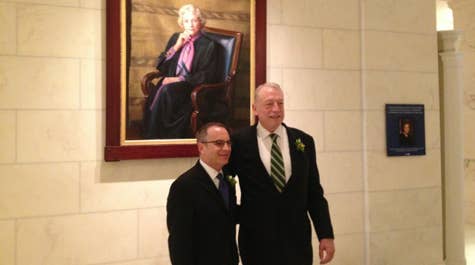 "It was a regular, very traditional ceremony," something Trammell said was "a testament to all those folks up there who worked very hard to make marriage sort of a normal, routine matter for the community, in many states in this country" — a reference to this June's Supreme Court decision striking down the Defense of Marriage Act's ban on recognizing same-sex couples' marriages.
In Washington, D.C., same-sex couples have been able to marry since early 2010, following passage of an ordinance by the City Council that was signed into law by then-Mayor Adrian Fenty in Dec. 2009. The June ruling in United States v. Windsor gives those couples the same benefits, from immigration to taxes and beyond, that are available to opposite-sex married couples.
Trammell, who met his husband more than 35 years ago, acknowledged that marriage equality has become somewhat of a non-issue in the nation's capital city, saying, "Quite frankly, when I was elected to the first openly gay rector … I felt more of a sense of 'what will come of this?' than I did today, so I think we're making a lot of progress in this regard."
As for having a retired justice who had been a Reagan appointee to the court conducting his wedding, Trammell said, "She was just delightful. She's always sort of had a streak of individual rights, I think maybe because of that Western background."
Although the longtime couple is not planning a formal honeymoon, Trammell promised celebration, saying, "We'll get away. We're going to Florida to celebrate — we're both from Florida so we're going down there … for the holidays," he said, adding that they both still have family down there, though they live in D.C.
"I feel a great debt of appreciation for the whole community and the work that so many people have done to make this possible," Trammell said of the day. Reflecting on work that he noted still remains, he paused, then said, "Here we're fully legal. Here, but not in our home state of Florida. Our roots."