Republican Texas Criminal Appeals Judge Calls For End To Death Penalty
"I conclude that it is wishful thinking to believe that this State will never execute an innocent person for capital murder." After more than 15 years on Texas' Court of Criminal Appeals, Judge Tom Price calls for abolition.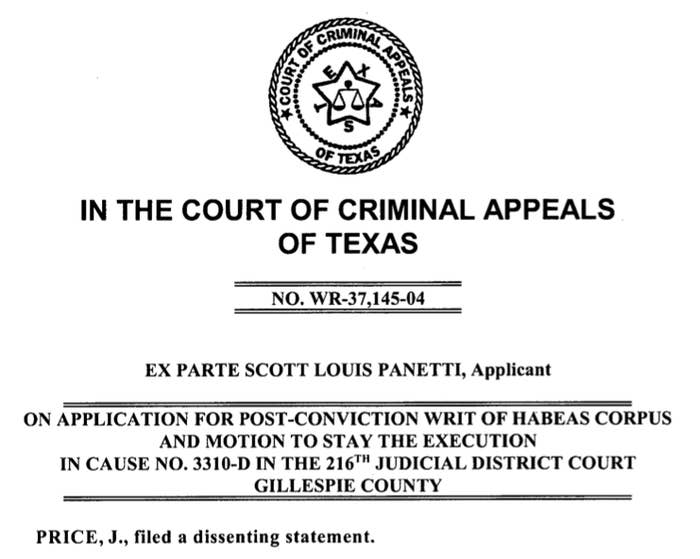 WASHINGTON — One week before Scott Panetti is due to be executed by the state of Texas, a retiring, longtime Republican judge on the Texas Court of Criminal Appeals has announced that he "now believe[s]" the death penalty "should be abolished."
"Having spent the last forty years as a judge for the State of Texas, of which the last eighteen years have been as a judge on this Court, I have given a substantial amount of consideration to the propriety of the death penalty as a form of punishment for those who commit capital murder, and I now believe that it should be abolished," Judge Tom Price, first elected to the state's highest court for criminal matters in 1996, wrote Wednesday.
Price, who did not seek re-election this year, chose to announce his position in a dissenting opinion to the court's rejection of Panetti's request that the state stop his execution because, Panetti argues, his "severe mental illness renders him categorically ineligible for the death penalty" under the U.S. Constitution.
Price's statement was reminiscent of other longtime judges to have sided with abolition of the death penalty over time, including, most notably, Justice Harry Blackmun's famous 1994 statement, "From this day forward, I no longer shall tinker with the machinery of death." Blackmun had made his statement in the case of Bruce Callins, who eventually was executed by the state of Texas in 1997.
The state, which has held more than 400 executions since Price took the bench on the Court of Criminal Appeals, leads the nation in executions since the death penalty was reinstated in 1976. Panetti would be the state's 11th execution this year.
Laying out the U.S. Supreme Court's prohibition on execution of an intellectually disabled or insane person, Price compares those prohibitions with the continued possibility of executing a severely mentally ill person, concluding, "I can imagine no rational reason for carving a line between the prohibition on the execution of a mentally retarded person or an insane person while permitting the execution of a severely mentally ill person."
Then, he goes further, calling even a blanket prohibition on execution of the severely mentally ill "a bandaid solution for the real problem."
"Evolving societal values indicate that the death penalty should be abolished in its entirety," Price states, noting that "because the criminal justice system is run by humans, it is naturally subject to human error" and stating, "I conclude that it is wishful thinking to believe that this State will never execute an innocent person for capital murder."
In addition to arguing that life without parole "adequately protects society at large in the same way as the death penalty punishment option," he adds that he has seen "too many" filings "by ineffective attorneys" in death penalty appeals. "I conclude that the increased danger that a wrongfully convicted person will be executed for a capital murder that he did not commit is an irrational risk that should not be tolerated by our criminal justice system," Price concluded.
His opinion on Wednesday was in dissent, meaning that, as of now, Panetti's execution is still scheduled to go forward on Dec. 3.
Here's how Judge Price began:

He then laid out his experience:

And then laid out the Supreme Court's experience: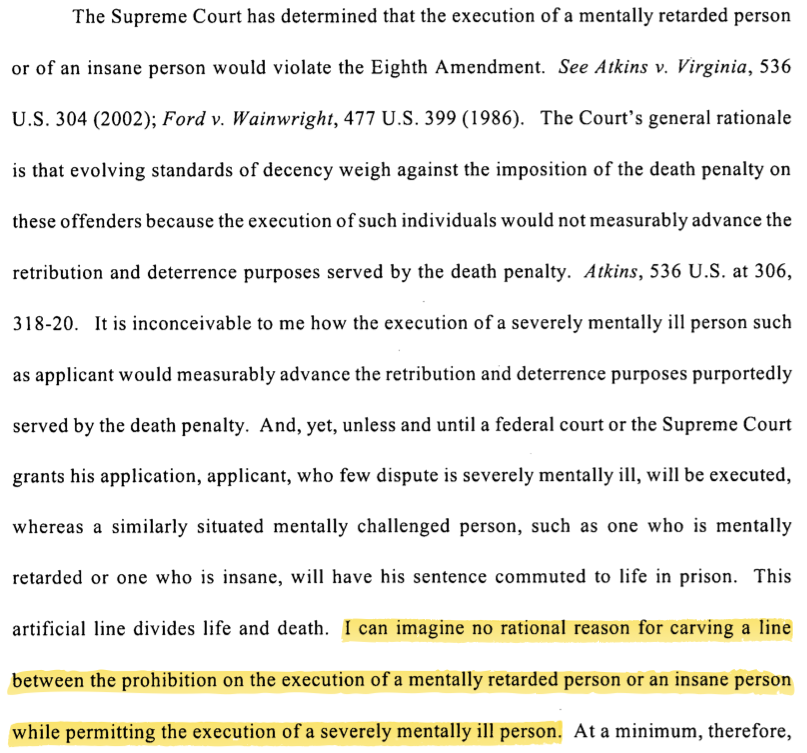 And then laid out Texas' experience: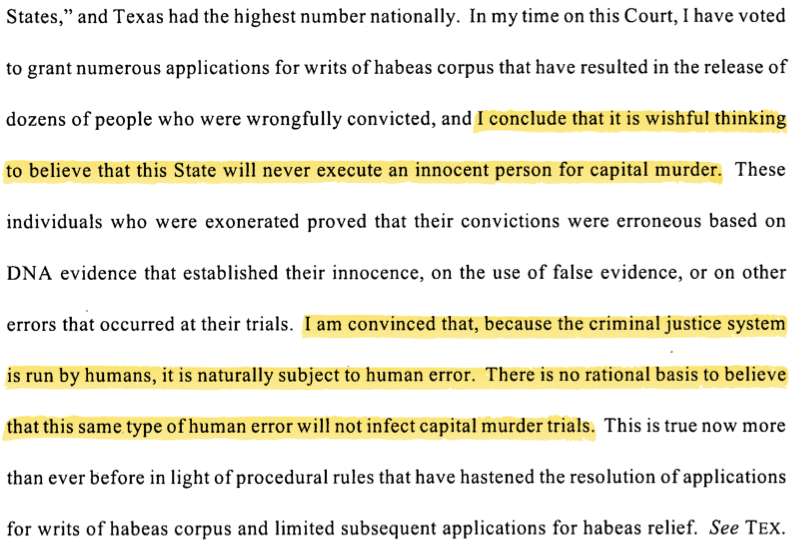 Before reaching, and explaining, his conclusion: