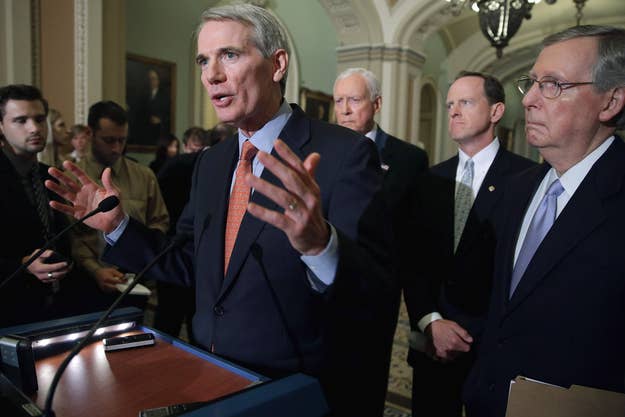 WASHINGTON — Most supporters of a bill aimed at banning LGBT discrimination in employment appeared uninterested in fighting an effort backed by several Senate Republicans to ensure that religious-affiliated entities exempted from the bill are not penalized by governments for utilizing the exemption.
In the day after the Senate invoked cloture on the legislation, the Employment Non-Discrimination Act, focus turned to the religious exemption in the bill — and efforts to amend it when the full Senate considers the bill as soon as Wednesday.
A Senate aide said the Republicans' amendment "ensures that the government cannot penalize a religious employer because it qualifies as exempt from the non-discrimination requirements of ENDA."
The amendment, which also includes a provision making explicit that the purpose of the ENDA includes respect for religious liberty, is being authored by Sen. Rob Portman and is cosponsored by Sens. Kelly Ayotte, Dean Heller, Orrin Hatch, and John McCain. On Monday evening, the Senate's lead sponsor of the bill, Sen. Jeff Merkley, said he would be backing the amendment.
Officials with the Human Rights Campaign, American Civil Liberties Union and Freedom to Work all said they believed it was an unnecessary provision, but none said they were actively opposing it — and HRC made its lack of opposition explicit.
"HRC believes this language is unnecessary, but does not oppose it. We believe this merely restates the status quo for religious employers," HRC vice president for communications Fred Sainz told BuzzFeed.
The ACLU, which has been one of the key organizations on the left opposed to the bill's religious exemption, was less happy with the provision.
Dena Sher, legislative counsel for the ACLU, told BuzzFeed that the amendment is unnecessary because the group believes the exemption already so broad. Additionally, though, she added that the Republicans' amendment would be "unprecedented in federal and state laws that protect against employment discrimination."
Tico Almeida, the president of Freedom to Work, echoed the other advocates, simply telling BuzzFeed that the provision is "unnecessary."
The ACLU and some other advocates have criticized the bill since its introduction for its base religious exemption, saying they had "very grave concerns" about the impact the exemption would have if implemented into law.
Earlier this year, Lambda Legal attorney Greg Nevins, who has litigated workplace discrimination cases on behalf of LGBT people, explained the religious exemption, saying, "In Title VII [of the Civil Rights Act of 1964], there's an exemption for certain religious-affiliated entities that says that they can basically engage in religious discrimination but they cannot engage in race, color, sex, or national origin discrimination."
ENDA applies that exemption for religious discrimination to those "religious-affiliated entities" to sexual orientation and gender identity discrimination, stating that "a corporation, association, educational institution or institution of learning, or society that is exempt from the religious discrimination provisions" of Title VII are exempt from ENDA.
Despite that expansion, opponents of the underlying ENDA legislation have sought to portray the bill as insufficiently protective of religious liberties — a tactic that appeared to cause moderate Republicans to focus on seeking additional religious protections in exchange for the needed Republican support to move the bill forward on Monday night.
A copy of the Republicans' amendment obtained by BuzzFeed shows that the following language would be added regarding anti-retaliation:
"A religious employer's exemption under this Act shall not result in any action by a Federal government agency, or any state or local government agency that receives Federal funding or financial assistance, to penalize or withhold licenses, permits, certifications, accreditation, contracts, grants, guarantees, tax-exempt status, or any benefits or exemptions from that employer, or to prohibit the employer's participation in programs or activities sponsored by that Federal, state, or local government agency. Nothing in this subsection shall be construed to invalidate any other federal, state, or local law or regulation that otherwise applies to an employer exempt under this section."
The Republicans' amendment also would add a line to the "purposes" section of the legislation stating that ENDA's aim is "to reinforce the nation's commitment to fairness and equal opportunity in the workplace consistent with the fundamental right of religious freedom."
In addition to that amendment, however, another amendment to be offered will come from Sen. Pat Toomey — and advocates are united in opposition to Toomey's effort to expand the religious exemption language.
A copy of a draft version of that amendment obtained by BuzzFeed presents a second section to the amendment language, expanding not the impact of the exemption — which is the impact of the Portman amendment — but the actual scope of the amendment. The draft expanded language states:
"(b) In addition, (i) an employer shall qualify for this exemption if it is (in whole or in part) managed by a particular religious corporation, association, or society; if it is officially affiliated with a particular religion or religious corporation, association, or society; or if the institution's curriculum is directed toward the propagation of a particular religion; and (ii) This exemption shall apply regardless of whether the employer, or the employment position at issue, engages in secular activities as well as religious activities."
The ACLU's Sher said her organization "strongly oppose[s]" the Toomey amendment, saying it is "wholly unnecessary, it seeks to broaden an already broad religious exemption and could create a dangerous precedent that could allow for-profit corporations to be eligible" for the exemption.
Likewise with the other groups. "HRC is opposed to the amendment. We believe it undermines core American values, could cause harm and increase litigation," Sainz wrote.
Almeida expanded on that, writing, "Freedom to Work opposes any amendments that would expand ENDA's religious exemption to entities that do not qualify for Title VII's religious exemption. We're especially opposed to changes like Senator Toomey's amendment that could allow for-profit corporations to escape accountability by citing religion to unfairly terminate qualified gay and transgender employees."
ENDA's religious exemption: