Prop 8 Team, Ted Olson And David Boies, To Fight Virginia Marriage Ban
The American Foundation for Equal Rights announces the organization — and its legal odd couple — will be joining an ongoing federal challenge to the 2006 Virginia amendment banning same-sex couples from marrying.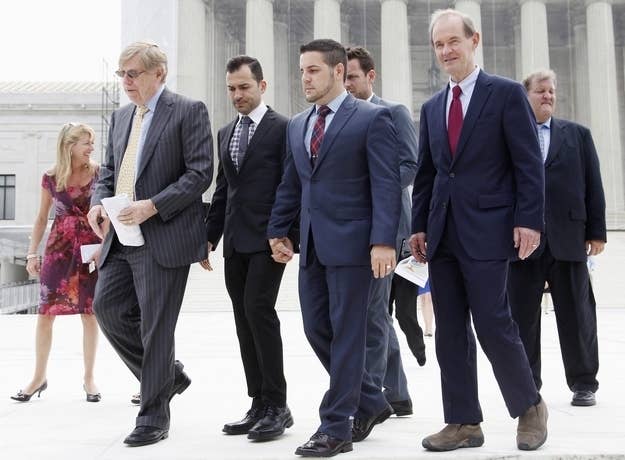 WASHINGTON — Ted Olson and David Boies aren't done fighting in court for marriage equality. On Monday morning, they will announce they are joining a lawsuit filed in July seeking to overturn Virginia's ban on marriage between same-sex couples.
The American Foundation for Equal Rights (AFER) announced the news overnight, following a report from The Washington Post. AFER had backed the legal odd couple's lawsuit against California's Proposition 8 in 2009 when no established LGBT legal groups would take the issue to federal court.
On June 26, the U.S. Supreme Court dismissed an appeal by the backers of Proposition 8, with Chief Justice John Roberts writing for the court that the people who brought the initiative in 2008 did not have the legal authority, or standing, to bring the appeal. Since California's elected officials, the defendants in the case, refused to defend the amendment, the 2010 trial-court ruling striking down the amendment stood and same-sex couples' marriages resumed within days.
Days after that, on July 1, Tony London and Timothy Bostic, a couple who live in Norfolk, Virginia, applied for a marriage license from the clerk for the Circuit Court for the City of Norfolk. They were denied and, on July 18, filed suit in federal court, seeking to have Virginia's ban on their ability to marry struck down as unconstitutional.
The constitutional ban was passed overwhelmingly, 57% to 43%, by voters in November 2006. It reads:
"That only a union between one man and one woman may be a marriage valid in or recognized by this Commonwealth and its political subdivisions. This Commonwealth and its political subdivisions shall not create or recognize a legal status for relationships of unmarried individuals that intends to approximate the design, qualities, significance, or effects of marriage. Nor shall this Commonwealth or its political subdivisions create or recognize another union, partnership, or other legal status to which is assigned the rights, benefits, obligations, qualities, or effects of marriage."
In the amended complaint in the case filed on Sept. 3, London and Bostic — along with Carol Schall and Mary Townley, who married in California in 2008 and want Virginia to recognize their marriage — sought to have the amendment and related laws struck down as unconstitutionally violating the fundamental right to marry and the equal protection of the laws.
Both Janet Rainey, the state registrar of vital records, and George Schaefer, the circuit court clerk of Norfolk, already have filed their answers in the case, with Rainey arguing that the amendment should stand because "there is no constitutional right to same-sex marriage."
And now, Olson and Boies — who had promised to find another case should the Proposition 8 case not lead to a nationwide ruling that allowed all same-sex couples to marry — have picked their second case.
In announcing Monday's 10 a.m. news conference, AFER stated, "The Bostic case once again joins the bipartisan legal team of Theodore B. Olson and David Boies, who successfully defeated California's Proposition 8 in Federal Court, to continue the fight for marriage equality."
This time, unlike in 2009, AFER is not alone. The ACLU and Lambda Legal have several pending challenges to the constitutionality of marriage bans in various courts across the country, including in Virginia. Additionally, several unaffiliated lawyers — as initially was the situation in the lawsuit AFER is joining Monday — have filed lawsuits in state and federal court.
As such, Olson and Boies know the clock is ticking and that some case is going to present the issue again to the Supreme Court in short order. With Monday's announcement, the duo aim to place their marker on the map with Bostic and London's case.
In talking about the case, Olson — who has been very comfortable with speaking about what he views as the broad importance and historic implications of this cause he has taken on as his own — is likely to bring home what joining a case challenging Virginia's ban on same-sex couples marrying means for the history books. Olson and AFER often pointed to Loving v. Virginia, the 1967 Supreme Court case striking down Virginia's law banning interracial marriage, as a model for their action in California.
Now, Olson, Boies and AFER are going directly to Virginia to fight their next case.
Read the amended complaint:
Read the state registrar's answer: