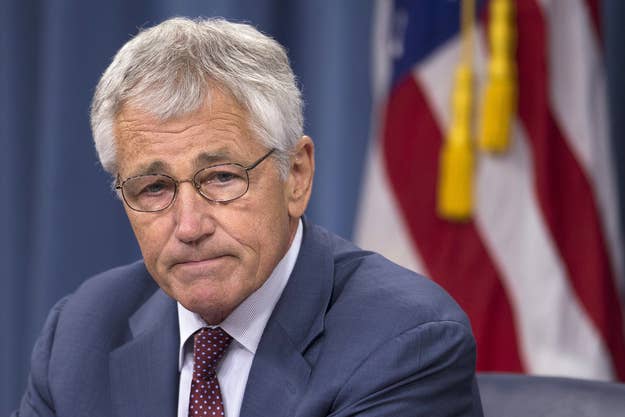 WASHINGTON — Defense Secretary Chuck Hagel announced Wednesday that same-sex married couples will receive equal treatment by the Pentagon — a move that comes a little less than two years after gay, lesbian, and bisexual troops began to be able to serve openly in the military.
The change, announced in a memorandum to the secretaries of the military branches dated Tuesday, is the result of the Supreme Court's ruling in June striking down the federal ban on recognizing gay couples' marriages.
"It is now the Department's policy to treat all married military personnel equally," Hagel wrote in the memorandum. Specifically, he added, "The Department will continue to recognize all marriages that are valid in the place of celebration," which means that it is not necessary that the state or country where a service member is stationed recognize same-sex couples' marriages in order for the Pentagon to recognize the marriage.
Because much of the country does not allow same-sex couples to marry, however, Hagel wrote, the Pentagon has decided to allow service members in same-sex relationships living in such places "non-chargeable leave for the purpose of traveling to a jurisdiction where such a marriage may occur."
According to a news release accompanying the memorandum, the Defense Department will make spousal and family benefits available no later than Sept. 3, 2013, regardless of sexual orientation, as long as service member-sponsors provide a valid marriage certificate.
"Entitlements are retroactive to the date of the Supreme Court's decision," Acting Undersecretary of Defense for Personnel and Readiness Jessica Wright noted in a follow-up memorandum providing "further guidance" on the issue. She added, however, "Any claims to entitlements before that date will not be granted."
Defense Secretary Hagel's memorandum: