Pentagon Inaction On Same-Sex Benefits Angers Activists
"Every day that goes by is another day of unnecessary sacrifice for our families," frustrated LGBT advocate says.
WASHINGTON — The nation's largest LGBT rights group Friday lashed out at the Pentagon over continued delays in extending benefits to servicemembers with same-sex spouses, delays that have frustrated advocates and prompted a plea for action from the lesbian wife of a servicemember.
"There's no explanation for the delay. It's been over two years now since the President signed the repeal bill. Every day that goes by is another day of unnecessary sacrifice for our families," Human Rights Campaign vice president for communications Fred Sainz told BuzzFeed Friday evening.
Ashley Broadway, married to Lt. Col. Heather Mack, has been watching the impact of the Pentagon's foot-dragging firsthand, with the Army announcing that the Association of Bragg Officers' Spouses would be allowed to meet on base even if it excluded her from membership. Although the spouses' group eventually relented and allowed Broadway to join, Broadway's experience — and her work as an officer with the American Military Partners Association — has her disappointed with the delay.
"I am completely and totally frustrated. They've been saying this, basically, since the repeal. We have families, truly, that are suffering," Broadway told BuzzFeed Friday night. "If they would just hurry up and act on it, our families wouldn't be suffering any more. Act on it already."
Officials told The Washington Post in a report Feb. 5 that was confirmed by BuzzFeed that the decision to extend certain benefits had already been made. Additionally, the Post reported that "[Defense Secretary Leon] Panetta is expected to make the announcement this week" as his "final imprint on the armed forces."
There was no update from the Pentagon as of the end of the work day Friday, however, and a White House official reiterated the longstanding Pentagon and White House response that "the Department of Defense is conducting a deliberative and comprehensive review of the availability of benefits, when legally permissible, to same-sex domestic partners of service members."
Although the Defense of Marriage Act limits the benefits that can be provided, many benefits currently offered to opposite-sex spouses have been identified by the Pentagon and advocates as available that would not conflict with DOMA.
"I know for a fact that they have a plan in place. I know that they've already done cost analysis," Broadway said. "But, what is taking them so long to just come out and say what they're going to do to help LGBT families, I have no idea."
On Friday, however, President Obama joined Defense Secretary Leon Panetta at a farewell ceremony for Panetta at Joint Base Myer in Henderson, Virginia, where both men praised the sacrifices made by Panetta's wife, Sylvia, in the course of Panetta's many years of service.
In speeches in which both men referenced the end of "don't ask, don't tell," Obama noted, "Leon, I'll always be grateful that you agreed to return to public service. And, Sylvia, I am so grateful that you put up with him."
For his part, Panetta said, "None of us in public service — none of us in public service — could carry on that fight without the love and support of our families." Of his wife, he said, "She has endured extended absences and long hours and the demands that come with public service. But she has always been there."
OutServe-SLDN — the LGBT military advocacy group that has been pushing the Pentagon to extend available benefits since August 2011 — noted that the spouses of gay, lesbian and bisexual servicemembers do the same.
"Secretary Panetta appropriately thanked his wife, who has provided just the kind of support so many same-sex spouses provide to our nation's gay and lesbian servicemembers," OutServe-SLDN spokesman Zeke Stokes told BuzzFeed.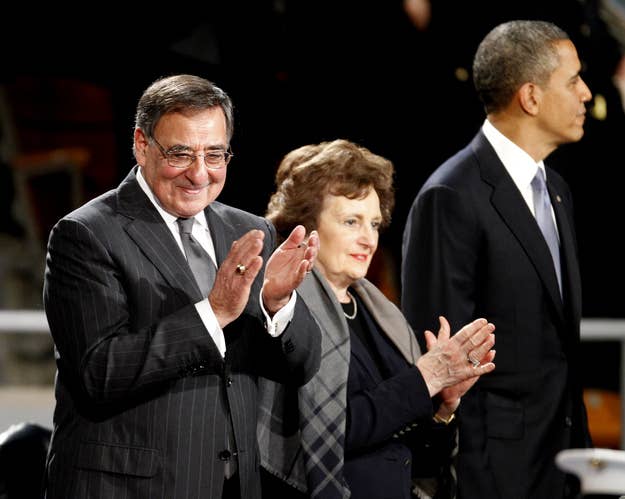 Obama even noted that, under Panetta's leadership of the Pentagon, the government is "stepping up support for our military families" — just moments before saying "the tenure of Secretary Leon Panetta ... will be remembered" in part "for the formal and final repeal of 'don't ask, don't tell.'"
White House spokesman Shin Inouye said Friday night that Obama is "proud of the historic repeal of Don't Ask, Don't Tell," adding, "No longer do patriotic gay and lesbian Americans have to hide who they love in order to serve the country they love."
Yet, Broadway noted ways same-sex partners of servicemembers are not supported currently by the military.
"I hear from military families all the time," Broadway said of her role as the director of family programs for the American Military Partners Association. "We have a family out in Hawaii ... they have three children, three military-dependent children, but Schofield Barracks will not give access to the base for her to take her child on for doctor's appointments — this is a special needs child — or to the commissary for groceries."
"Until [her domestic partner who is a staff sergeant] is on orders or deployed," Broadway said, they will not give her partner a "caretaker" access card to have access to the base.
"Assignments are coming out for the summer," she also noted, and so the inability of same-sex partners who are both in the military to request joint duty assignments — where couples are given assignments within a certain geographic distrance from each other — casuses additional difficulties for gay, lesbian and bisexual servicemembers.
Action in the next few days could still fit with the previous reporting on the decision to extend certain benefits and would still enable Panetta to take action before leaving the Pentagon.
The Senate Armed Services Committee vote on former Sen. Chuck Hagel, Obama's nominee to be Panetta's successor at the Pentagon is not yet scheduled, but could come any day now. Moreover, with President Obama slated to give the State of the Union address on Tuesday evening, the expansion of the benefits before then would give Obama another success from his administration, and by Panetta, to tout in the expansion of LGBT rights.