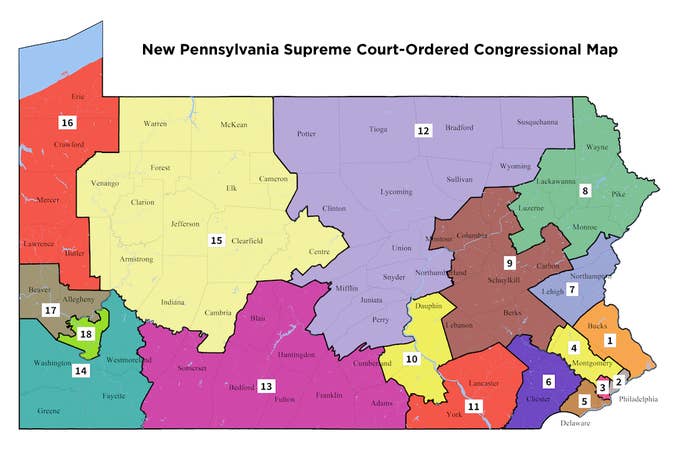 The Pennsylvania Supreme Court on Monday afternoon released a new congressional map for use in the 2018 elections — the result of a decision from the court in January that the existing map is an unconstitutional partisan gerrymander under the state's constitution.
Under the challenged map, only 5 of the state's 18 congressional districts are represented by Democrats — despite the fact that registered Democrats outnumber Republicans in the swing state.

"Dems have a good chance in up to 11 [congressional districts] & an outside chance at a 12th seat in Erie," Cook Political Report's Dave Wasserman tweeted about the new map.

Republican lawmakers had asked the US Supreme Court to step in and halt the state court's opinion from going into effect, but Justice Samuel Alito — who oversees requests from Pennsylvania — denied the request.
As with a previous request to put the state supreme court's decision on hold so as to not require a new map to be used in the 2018 election, the vote for implementing the new map was 4–3. (The initial decision that the existing map, passed in 2011, was unconstitutional was 5–2, but one of the justices in the majority believed the ruling should not affect the 2018 elections.)
In Monday's opinion and order (which contains more detailed maps, in addition to the statewide map), the court stated that earlier proceedings in the lower court had established a record that "the 2011 Plan was a partisan gerrymander and that this gerrymander was extreme and durable." According to the court, "It was designed to dilute the votes of those who in prior elections voted for the party not in power in order to give the party in power a lasting electoral advantage."

The 2011 map, the court stated, violates the Pennsylvania Constitution's requirement that "[e]lections shall be free and equal" because "a diluted vote is not an equal vote."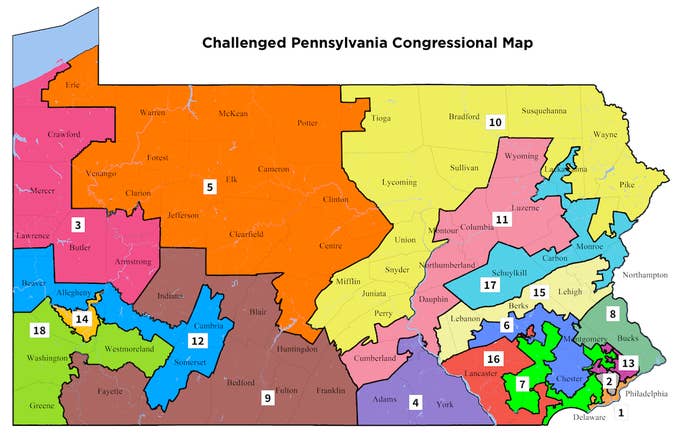 This is a developing story. Please check BuzzFeed News for the latest.