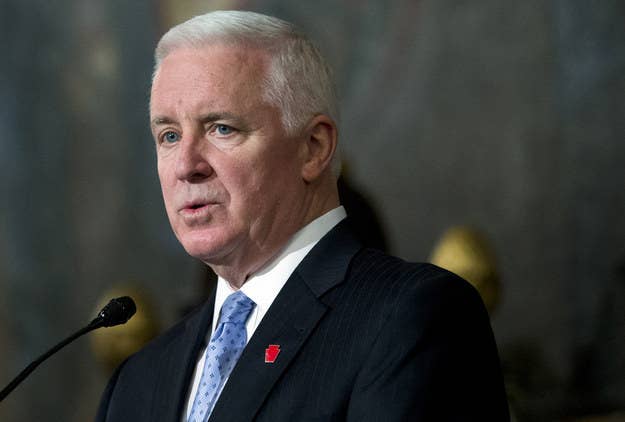 WASHINGTON — Pennsylvania Gov. Tom Corbett will not be appealing Tuesday's ruling bringing marriage equality to the Keystone State.
Judge John E. Jones III decided Tuesday that the statutory ban violates the due process and equal protection clauses of the U.S. Constitution.
"I have thoroughly reviewed Judge Jones' opinion in the Whitewood case," Corbett said in a statement Wednesday. "Given the high legal threshold set forth by Judge Jones in this case, the case is extremely unlikely to succeed on appeal. Therefore, after review of the opinion and on the advice of my Commonwealth legal team, I have decided not to appeal Judge Jones' decision."
Pennsylvania Attorney General Kathleen Kane, a Democrat, refused to defend the ban because she viewed it as unconstitutional, leaving Corbett, a Republican, to defend the state's 1996 statute banning same-sex couples from marrying and barring the state from recognizing marriages of same-sex couples from elsewhere without support from the AG's office. He did so at the trial court, but, following Tuesday's opinion from Jones striking down the law, he has decided not to take his defense further.
The news comes more than 24 hours after Jones declared the ban unconstitutional and after a night of celebrations in the state over the ruling and the licenses for which same-sex couples can now apply.
The move not to appeal, however, highlights the speed with which the marriage equality movement has rushed ahead of the fight for basic employment protections. Pennsylvania currently is the only state in the country in which same-sex couples can marry, but could be fired for being gay with no recourse under state law.
In Corbett's statement, he noted that his personal position on the issue is unchanged.
"As a Roman Catholic, the traditional teaching of my faith has not wavered. I continue to maintain the belief that marriage is between one man and one woman, he said, adding, "My duties as Governor require that I follow the laws as interpreted by the Courts and make a judgment as to the likelihood of a successful appeal."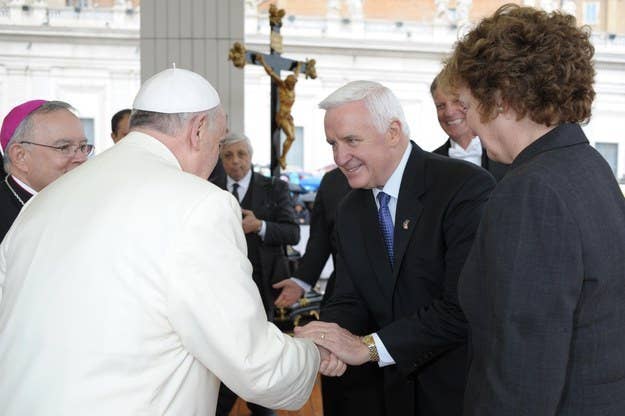 Corbett also addressed his approach to the case, his decision Wednesday, and his plans for enforcing the decision.
"Throughout the debate on this important and meaningful issue, I have maintained that Commonwealth officials and agencies would follow the provisions of Pennsylvania's marriage law unless or until a court says otherwise," he said. "The court has spoken, and I will ensure that my administration follows the provisions of Judge Jones' order with respect for all parties. It is my hope that as the important issue of same-sex relationships continues to be addressed in our society, that all involved be treated with respect."
Although other Republican governors, including New Jersey Gov. Chris Christie and Nevada Gov. Brian Sandoval, have stopped fighting litigation aimed at securing equal marriage rights at some point in the process, Corbett is only the second Republican governor — joining former California Gov. Arnold Schwarzenegger — to allow a trial court ruling to stand without appeal.
Equality Pennsylvania Executive Director Ted Martin said of the governor's decision, "We sincerely thank Gov. Corbett for allowing this judgment to stand. Words cannot express what this means to the loving couples and families in Pennsylvania who have waited so long to be recognized. Marriage matters to all families, and we rejoice with them today."
The ACLU of Pennsylvania, which brought the challenge alongside outside private lawyers, is of the view that Corbett's decision means there is no one left who can appeal the trial court decision.
Asked whether Corbett's decision means there is no one else who could appeal, and thus, the governor's decision effectively ends the case, Witold Walczak, the ACLU of Pennsylvania's legal director, told BuzzFeed, "That is our belief and understanding of the law."
Donald Petrille, Jr., the Register of Wills and Clerk of Orphans' Court of Bucks County, is also a named defendant in the case, but he signed a stipulation in November 2013 saying he agreed to be bound by court decision, per Walczak, and cannot appeal.
Walczak added, though, "That doesn't mean someone won't try, as they did in Oregon and California, after Prop 8. But those efforts have been shut down and we believe the same will happen in Pennsylvania if anyone tries. We will vigorously contest anyone else's right to pursue and appeal, and are confident that we will prevail in our effort."