Pennsylvania Attorney General Will Not Defend State Ban On Same-Sex Couples' Marriages
"I cannot ethically defend the constitutionality of Pennsylvania's version of DOMA. I believe it to be wholly unconstitutional," Pennsylvania Attorney General Kathleen Kane says.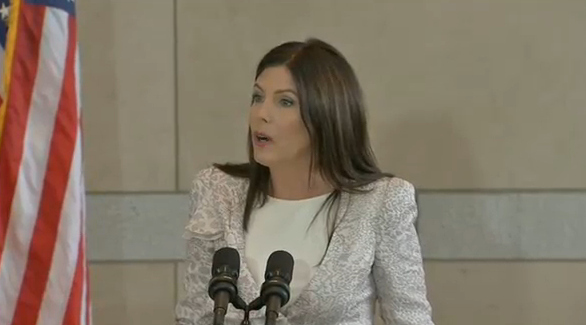 Pennsylvania Attorney General Kathleen Kane will not defend the state's ban on same-sex couples marrying, challenged in a lawsuit filed by the American Civil Liberties Union on Tuesday.
Following the Supreme Court's decision on June 26 striking down the definition of marriage in the Defense of Marriage Act that excluded gay couples from federal recognition, Kane Thursday said, "I cannot ethically defend the constitutionality of Pennsylvania's version of DOMA. I believe it to be wholly unconstitutional."
When a reporter asked whether the process of changing the ability of same-sex couples to marry was better handled through the legislature, Kane, a Democrat, said, "I believe that any method that breaks down discrimination and inequality is the method that we should all take, whether it's ... through the courts or the legislature."
At the news conference, held in Philadelphia at the National Constitution Center, Kane noted that she was both a defendant named in the lawsuit herself and the lawyer for other officials named, including Pennsylvania Gov. Tom Corbett.
As to his defense, she said, "Our process is to send over a letter, as we do on many occasions, delegating authority back to the Office of General Counsel." Asked what Corbett, a Republican, will do, Kane said, "I don't speak for the governor. I don't know. I do what I believe is right, and ... the governor does what he does as well."
Corbett's office had no immediate comment, but a spokesman directed BuzzFeed to seek comment from the Office of General Counsel. A message seeking comment there was not immediately returned.
[Update at 3 p.m.: The following statement was issued from Pennsylvania General Counsel James D. Schultz:
We are surprised that the Attorney General, contrary to her constitutional duty under the Commonwealth Attorneys Act, has decided not to defend a Pennsylvania statute lawfully enacted by the General Assembly, merely because of her personal beliefs.

We have not received any formal notification of Attorney General Kane's decision. While we await that notification and accompanying legal justification, we will continue to review the lawsuit filed by the ACLU.
Corbett's office has not issued any statement directly about the news.]
In 2009, then-California Attorney General Jerry Brown, a Democrat, reached a similar decision to Kane as to California's Proposition 8, saying that he would not defend it because he believed it to be unconstitutional. Then-Gov. Arnold Schwarzenegger, a Republican, also said he would not defend the law, although he took no position on its constitutionality. Brown is now governor and the current attorney general, Kamala Harris, continued Brown's position against the amendment.
In concluding Thursday's news conference, Kane returned to the chosen setting of the event.
"Now that we're here in the Constitution Center, I know that we talk a lot about the Constitution. As I said to my nieces who are here in the audience, I don't just want to teach them to talk about the Constitution, I want to teach them to act toward it."