Pelosi Praises Democratic Marriage Plank As "Point Of Personal Pride"
Democratic leader calls GOP DOMA defense a rejection of "our nation's heritage of equality for all."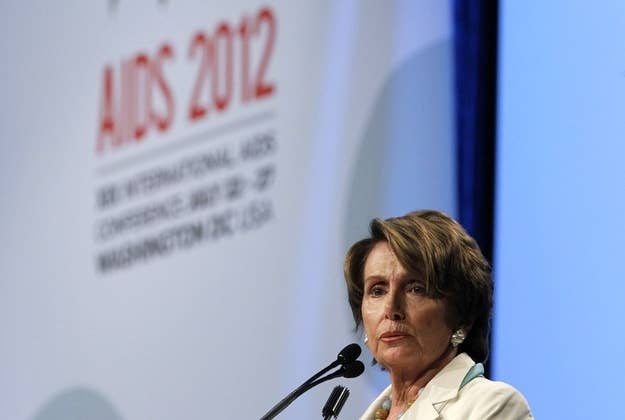 House Minority Leader Nancy Pelosi Tuesday hailed her party's decision to include support for marriage equality in its platform and praised a federal court's rejection of federal rules defining marriage as being only between a man and a woman.
Pelosi, whose "San Francisco values" often are a target of Republican attacks, had a rare moment Tuesday, able to revel in watching her party — and a Republican-appointed federal judge — take her side in the once-marginalized stance of supporting equal rights for same-sex couples.
In a statement on her party's decision to include marriage equality in it's platform, Pelosi praised the drafting committee for their "excellent work, clear commitment, and steadfast dedication."
"By including marriage equality in our platform, the committee has reaffirmed the fundamental American value of equal protection and civil rights for every American. After working to advance the cause of marriage equality for many years, it is a point of personal pride to see Democrats unite around the principle of respect and dignity for all families," she argued.
Later in the day Pelosi released a second statement saying that the ruling striking down part of the Defense of Marriage Act by U.S. District Court Judge Vanessa L. Bryant, a George W. Bush appointee, sent "a clear message from federal courts across the country" that DOMA should be tossed out.
"The District Court's decision marks the fifth time Speaker Boehner has wasted taxpayer dollars on a failed effort to defend discrimination and undermine civil rights," she continued. "The congressional Republicans' single-minded effort to uphold DOMA at any cost comes at great expense to the American people and rejects our nation's heritage of equality for all."
The House Republican leadership, through its 3-2 majority on the House's Bipartisan Legal Advisory Group, has been defending the 1996 since the Obama administration reached a decision that the law's definitions of "marriage" and "spouse" as only consisting of one man and one woman was unconstitutional in February 2011.
In October 2011, the expense "cap" on the contract between House General Counsel Kerry Kircher and Bancroft PLLC partner Paul Clement for Bancroft to represent the House Republicans in their DOMA defense was increased to $1.5 million. Boehner spokesman Michael Steel told BuzzFeed today that the cap has not since been increased beyond that amount.
Pelosi was the first prominent Democratic elected official to voice support for the marriage equality plank, with her spokesman telling Metro Weekly that she supported the plank just days after the group Freedom to Marry announced its campaign asking Democrats to "Say I Do."