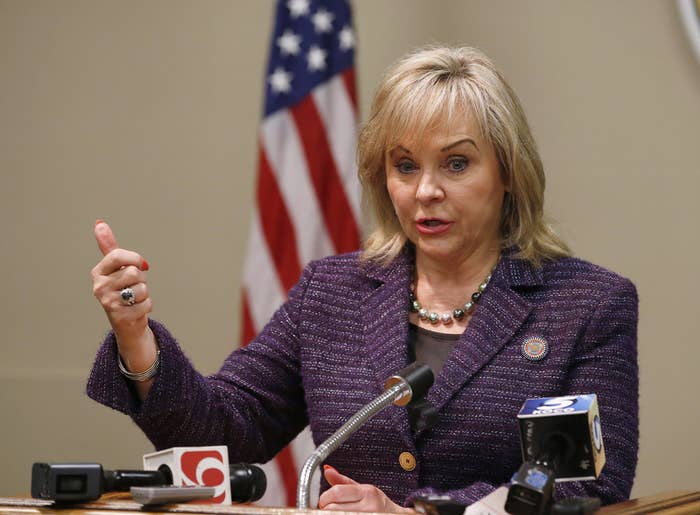 The private lawyers representing Oklahoma Gov. Mary Fallin's office and the state's Department of Corrections were hired more than a week after a drug mix-up led Richard Glossip's Sept. 30 execution to be called off — but just as news was made public that the state had executed Charles Warner with the wrong drug.
On Tuesday morning, when Oklahoma officials arrived for a grand jury hearing resulting from the execution drug questions, officials from the governor's office and the corrections department were represented by private lawyers — one of whom questioned the propriety of the matter even being before the grand jury.

Fallin's chief counsel, Steve Mullins, and Department of Corrections (DOC) Director Robert Patton were among those to testify Tuesday before the multicounty grand jury, according to a report from the Oklahoman. Ordinarily, both would be represented by attorneys from Oklahoma Attorney General Scott Pruitt's office. This was not, however, an ordinary circumstance.
On Sept. 30, the scheduled execution of Glossip was called off at the last minute after officials discovered the state had received potassium acetate, and not potassium chloride, as its approved execution protocol requires.
It was revealed a week later on Oct. 8, after Pruitt announced an investigation of that mix-up and successfully sought a hold on future executions during the investigation, that DOC had received and used the same incorrect drug in its January execution of Charles Warner.
Soon after that — and not after the Sept. 30 mix-up — it was announced that both Fallin's office and the Department of Corrections had hired outside attorneys to provide them with independent legal representation. Pruitt's office, meanwhile, has said his investigation also would include an examination of the Warner execution.
Fallin has retained Robert McCampbell of Fellers Snider at a cost of $250 an hour, per a copy of the engagement letter provided by Fallin's office to BuzzFeed News. McCampbell, a former federal prosecutor, served as the U.S. Attorney in Oklahoma City from 2001 through 2005. Fallin previously appointed McCampbell to serve as chair of the Public Employees Relations Board.
"There are a lot of entities that have been involved in the execution protocols that have been developed, a lot of agencies, and I wanted an outside independent legal adviser to my office to look at the legal process and to look at the system itself and to give me outside advice," Fallin told the Oklahoman in announcing the move to hire outside counsel.

From Gov. Fallin's agreement with McCampbell: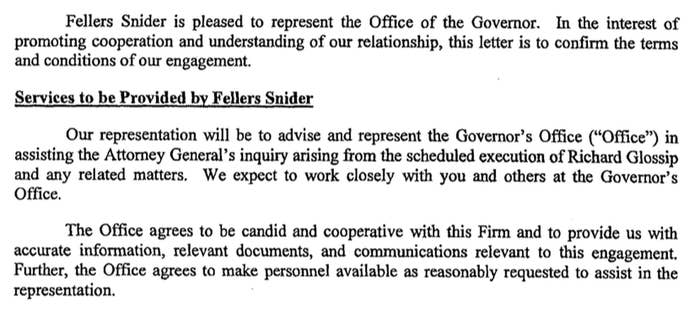 According to records reviewed by BuzzFeed News, McCampbell agreed to represent Fallin's office on Oct. 7 — the day before news broke that Oklahoma had used the wrong drug in its January execution of Warner. The notice of the proposed contract form, however, was not submitted by the governor's office to the attorney general's office until Oct. 8 and was accepted on that date.
The Department of Corrections, meanwhile, has hired Drew Edmondson at a cost of $300 an hour, per a copy of the contract between the agency and lawyer that was provided by DOC to BuzzFeed News. Edmondson, the former and longtime attorney general of the state, served as attorney general from 1995 through 2011.
In a motion filed on Oct. 13 in litigation that was pending over the state's lethal injection protocol, lawyers in Pruitt's office, then representing the DOC, raised questions about their ability to represent DOC officials due to ongoing state proceedings.
"Counsel have concerns regarding their attorney-client privilege under state law in state proceedings, and the effects that may have on representation in this federal litigation," the lawyers wrote. "[A] potential lack of privilege between [DOC] Defendants and their [Attorney General's Office] Counsel will prevent the free flow of information that is necessary for Counsel to represent Defendants in this litigation."
Several portions of the contract between DOC and Edmondson were redacted in the copy provided to BuzzFeed News. The redactions include the entirety of two of six sections detailing Edmondson's duties and scope of work, as well as partial redactions of two of the other sections. Additionally, a portion of the purpose for the contract was redacted.
Asked for the reason for the redactions, DOC spokesperson Alex Gerszewski told BuzzFeed News, "The redactions were a decision made by DOC legal. I wasn't given any more specifics than that."

From the DOC's agreement with Edmondson: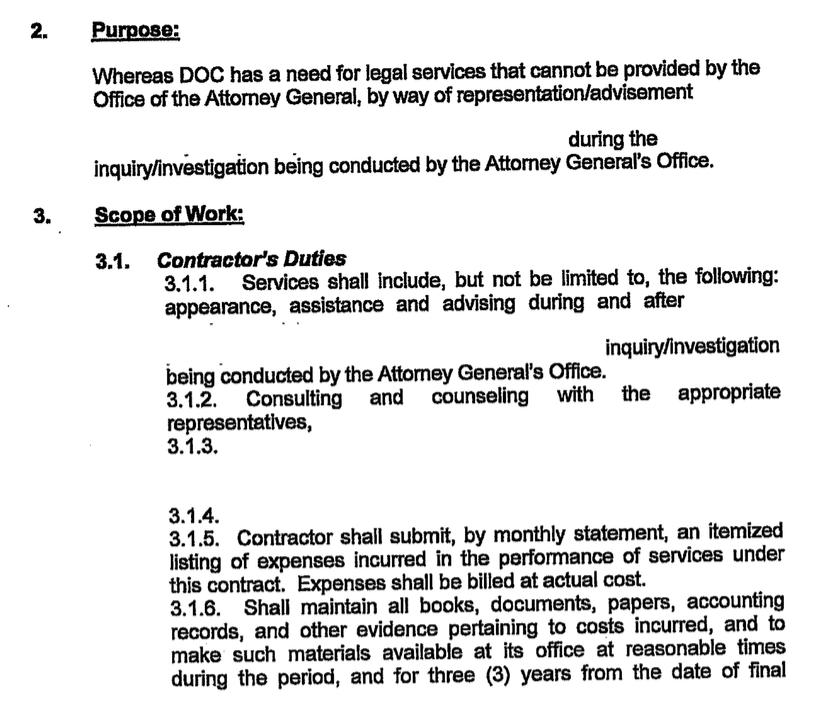 Edmondson agreed to the contract on Oct. 9, although DOC's Patton did not sign the contract until Oct. 13 — the day Pruitt's lawyers raised questions about their ability to represent DOC officials. Per the contract, it was to take effect beginning Oct. 9 and will be in effect until June 30, 2016 — although that time period could be extended.
It was Edmondson who challenged the use of the multicounty grand jury at all, telling NewsChannel 4 last week that "a grand jury shouldn't be involved because officials have not been accused of a crime."

On Tuesday, however, his request to quash the subpoenas was denied, per the Oklahoman, and the closed proceedings went forth.