Federal Judge Strikes Down Oregon Same-Sex Marriage Ban, Weddings Can Start Immediately
State officials have said they will not appeal the ruling. Judge's order is effective immediately.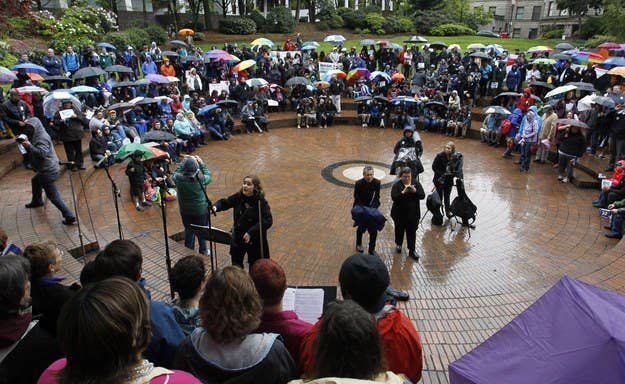 WASHINGTON — Oregon cannot bar same-sex couples from marrying, a federal judge ruled Monday.
"Because Oregon's marriage laws discriminate on the basis of sexual orientation, the laws violate the Equal Protection Clause of the Fourteenth Amendment to the United States Constitution," U.S. District Court Judge Michael McShane wrote.
The ruling from McShane is the 12th federal trial court ruling since last summer's Supreme Court ruling striking down the Defense of Marriage Act to find a state ban on same-sex couples' marriages and/or on recognition of such marriages to be unconstitutional.
Two federal appeals courts, those in Denver and Richmond, already have heard appeals of challenges from three states, Utah, Oklahoma, and Virginia.
Unlike most of the other challenges, however, none of the government officials in Oregon plan to appeal McShane's ruling. In McShane's order, issued moments after his opinion was released shortly after noon PT, he stated that the order stopping enforcement of the ban is effective immediately. Although Oregon law has a three-day waiting period for issuing marriage licenses, there are exceptions to that waiting period that mean couples could marry on Monday.
McShane found that the ban discriminated on the basis of sexual orientation, but not gender, because "[t]he ban does not impact males and females differently." As to the level of scrutiny to be applied to that sexual orientation discrimination, McShane found that he did not need to determine whether a heightened level of scrutiny could be applied because "the state's marriage laws cannot withstand even the most relaxed level of scrutiny."
"Although protecting children and promoting stable families is a legitimate governmental purpose, prohibiting same-gender couples from marrying is not rationally related to that interest," McShane wrote in his opinion. "Expanding the embrace of civil marriage to gay and lesbian couples will not burden any legitimate state interest."
In the concluding section of his opinion, McShane — an out gay Oregon judge appointed to the federal bench by President Obama — wrote that "on this issue of marriage I am struck more by our similarities than our differences."
He continued:
I believe that if we can look for a moment past gender and sexuality, we can see in these plaintiffs nothing more or less than our own families. Families who we would expect our Constitution to protect, if not exalt, in equal measure. With discernment we see not shadows lurking in closets or the stereotypes of what was once believed; rather, we see families committed to the common purpose of love, devotion, and service to the greater community.
The National Organization for Marriage, which had attempted to intervene in the case to defend the 2006 Oregon ban, was denied in that attempt by McShane. They have appealed that denial to the 9th Circuit Court of Appeals and, on Monday, asked the 9th Circuit to stop proceedings at the trial court until that appeal could be considered. The 9th Circuit denied that request hours later on Monday, prior to McShane's ruling.
Read Judge Michael McShane's conclusion: