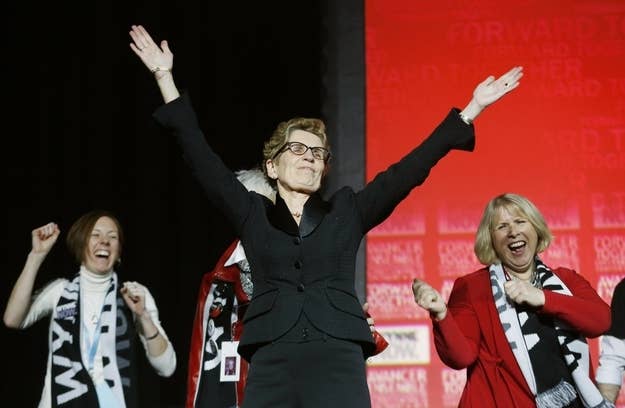 With 1,150 votes to Sandra Pupatello's 866 votes on the third ballot at the Ontario Liberal leadership convention on Saturday, Kathleen Wynne was elected to lead the party and becomes Ontario's first female premier — and Canada's first out LGBT premier.
Wynne, 59, is married to Jane Rounthwaite, and the party's new leader said she believed her sexual orientation would not be an issue in the race or going forward.
"The province has changed, our party has changed," she said earlier in the balloting. "I do not believe that the people of Ontario … hold that prejudice in their hearts."
After the third balloting, Wynne said, "It is a remarkable night for all of us."
It has been quite a path for Wynne, who described in an extensive profile in The Star one of her early runs for office and the anti-LGBT sentiments she faced:
Her first run for office, her 1994 bid for school trustee, was a narrow political loss, and a lesson in the temper of the times. "I call those my Norma Rae moments, you know?" Wynne says of the virulent backlash at what she calls the "extremist lesbian stuff." Her lesson to her children: "They're going to say bad things about your momma. We knew it was going to be a factor."

The ultimate effect was to embolden her. "To have somebody say. . . you are 'other' and we can marginalize you. I was indignant. . . I wasn't going to let that stop me."

That was almost two decades ago.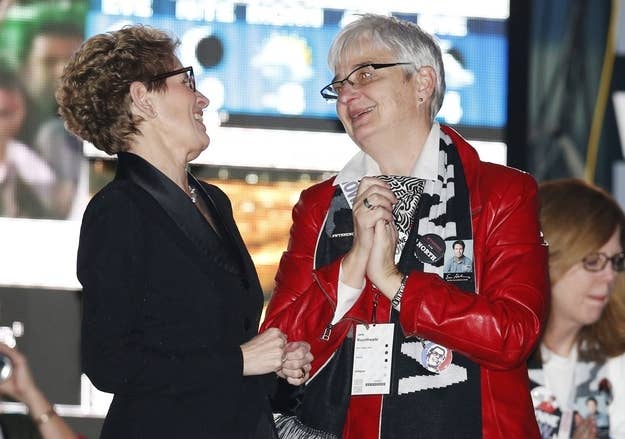 Wynne's comments about her sexual orientation to the delegates at the convention were, in fact, a commentary on the changed times since that 1994 run. In part, she said:
Let's put something on the table: Is Ontario ready for a gay premier? You've heard that question.

Let's say what that actually means: Can a gay woman win?

When I ran in 2003, I was told that the people of North Toronto and Thorncliffe Park weren't ready to elect a gay woman.

Well, apparently they were.

You know, there was a time, not that long ago. When most of us in this race would have been deemed unsuitable, A Portugese-Canadian, an Indo-Canadian, Italian-Canadian, female, gay, Catholic- Most of us could not have hoped to stand on this stage, but this province has changed.

Our party has changed.

I don't believe the people of Ontario judge their leaders on the basis of race, colour or sexual orientation – I don't believe they hold that prejudice in their hearts.

They judge us on our merits – On our abilities, on our expertise, on our ideas – Because that is how everyone deserves to be judged. That is how we want our children, our grandchildren, our nieces and nephews to be judged.

So, when it is time for me to take us into the next general election, I will do it on the basis of our merits, based on our success.
Saturday's election means Wynne will be given that chance.