Olympics Committee Downplays U.N. Head's Broadside Against Anti-LGBT Discrimination
"We must all raise our voices against attacks on lesbian, gay, bisexual, transgender, or intersex people," Ban Ki-moon tells the International Olympic Committee. The IOC ignored those comments in its press release about the event, while media reports highlighted them.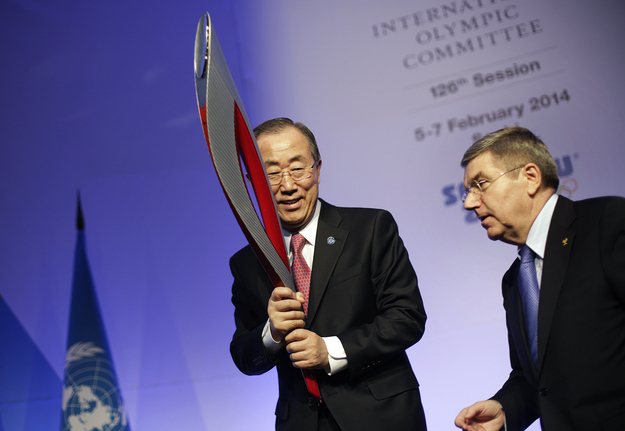 Earlier Thursday, United Nations Secretary-General Ban Ki-moon addressed the International Olympic Committee. Here's how the IOC announced the remarks: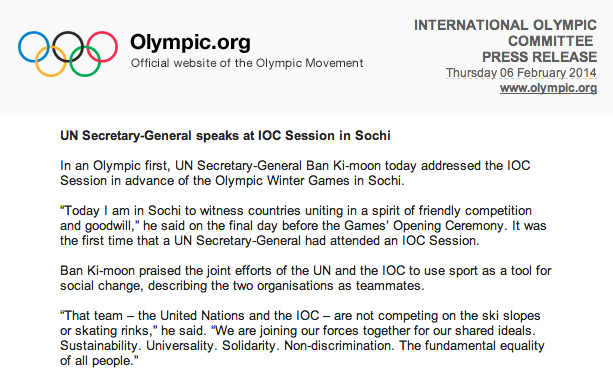 What the IOC failed to mention was an extensive portion of Ki-moon's speech, where he said:
youtube.com
President Bach,
Distinguished IOC members,
Ladies and gentlemen,

Sports can help advance human rights.

Last year, the United Nations marked the International Day for the Elimination of Racial Discrimination by focusing on the power of sport. We are all aware of the need to combat ugly and hurtful racist displays at sporting matches.

And this past December, the theme of Human Rights Day was "Sport comes out against homophobia."

Many professional athletes, gay and straight, are speaking out against prejudice.

We must all raise our voices against attacks on lesbian, gay, bisexual, transgender or intersex people. We must oppose the arrests, imprisonments and discriminatory restrictions they face.

I know that Principle 6 of the Olympic Charter enshrines the IOC's opposition to any form of discrimination.

The United Nations stands strongly behind our own "Free and Equal" campaign, and I look forward to working with the IOC, Governments and other partners around the world to build societies of equality and tolerance.

Hatred of any kind must have no place in the 21st century.
Other deemed those remarks relevant. Here's how the Guardian covered the speech: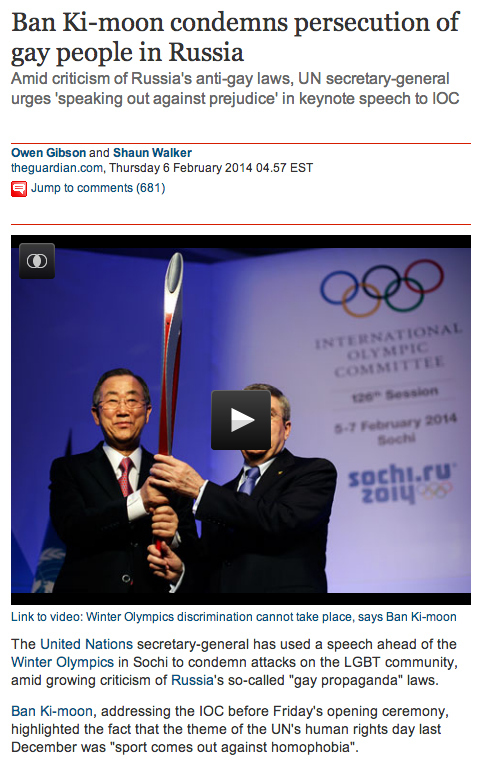 Here's how PBS covered it: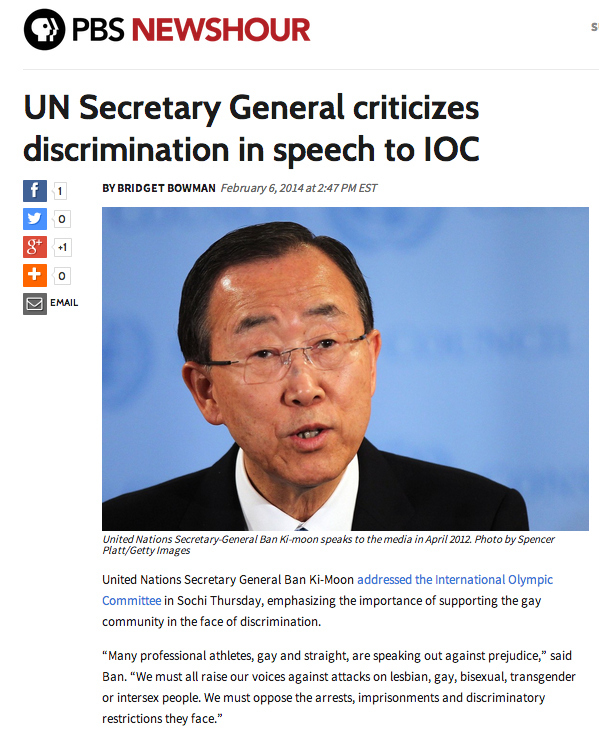 Here's Reuters: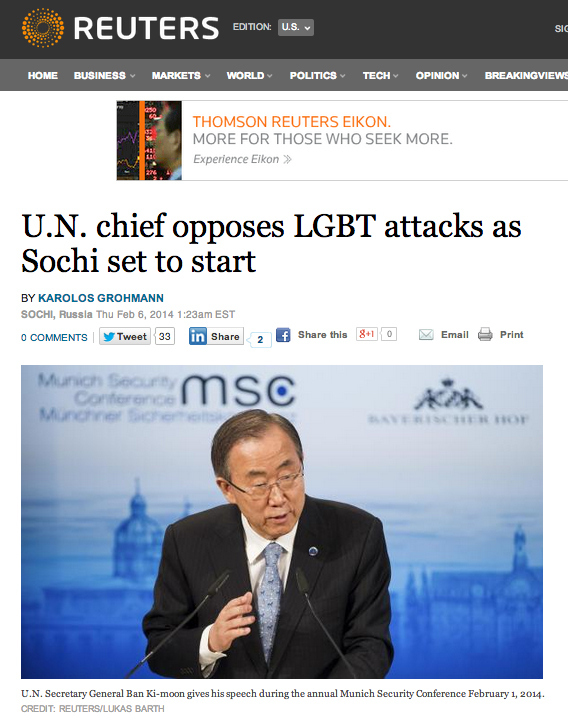 Read the IOC's full news release:
UN Secretary-General speaks at IOC Session in Sochi

In an Olympic first, UN Secretary-General Ban Ki-moon today addressed the IOC Session in advance of the Olympic Winter Games in Sochi.

"Today I am in Sochi to witness countries uniting in a spirit of friendly competition and goodwill," he said on the final day before the Games' Opening Ceremony. It was the first time that a UN Secretary-General had attended an IOC Session.

Ban Ki-moon praised the joint efforts of the UN and the IOC to use sport as a tool for social change, describing the two organisations as teammates.

"That team – the United Nations and the IOC – are not competing on the ski slopes or skating rinks," he said. "We are joining our forces together for our shared ideals. Sustainability. Universality. Solidarity. Non-discrimination. The fundamental equality of all people."

Ban Ki-moon renewed his call for all warring parties worldwide to observe the Olympic Truce and "to lay down their weapons during the Games – and to lift their sights to the promise of peace. He urged others to follow the example set by the Olympic Winter Games.

"The athletes here carry the flags of different nations – but they are all joining under the banner of equality, fair play, understanding and mutual respect," he said. "Their histories, traditions and day-to-day lives offer a wonderful parade of human diversity. And the athletes send a unified message that people and nations can put aside their differences. If they can do that in Sochi's sporting arenas, leaders of fighters should do the same in the world's combat areas."

Ban Ki-moon also referred to the IOC's observer status at the UN and the many joint projects in the field and concluded: "The United Nations will continue to partner with the IOC to build a better, freer and more equal world. I count on your engagement and your support. Let us work together to make this world better for all," receiving enthusiastic applause from the IOC members.

Responding to the Secretary-General's remarks, IOC President Thomas Bach called Ban Ki-moon "a great friend of sport and an inspiring world leader who stands for the same values the IOC is embracing."

Bach added, "Sport is standing for respect and against any form of discrimination. In this respect we are teammates, and as you said, 'Olympic principles are United Nations principles'."

After his speech to the Session, Ban Ki-moon attended the Session's debate about the IOC's role in society and, just a few hours before he was scheduled to run with Bach in the Olympic Torch Relay in Sochi, the UN Secretary-General received a torch from the IOC President.

Ban Ki-moon will also take the opportunity to tour the Olympic Village, where he will sign the Olympic Truce Wall; and later attend the Opening Ceremony of the Sochi 2014 Olympic Winter Games on 7 February.

###