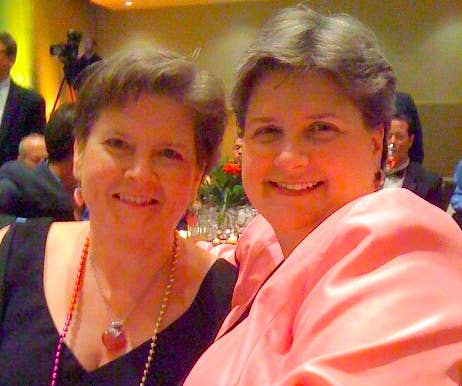 WASHINGTON — Oklahoma's ban on marriages between same-sex couples is unconstitutional, a federal judge ruled Tuesday.
"The Court holds that Oklahoma's constitutional amendment limiting marriage to opposite-sex couples violates the Equal Protection Clause of the Fourteenth Amendment to the U.S. Constitution," U.S. District Court Judge Terence Kern wrote.
The ruling will not go into effect immediately, Kern decided, issuing a stay of his decision based on the recent Supreme Court action granting a stay in "a nearly identical case" challenging Utah's ban on same-sex couples' marriages.
The Oklahoma case, which was filed back in November 2004, is the longest pending marriage equality case in the country. The lawsuit was filed on Nov. 3, 2004, the day after voters there passed a constitutional amendment banning same-sex couples from marrying.
The lawsuit had challenged both the federal government's ban on recognition of same-sex couples' marriages in the Defense of Marriage Act, as well as Oklahoma's ban, but Kern — appointed to the bench by President Clinton in 1994 — found that the intervening Supreme Court ruling striking down that part of DOMA, Section 3, rendered that portion of the lawsuit moot.
As for the Oklahoma amendment, though, Kern found in favor of Mary Bishop and Sharon Baldwin, who had attempted to get a marriage license from Tulsa County Clerk Sally Howe Smith and were denied. They then filed the lawsuit decided on Tuesday.
Kern found that a 1972 Supreme Court decision dismissing a similar claim by a Minnesota couple was no longer controlling precedent because of the changed legal landscape since then. He also noted that the Supreme Court's decision this June striking down Section 3 of DOMA was focused on states' rights — an argument made by Smith, as well as Utah officials, in their defenses of such amendments — but that such discussion in the Supreme Court opinion by Justice Anthony Kennedy was always "subject to constitutional guarantees." Finally, he found that the Oklahoma constitutional amendment passed in 2004 was "intentional discrimination" and there was no "legally sufficient justification" for that discrimination.
Noting the Supreme Court's unwillingness to address the specific jurisprudence behind its treatment of lesbian, gay and bisexual rights over the past two decades, Kern took a gentle swipe at the court, writing, "There is no precise legal label for what has occurred in Supreme Court jurisprudence beginning with Romer in 1996 and culminating in Windsor in 2013, but this Court knows a rhetorical shift when it sees one."
He then concluded:
Equal protection is at the very heart of our legal system and central to our consent to be governed. It is not a scarce commodity to be meted out begrudgingly or in short portions. Therefore, the majority view in Oklahoma must give way to individual constitutional rights. The Bishop couple has been in a loving, committed relationships for many years. They own property together, wish to retire together, wish to make medical decisions for one another, and wish to be recognized as a married couple with all its attendant rights and responsibilities. Part A of the Oklahoma Constitutional Amendment excludes the Bishop couple, and all otherwise eligible same-sex couples, from this privilege without a legally sufficient justification.
A second couple, Susan Barton and Gay Phillips, had married legally in California and challenged a second provision in the Oklahoma amendment that bars recognition of out-of-state marriages of same-sex couples, as well as Section 2 of DOMA, which purports to allow states not to recognize same-sex couples' marriages entered into in other jurisdictions. Kern ruled Tuesday that this second couple challenging lacked standing, or legal authority, to do so.
Section 2, Kern ruled "only possibly strengthened" Oklahoma's decision not to recognize same-sex couples' marriages entered into in other states, and that the couple's injury primarily came from Oklahoma's decision, not Section 2 of DOMA. Additionally, the "couple has not taken any steps to obtain recognition and has not shown that [Tulsa County Clerk] Smith is the proper official" from whom they would obtain such recognition.
Appeals from Oklahoma's federal courts are heard by the 10th Circuit Court of Appeals, which already is hearing the appeal of the Utah case. A 10th Circuit ruling in the Utah case striking down the Utah amendment on equal protection grounds, similar to the decisions made by Kern and the trial judge in the Utah case, would apply to all of the states in the circuit: Colorado, Kansas, New Mexico, Oklahoma, Utah and Wyoming. The specifics of any ruling, however, could change the way in which it would affect the other states.
The Alliance Defending Freedom — previously, the Alliance Defense Fund — is co-counsel with the Tulsa County District Attorney's Office in representing Smith in the case. The Oklahoma City law firm of Holladay and Chilton represents the plaintiff same-sex couples.
Human Rights Campaign president Chad Griffin praised the ruling in a statement, saying, "Judge Kern has come to the conclusion that so many have before him – that the fundamental equality of lesbian and gay couples is guaranteed by the United States Constitution. With last year's historic victories at the Supreme Court guiding the way, it is clear that we are on a path to full and equal citizenship for all lesbian, gay, bisexual and transgender Americans."
Oklahoma Gov. Mary Fallin issued a statement in response to Kern's ruling:
"In 2004, the people of Oklahoma voted to amend the state's constitution to define marriage as 'the union of one man and one woman.' That amendment passed with 75 percent support.

"The people of Oklahoma have spoken on this issue. I support the right of Oklahoma's voters to govern themselves on this and other policy matters. I am disappointed in the judge's ruling and troubled that the will of the people has once again been ignored by the federal government."
Oklahoma Attorney General Scott Pruitt issued a statement as well, saying:
"It is a troubling decision. As the Supreme Court recently noted in the Windsor case, it is up to the states to decide how to define marriage, not the federal government. There is a case involving the State of Utah currently pending before the 10th Circuit that is identical to the case in Tulsa. The issue most likely will end up at the U.S. Supreme Court and the outcome will dictate whether Oklahoma's constitutional provision will be upheld."
One of the lawyers for the plaintiffs, Don Holladay, told BuzzFeed:
The Court's decision today striking Oklahoma's constitutional ban on same gender marriage is a significant victory for countless same-sex couples in committed relationships who have been denied the right to marry in Oklahoma because of this provision. The ruling stands for marriage equality, and the right of equal protection as a constitutional guarantee.
Tulsa County Clerk Smith did not respond to an email seeking comment.
Additional reporting by Hunter Schwarz.

This post was updated as additional information became available, with the final update at 12:30 a.m. Jan. 15.
Three key paragraphs from Judge Kern's decision:
On the limits of reading the DOMA ruling as a "states' rights" decision: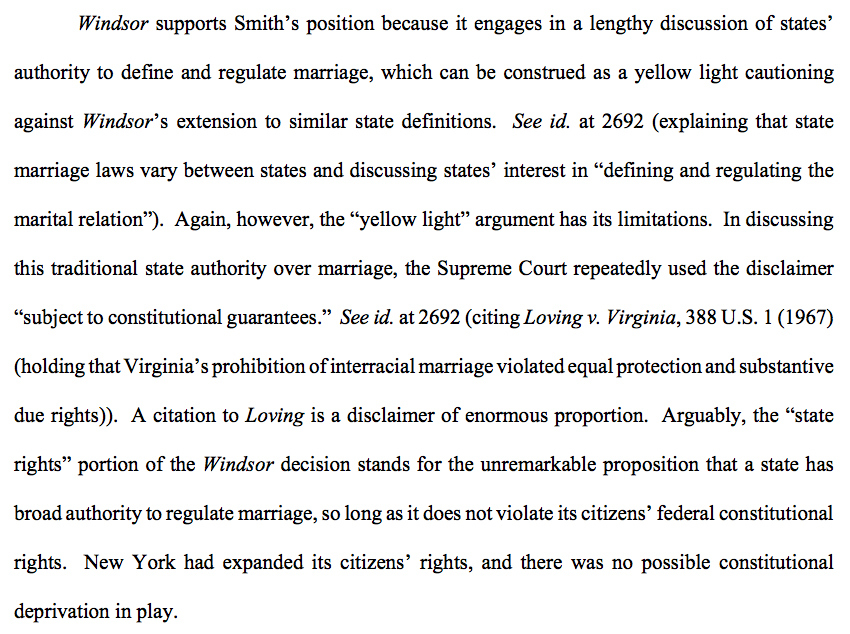 On the Supreme Court:

On equal protection: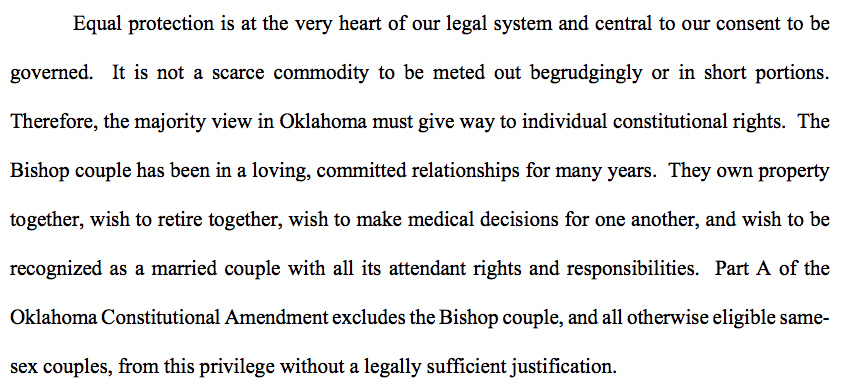 Read the court's judgment in the case: