Ohio's New Execution Process Has Been Ruled Unconstitutional, Stopping Executions
If the ruling stands, three executions scheduled for the next few months would be halted.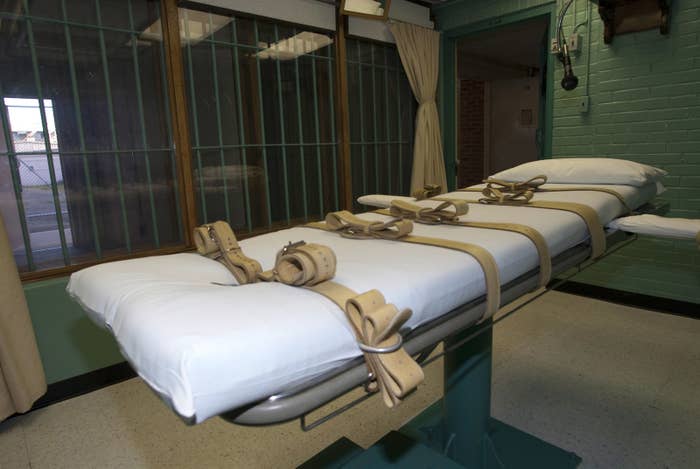 WASHINGTON — Ohio's new execution protocol is unconstitutional, a federal magistrate judge in the state ruled on Thursday — a decision that, if it stands, would halt three upcoming executions scheduled to take place in Ohio.

Magistrate Judge Michael Merz oversaw a four-day hearing into Ohio's new lethal injection protocol earlier this month. The hearing took place in the aftermath of the state setting a new execution protocol and scheduling inmates Ronald Phillips, Raymond Tibbetts, and Gary Otte for execution in the next three months.
Merz found that the inmates succeeded in showing the court that the state's new protocol — particularly its continued use of the controversial sedative midazolam — violates the Eighth Amendment's bar on cruel and unusual punishment because it "creates a substantial risk of serious harms."

Instead of using either pentobarbital or sodium thiopental, the drugs called for in its prior single-drug protocol, the state will change its procedures to allow midazolam to be used as part of a three-drug protocol — in which midazolam is to be followed by a paralytic and a drug that stops the heart.
Midazolam was used in Ohio's most recent execution, a 26-minute lethal injection in which inmate Dennis McGuire "struggled and gasped audibly for air."
It also was the drug at the center of botched executions in several states in 2014 and the subsequent challenge to the protocol in one of those states: Oklahoma.
In Thursday's 119-page ruling from Merz, he begins the discussion of the Oklahoma ruling — Glossip v. Gross — by noting that the Supreme Court's decision in Glossip "does not logically imply that it can never be proven that midazolam presents an objectively intolerable risk of harm." Instead, Merz wrote, the Supreme Court concluded then that the Oklahoma district court's decision was not "clearly erroneous" — which, Merz wrote, is different from saying that it was (and would in all cases) be correct.

Going through the evidence available now — Ohio's experience, the results of other executions using midazolam, and states' decisions in the wake of those executions to move away from including midazolam in their execution protocol — Merz said the facts available to him led him to a different decision than the Supreme Court had upheld in the Oklahoma case.
Merz also examined a secondary issue resulting from Glossip — the requirement that inmates challenging their method of execution also provide an alternative, less painful, method. The inmates here presented an alternative — the pentobarbital called for in the now-discarded interim protocol — but the state countered that it had been unable to secure pentobarbital.
To that, Merz ruled, "[T]he Supreme Court did not attempt to quantify how available the alternative method must be to qualify" under Glossip.
"While compounded pentobarbital will not be available to Ohio to permit it to execute the above Plaintiffs on the dates now set, the Court finds Plaintiffs have met their burden to identify a sufficiently available alternative method of execution to satisfy [prior Supreme Court rulings]," he wrote.
As to other claims, Merz found against the inmates on their various equal protection challenges and a more broad Eighth Amendment claim.