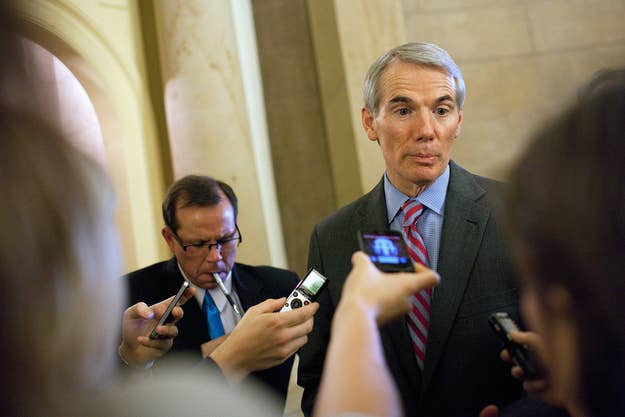 WASHINGTON — "I'm announcing today a change of heart," Ohio Sen. Rob Portman said Thursday in announcing his support for the right of same-sex couples to marry — a change he said came about after his son came out to him.
The change is an abrupt reversal for the Buckeye State's junior senator, who supported both the Defense of Marriage Act and the Federal Marriage Amendment at earlier points in his career.
Log Cabin Republicans celebrated the news early Friday morning, with LCR executive director Gregory T. Angelo telling BuzzFeed, "If there was any doubt that the conservative logjam on the issue of civil marriage for committed gay and lesbian couples has broken, Senator Portman's support for the freedom to marry has erased it."
No Republican senators currently serving in the Senate had supported marriage equality prior to Portman's announcement. Two House Republicans, Reps. Ileana Ros-Lehtinen and Richard Hanna, signed on to a brief before the Supreme Court urging the court to find a constitutional right to marriage equality.
In a video released by CNN, Portman described the process that led to Thursday's announcement.
"During my career in the House and also the last couple of years here in the Senate, I've taken a position against gay marriage, rooted in part in my faith and my faith tradition," he said. "I had a very personal experience, which is that my son came to Jane, my wife, and I and said he was gay and that it was not a choice, and that's just part of who he is and he'd been that way for as long as he could remember."
After Will, who is now 21, came to him, Portman said he went through "a process of changing my position on the issue," concluding, "I now believe that [gay] people ought to have the right to get married."
The Columbus Dispatch reported that Portman had "informed Republican presidential nominee Mitt Romney about Will when Portman was being interviewed last year as a potential vice-presidential nominee."
Freedom to Marry's national campaign director, Marc Solomon, noted the process detailed by the senator in his comments, saying, "We greatly appreciate Senator Portman's sharing his journey on the freedom to marry with his constituents and with the American people. It's a beautifully human experience for a father to listen with an open heart to his son, to reflect on his own beliefs, and conclude that he wants for his son the same opportunity for happiness that comes with being able to marry that he and his wife have had."
The Dispatch reported the carefully orchestrated announcement involved inviting reporters from several Ohio newspapers, in addition to the CNN interview, and comes less than two weeks before the Supreme Court is slated to hear two cases involving same-sex couples' marriage rights — including one involving DOMA.
The timing also means the news broke in the middle of the Conservative Political Action Conference — at which the exclusion of a gay conservative group, GOProud, has been a topic of much discussion — and hours before Romney is scheduled to address the conservative activists. Portman was regularly with Romney in the months leading up to the 2012 election, particularly in his task of playing the role of President Obama during Romney's debate prep.
Liz Mair, a Republican consultant who served as the Republican National Committee's online media director during the 2008 campaign, is on the advisory board of GOProud and was a panelist at a CPAC session Thursday aimed at encouraging the party to become more inclusive on gay issues.
"Like a lot of Americans who support same-sex marriage, potentially the majority of us who do, Portman's stance has been influenced by a personal relationship with someone who is very near and dear to him and who has caused him to think about this issue in terms that are far from abstract," Mair told BuzzFeed early Friday morning. "Hopefully, people will listen closely to what he has to say on this over the coming days and weeks because he will add a valuable perspective to this discussion."
LCR's Angelo added, "We also applaud and respect the Senator's decision as a person of faith who recognizes that there is a Christian case as well as a conservative case for marriage equality. Log Cabin Republicans welcomes Senator Portman's support, and encourages his GOP colleagues in the Senate to join him on the right side of history."
Ohio's other senator, Democrat Sherrod Brown, has been a longtime supporter of marriage equality.