Ohio Group Has Decided To Take Same-Sex Marriage To State's Voters In 2014
"We have decided to be on the ballot in 2014 to allow for a continuing dialogue with voters across Ohio about why marriage matters," activist says. Update: Other groups attending a Wednesday meeting, however, said no timing decision was made.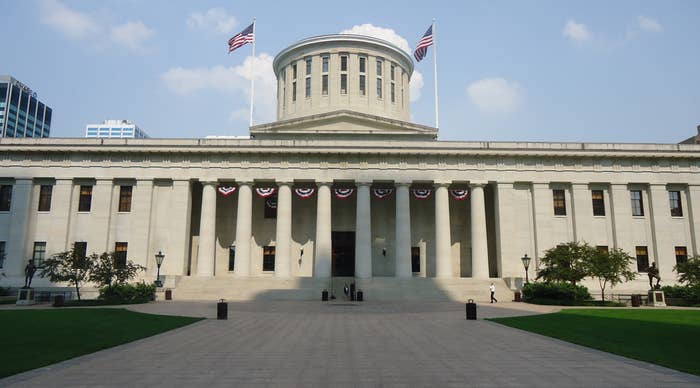 FreedomOhio announced Wednesday that they plan to bring an amendment to Ohio voters to allow same-sex couples to marry in November 2014.
And while the group suggested the involvement of other groups, representatives of other organizations that participated in a Wednesday meeting about the effort said no final decisions were made at the meeting.
The vote would come a decade after people in the Buckeye State voted to amend the state constitution to prohibit same-sex couples from marrying.
"We have decided to be on the ballot in 2014 to allow for a continuing dialogue with voters across Ohio about why marriage matters. We will continue to build upon the hundreds of thousands of conversations we've had already, to identify supportive voters, and to raise the resources necessary to mobilize a full-on campaign," FreedomOhio co-founder Ian James said in a statement.
James noted that other groups — including national organizations — are now engaged in FreedomOhio's efforts, although he did not say that they have endorsed the ballot effort.
"We are also excited to announce that the Human Rights Campaign, Equality Ohio, the National Gay & Lesbian Task Force, National Freedom to Marry, the Gill Action Fund, the American Unity Fund and the BISC met today and discussed how to become involved in the campaign to bring marriage equality to Ohio in 2014," he said.
A representative of an organization that participated in the meeting told BuzzFeed that the meeting was a first step to deciding whether national organizations would be involved in the effort and that no public news release abut the meeting or going to the ballot in 2014 had been mentioned in the meeting. Another person confirmed that characterization.
In order to get the proposed amendment on the ballot, FreedomOhio would have to collect signatures equal to 10 percent of the votes cast in the most recent gubernatorial election, which, per the group's timeline, would be the 2010 election for governor. According to the Ohio Secretary of State's office, 3,852,469 votes were case for governor, meaning 385,247 signatures would need to be collected.
Equality Ohio, the statewide organization formed in the aftermath of the 2004 marriage amendment vote, sounded a cautious note in the statement, with executive director Elyzabeth Holford saying the meeting was "only the beginning of the effort to chart a strategic plan to achieve marriage equality" in the state.
"We all recognize our responsibility to Ohioans to make sure we get this right. And I know that together, we will. When we do move forward it will be with the same strong partners as the other successful states," Holford added.
Update: About 5:30 p.m., other organizations issued a statement to "clarify inaccurate statements" in the FreedomOhio news release:
A group of state and national organizations leading the fight to win marriage for all families in Ohio and across the country sought to clarify misleading characterizations put forward by Ian James's Freedom Ohio following a meeting to discuss a strategy for winning the freedom to marry at the ballot box in Ohio.

However, contrary to the assertions made by Ian James in an unapproved statement, there was no agreement reached to put forward a ballot initiative in 2014 or any other specific date. Instead, all of the groups in attendance, including Freedom Ohio and nearly a dozen other leading organizations, agreed to work together to talk to Ohio voters about why marriage matters and strengthen our coalition in the months ahead, reserving judgment on the timing of a ballot initiative until a clear pathway to victory could be determined and carried out.

"Ohio families deserve to win marriage as soon as possible. And our national partners have won marriage equality in 13 jurisdictions. We are putting together a strong, honest coalition and a responsible plan to win," said Elyzabeth Holford, Executive Director of Equality Ohio. "We intend to win and will do everything necessary to secure fairness for same-sex couples and their families."

"We are committed to winning marriage in Ohio as soon as possible, and to developing the kind of robust campaign that has helped us achieve historic victories across the country," said Marc Solomon, National Campaign Director for Freedom to Marry. "What we need to do now is to engage in the real work to increase public support so we can win on the ballot—in 2016, or if possible sooner."

"Ian James must have attended a different meeting than the rest of us," said Marty Rouse, National Field Director for the Human Rights Campaign. "Representatives from 11 state and national organizations participated in today's meeting. Ten of them came away with a clear understanding that we would refrain from deciding on timing until it was responsible to do so. We're perplexed as to how Freedom Ohio came away with a different understanding."

At the invitation of Equality Ohio, representatives from the American Civil Liberties Union (ACLU) of Ohio, national ACLU, the Equality Federation, Freedom to Marry, the Human Rights Campaign, Lambda Legal, the National Gay & Lesbian Task Force, the American Unity Fund and Gill Action convened for today's conversations to discuss strategy, timing and a plan to win marriage in Ohio.