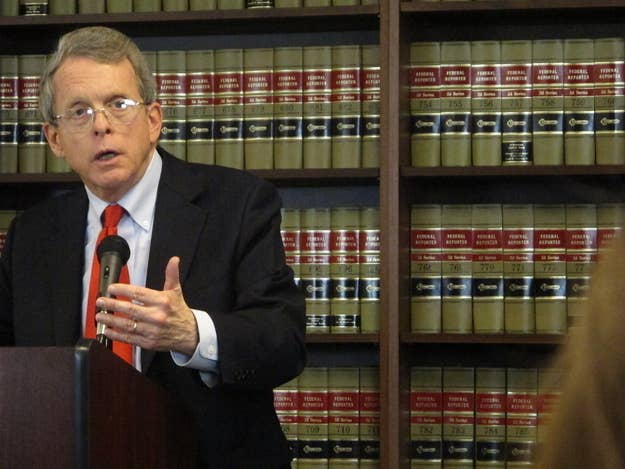 WASHINGTON — The temporary restraining order issued Monday requiring that Ohio officials recognize a gay couple's marriage will stand, despite reports that an appeal is in the works.
Ohio Attorney General Mike DeWine's communications director, Lisa Hackley, confirmed to BuzzFeed that, despite a report claiming that Attorney General Mike DeWine would be appealing the Monday order from Judge Timothy Black, no such appeal is planned.
DeWine will continue to defend Ohio's constitutional amendment and law banning same-sex couples from marrying and banning the state from recognizing such marriages, she said, but he will do so only as the case proceeds.
DeWine's office is not planning to appeal the temporary restraining order issued in James Obergefell and John Arthur's case because, Hackley noted, such temporary orders are not generally appealable.
She also affirmed that the attorney general's position is as he stated in a Tuesday news report from WKRC Cincinnati, when he said, "This is not the end of the game here. It's one decision and the Judge issued his decision, which we certainly respect."
Although the temporary restraining order was granted Monday and is scheduled to expire at 5 p.m. Aug. 5, Obergefell and Arthur have requested a preliminary and permanent injunction to allow Arthur, who is in hospice care, to be listed as married on his death certificate and Obergefell to be listed as his surviving spouse.
Referring to the permanent injunction request, DeWine told WKRC, "The matter will ultimately be decided by the judge on the merits. And we look forward to that argument. My job as Attorney General is to follow the will of the people," who DeWine has noted voted for the amendment banning same-sex couples from marrying or from the state recognizing such marriages in 2004. His office would decide at that time whether it would appeal such an injunction, although Hackley would not speculate before the judge issued such an injunction.
A status conference in the case is scheduled for 8:30 a.m. July 30, at which time a further schedule in the case could be set — although the judge could set such a schedule prior to the status conference.