Obama Takes Another Step In The Marriage Equality Debate
Weighing in for the first time to support a state legislative effort that would let gay couples to marry, Obama goes further than ever on the issue. Still unresolved: Whether Obama thinks the U.S. Constitution requires marriage equality.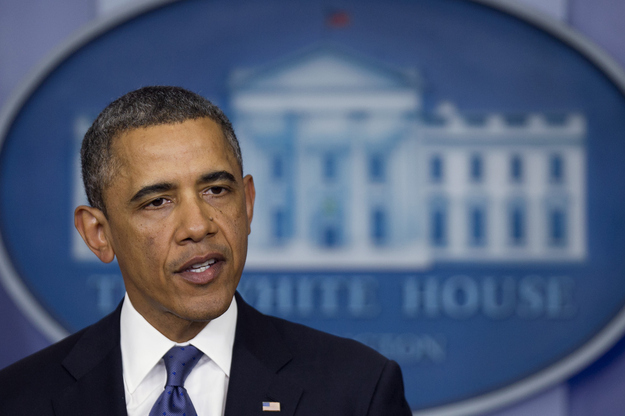 WASHINGTON — President Obama went a step further on Saturday in his public views on same-sex couples' marriage rights than he has done in the past, with a spokesman stating that Obama supports the planned Illinois legislative measure to allow same-sex couples there to marry.
The move is the first time Obama has endorsed a legislative effort to allow same-sex couples to marry. More than that, it is a break from Obama's past statements about state legislative efforts, in which he as recently as October described as a "conversation" — but declined to state his preferred outcome.
In October, in an MTV interview, Obama said, "[H]istorically, marriages have been defined at the state level. There's a conversation going on. New York has moved forward with one set of ideas. There are some other states that are still having that debate."
He did not, however, explicitly state his view on how states should resolve that debate.
When New York was considering its marriage equality bill in 2011 — which was before Obama had announced his personal support for marriage equality — Obama had talked in a similar way about that state's consideration of the issue.
"[R]ight now I understand there's a little debate going on here in New York -- about whether to join five other states and D.C. in allowing civil marriage for gay couples. ... New York is doing exactly what democracies are supposed to do. There's a debate; there's deliberation about what it means here in New York to treat people fairly in the eyes of the law," Obama told attendees at an LGBT-focused campaign fundraiser.
Now, as several state legislatures prepare to consider measures to allow same-sex couples equal marriage rights, Obama has taken the first state that will do so — his home state of Illinois — and announced which side of that "little debate" he would be on if he had a vote there.
"While the president does not weigh in on every measure being considered by state legislatures, he believes in treating everyone fairly and equally, with dignity and respect. As he has said, his personal view is that it's wrong to prevent couples who are in loving, committed relationships, and want to marry, from doing so. Were the President still in the Illinois State Legislature, he would support this measure that would treat all Illinois couples equally," White House spokesman Shin Inouye told the Chicago Sun-Times.
Since May, when he first announced his personal support for marriage, Obama has spoken several times about that support, including endorsing the marriage equality referendum efforts in Washington and Maryland and the voter-backed marriage equality initiative in Maine.
The Maine initiative vote was the first vote for marriage equality initiated by its supporters, and Obama's endorsement, thus, was the furthest position he had taken in support of efforts to advance marriage equality at the state level before Saturday.
With the Illinois statement, Obama has gone a step further than that — taking a position not only on how measures already certain to appear on a ballot should be resolved but on how lawmakers should act on a proposed legislative act.
Although the move is being applauded by LGBT advocates, it also is likely to draw attention to a further step advocates already have been asking Obama to take.
Still unclear is whether Obama believes the U.S. Constitution requires that states resolve the debate as Obama, it appears, would prefer they do so. That is one of the questions raised by the challenge to California's Proposition 8 that is being heard by the Supreme Court in the coming months. (Although the Obama administration is supporting challenges to the constitutionality of the federal Definition of Marriage Act, arguing the law is unconstitutional, the administration has not weighed in on whether it views Proposition 8 as unconstitutional.) The lead lawyer for the same-sex couples challenging Proposition 8, Ted Olson, has said he "certainly hope[s]" the Obama administration weighs in on the case through the filing of an amicus curiae, or friend of the court, brief.