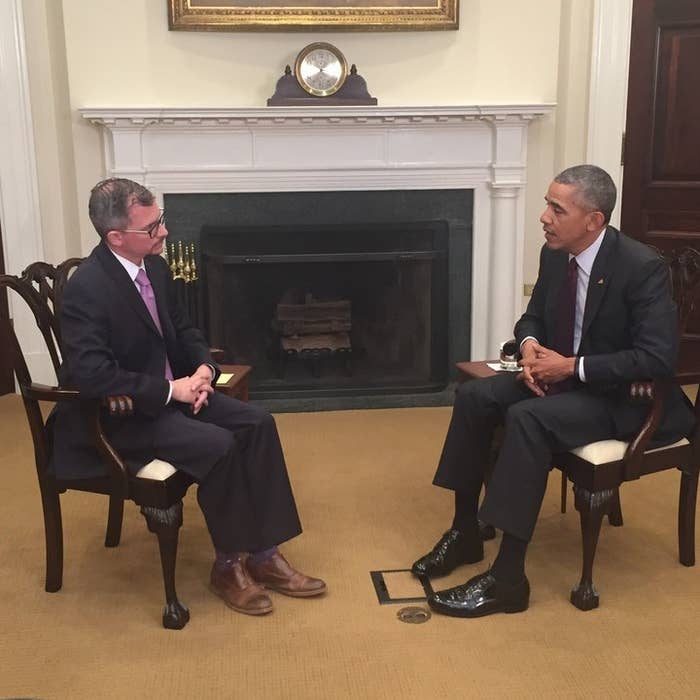 Transgender and LGBT students are vulnerable to potential bullying and it is society's responsibility to protect them, President Obama said in an interview with BuzzFeed News Monday.
"We're talking about kids," the president said from the Roosevelt Room in the White House. "Anybody who has been in school, in high school, who has been a parent should realize that kids who are sometimes in the minority, kids who have a different sexual orientation or are transgender are subject to a lot of bullying, potentially. They're vulnerable."
Obama's comments referred to laws being passed around the nation that in various ways ban transgender people from using bathrooms that correspond with their gender identity.
North Carolina Gov. Pat McCrory, facing a Department of Justice deadline to decide if his state would not comply with an anti-LGBT "bathroom law" restrooms in government-run buildings and schools, defiantly sued the federal agency last week — and hours later the DOJ responded with its own suit against the state.
Obama refused to comment specifically on the lawsuits, but said "it is our view you should try to treat these kids with dignity."
Attorney General Loretta Lynch said the North Carolina law violates federal civil rights laws which prohibit discrimination in the workplace on the basis of sex.
McCrory, in his lawsuit, called the Justice Department's stance "a baseless and blatant overreach," and sued Lynch and U.S. Principal Deputy Assistant Attorney General Vanita Gupta for "their radical interpretation of Title VII … which would prevent plaintiffs from protecting the bodily privacy rights of state employees while accommodating the needs of transgendered state employees."
Obama said the guidelines he issued last week — which tells schools that transgender students can use the bathroom of their choice — comes after schools asked for guidance from the Department of Education.
"I think it's part of our obligation as a society to make sure everybody is treated fairly and our kids are all loved and protected," Obama said Monday.
Additional reporting by Mary Ann Georgantopoulos