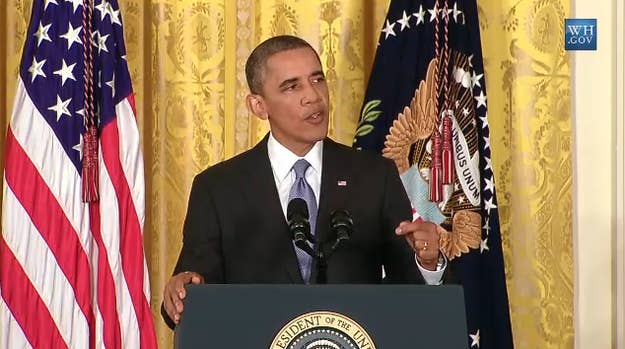 WASHINGTON — President Obama said Friday that he opposes a boycott of the Olympics due to Russia's anti-LGBT laws and instead hopes to see out gay athletes winning medals at the Sochi Olympics.
"I do not think it's appropriate to boycott the Olympics," he said at a news conference Friday.
"Nobody is more offended than me by some of the anti-gay and lesbian legislation than you've been seeing in Russia, but as I said just this week, I've spoken out against that not just with respect to Russia but a number of other countries where we continue to do work with them but we have a strong disagreement on this issue," Obama said.
He also noted that he hopes "some gay or lesbian athletes ... bring home the gold or silver or bronze," adding, "If Russia doesn't have gay or lesbian athletes, it will probably make their team weaker."
The remarks marked the president's second comments on the issue. The first came earlier this week when Obama appeared on The Tonight Show with Jay Leno.
In that interview, he said he had "no patience for countries that try to treat gays or lesbians or transgender persons in ways that intimidate them or are harmful to them" — but added that "Putin and Russia have a big stake in making sure the Olympics work."
Update at 4:30 p.m.: U.S. Olympic Committee CEO Scott Blackmun issued a statement praising Obama's position, saying, "We fully support the comments today from President Obama rejecting calls to boycott the Olympic and Paralympic Winter Games in Russia. The Games bring people together. They unite the world and break down barriers."
He added, "The Games demonstrate how it is possible to compete fiercely but respectfully. They demonstrate how people with disparate views can come together and celebrate what they have in common, most notably the will to be the best you can be. As the President suggested, the diverse group of athletes representing our nation next winter makes us a stronger and a better Team USA."
Update at 6 p.m.: U.S. Olympic Committee spokesman Mark Jones clarified Blackmun's statement, writing that the statement "wasn't meant to be vague. Diverse group of athletes, including LGBT athletes, makes us a better team."
More From Obama's News Conference: