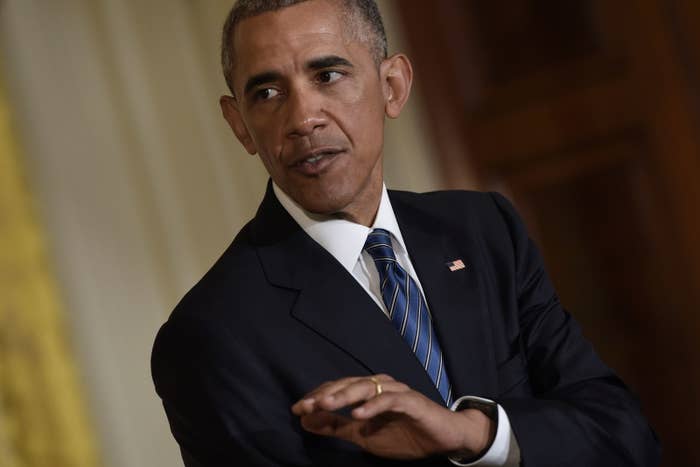 WASHINGTON — President Obama commuted the sentences of 214 people serving federal sentences on Wednesday — the most commutations issued by a president in a single day since at least 1900 — White House officials told BuzzFeed News.
The commutations are the latest in a series of such reprieves issued by Obama after announcing his support in 2014 for a clemency review process to address those serving harsh sentences that they would not be subject to if convicted today. The Clemency Project has led Obama to to grant a series of such commutations beginning in July 2015.
"This is a good day — not just for the 214 individuals who are getting a hard-earned second chance, but for the people at the White House and the Department of Justice and at advocacy organizations across the country who work every day to remedy injustices in our sentencing laws," White House counsel Neil Eggleston told BuzzFeed News. "We're going to keep our foot on the gas pedal when it comes to reviewing applications for clemency, but we are also going to need leaders in both parties in Congress to pass long overdue reforms to our criminal justice system to achieve lasting change on the scale that is needed."
Sixty-seven of Wednesday's commutations are for people serving life sentences — almost all, per the White House, for nonviolent drug crimes. A quick review of the full list of commutations provided to BuzzFeed News appears to show that the same holds true for the vast majority of the underlying offenses involved in the other commutations as well.

Including Wednesday's commutations, Obama has granted a total of 562 commutations — a number that the White House says is more than the previous nine presidents combined but that has been questioned by some advocates who point to the amnesty program and subsequent actions taken by President Gerald Ford regarding those who evaded the Vietnam War–era military draft.
While many of Wednesday's commutations mean that those people will be released from prison by the end of the year, the 214 commutations take a variety of forms. Some people have their sentences merely reduced, but they will continue to be imprisoned for the near term. Others have release dates set for a year or two from now. Some of the commutations include conditions, including enrollment in a residential drug treatment program.
Wednesday's actions are the largest single-day issuance of commutations in the Obama presidency, though the Justice Department expects more commutations from Obama in his remaining five and a half months in office.
"Today's historic announcement is yet another step in the Administration's efforts to restore proportionality to unnecessarily long drug sentences," Deputy Attorney General Sally Q. Yates told BuzzFeed News. "In just the first eight months of 2016, the president has more than doubled the number of commutations granted in all of 2015. But we are not done yet, and we expect that many more men and women will be given a second chance through the Clemency Initiative."

Advocates of Obama's use of the commutation power, however, assert that the White House and Justice Department could do more — pointing to the Ford amnesty program as a model for how Obama should address the sentencing issues the Clemency Project is attempting to address.
The White House, however, has repeatedly asserted that legislation is the only way to address sentencing concerns across the board.
"The individual nature of the clemency process underscores both its incredible power to change a person's life, but also its inherent shortcoming as a tool for broader sentencing reform," Eggleston writes in a blog post to be posted regarding Wednesday's commutations. "That is why action from Congress is so important. While we continue to work to act on as many clemency applications as possible, only legislation can bring about lasting change to the federal system. It is critical that both the House and the Senate continue to work on a bipartisan basis to get a criminal justice reform bill to the president's desk."
UPDATE
Marc Osler, one of the leading legal scholars pushing for President Obama to use his clemency power aggressively, responded to Wednesday's news by urging Obama to do more.
"While the commutations President Obama granted today are an important step forward, they remind us of how much more work this administration has to do if it is to grant relief for every person eligible," Osler, a University of St. Thomas law professor and co-founder of the Clemency Resource Center at NYU Law, said in a statement.
He continued: "In June, a broad coalition of criminal justice reform advocates, former judges and prosecutors, and legal scholars called on the president to intervene personally to break the bureaucratic logjam that seems likely to prevent every petition from receiving a full review. Today, however, more than 11,000 petitions are still pending, according to the Justice Department. We believe that more than 1,500 people are eligible for commutation under the criteria the administration established, but at the current pace, they will fall far short of meeting that threshold. These non-violent offenders have been promised a full review and relief, and they deserve nothing less. We again urge the president to speed up his administration's review of the petitions it has received and to consider whether there are structural changes to the process that would ensure justice is done for every worthy petitioner."