Obama Administration Wants To Proceed With New Immigration Program During Court Appeal
Following a district court judge's decision that put Obama's immigration executive actions on hold, the administration asked the judge to stay his injunction during the administration's appeal.
WASHINGTON — The Obama administration asked the federal judge who temporarily stopped President Obama's recent immigration actions from going into effect to put his ruling on hold during the administration's appeal.
In the Monday morning filing, Justice Department lawyers ask U.S. District Court Judge Andrew Hanen to issue a stay of his ruling. Just prior to the filing, the administration had filed its formal notice that it will be appealing the injunction to the 5th Circuit Court of Appeals.
Notably, in addition to seeking a full stay of the ruling during the appeal, the administration asks, if Hanen will not do that, to keep the ruling in effect only in Texas.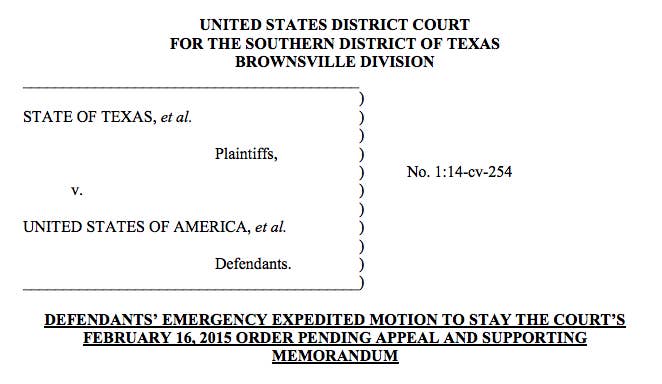 The states suing the Obama administration ask the court not to grant expedited consideration of the administration's request for a stay, asking for the full 20 days they would normally be allowed in which to file their response.
Because 20 days would fall on a Sunday, March 15, the states' response would be due on March 16.
States' letter: