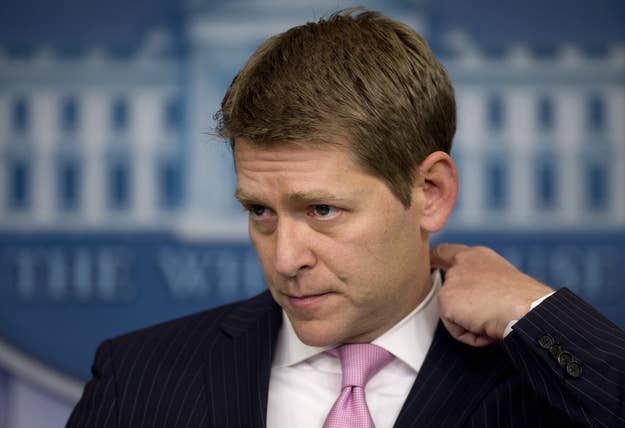 WASHINGTON — Fresh off a win at the Pentagon, LGBT advocates are demanding the White House take action to prohibit job discrimination by government contractors, insisting the White House must push Congress to act broadly on anti-LGBT workplace bias or deal with the contractor issue itself through executive action.
"People are hurting out there, and for various reasons, members of the nation's LGBT community are close to the top of the hurt list. We view the executive order to be a fundamental part of getting our nation back to work," said Fred Sainz, spokesman for the Human Rights Campaign.
Freedom to Work executive director Tico Almeida also called on Obama to sign the executive order banning federal contractors from discriminating against LGBT workers, something the president declined to do in April 2012, and to push Congress to act on the longstanding legislation to ban LGBT job discrimination, the Employment Non-Discrimination Act.
"The President should use the State of the Union to call on both chambers of Congress to take this long overdue vote. The White House's legislative team should start encouraging Senate Majority Leader Harry Reid to make floor time for ENDA this year," Almeida said.
Although the advocates agree with the administration that congressional action should be taken, Almeida said waiting for "those congressional efforts [is] not a good reason to delay the executive order any longer."
The Washington Post reported Sunday night that the White House is "reviewing whether the president should issue" such an executive order — and noted that "two people familiar with White House thinking said the president may reverse that decision [not to sign the order in April 2012] and issue the order if Congress does not pass broader legislation offering protection for gays in the workplace."
On Monday afternoon, though, asked about a Sunday night protest in front of the White House led by Get Equal, White House press secretary Jay Carney signaled no changes were planned on the order and argued it's Congress' job to deal with the problem.
"We believe, the President believes, that we ought to move forward with congressional comprehensive action on this issue, and we will continue to press Congress to do that," Carney said.
When pressed on whether Obama would pursue an executive order given a lack of action in Congress, Carney defensively pointed to the administration's record on LGBT issues. "What has happened dramatically is a series of changes when it comes to LGBT rights that reflect not just, but importantly, this President's action and influence and the pressure he has placed on — and importance he's placed on these issues, but also a welcome change in the views held around the country on these issues. And we're going to keep pressing for action from Congress on this very important issue," Carney said.
LGBT advocates, however, pushed back Monday evening — in terms of both Obama's stated commitment to LGBT equality and the political reality in the House.
"If Mr. Carney is going to continue pointing to Congress to deflect questions about President Obama's campaign promise for executive action banning LGBT discrimination at federal contractors, then the White House should get proactive about calling for congressional votes on ENDA this year," Freedom to Work's Almeida said.
HRC's Sainz said the executive order is the best thing possible, given the current Congress.
"Unfortunately, we don't have the numbers to pass ENDA in this House. That's a statement of fact. While we wish that we had an equality majority, that can't stop us from protecting the greatest number of LGBT workers in the meantime," he said. "It's a natural extension of the president's leadership for him to sign the executive order."