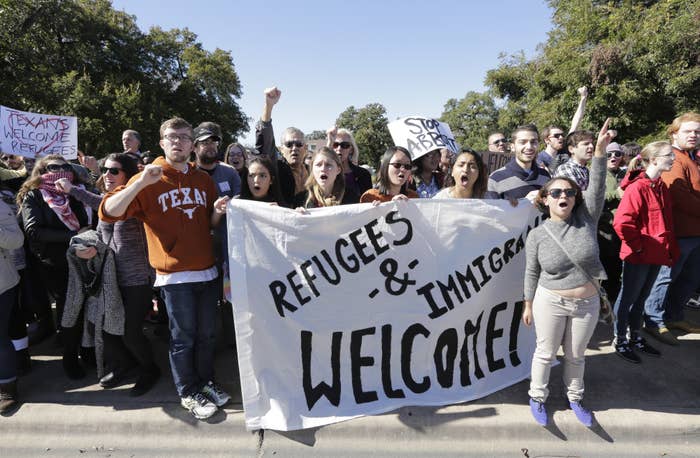 UPDATE
Hours after the Obama administration opposed Texas's request for a temporary restraining order stopping Syrian refugee resettlement in the state, Texas withdrew the request. The state is now only seeking a hearing on or before Dec. 9 on the preliminary injunction request it has made in the case.
WASHINGTON — The Obama administration, as well as refugee resettlement group International Rescue Committee, early this morning opposed Texas's lawsuit aimed at stopping the two from resettling Syrian refugees in the state.
"[T]he harm to the national interest as determined by the President, and to the interests of the individual refugee families in question, outweigh Plaintiff's speculative and uninformed fears about security," Obama administration lawyers wrote in the federal court filing.
The Texas Health and Human Services Commission filed the lawsuit in federal court on Wednesday, asking U.S. District Court Judge David Godbey to issue a temporary restraining order preventing the resettlement of Syrian refugees in the state through December 9 and hold a hearing so Texas officials can make their case for a further order preventing resettlement of Syrian refugees until certain conditions are met.

The move set the scene for a high-stakes showdown over the administration's continued plans to resettle up 10,000 Syrian refugees in the country in 2016. Texas Gov. Greg Abbott has ordered agencies like the Texas HHS Commission to oppose Syrian refugee resettlement efforts in the wake of the Paris terror attacks, but the Obama administration has said its plans would go forward.
A Syrian refugee family of six had been scheduled to arrive in Texas for resettlement as early as Friday. Texas filed their lawsuit after being notified of these plans. A person involved in the process told BuzzFeed News late Thursday that family was on schedule to arrive — but would be arriving in New York City first to meet with IRC officials before proceeding to Texas.
In Friday's filing, the U.S. government lawyers said two different six-person Syrian refugee families had arrived in New York this week. The federal government intends to help them resettle in Dallas and Houston, respectively, on Monday, Dec. 7.
Abbott is one of 31 governors who said they would stop or otherwise oppose the resettlement of Syrian refugees in their states after the terrorist attacks in Paris. In November, a family was diverted from Indiana to Connecticut after Indiana Gov. Mike Pence said his state would not accept Syrian refugees.
The Obama administration and IRC opposed Texas's motion for a restraining order in their Friday morning filings, with IRC's lawyers — including the ACLU, ACLU of Texas, Southern Poverty Law Center, and National Immigration Law Center — arguing that Texas officials "allude[d] in an entirely speculative and vague fashion to security concerns" that are not backed up by facts.
Noting that "[d]ecisions as to resettlement of refugees within the United States are committed to the Federal Government as part of its exclusive constitutional and statutory authority over immigration," the Obama administration lawyers wrote the Texas's lawsuit is seeking "an unwarranted veto power over individual federal refugee resettlement decisions. And it would do so in order to prevent refugee families with small children from entering the State."
Godbey is yet to issue any order in the case.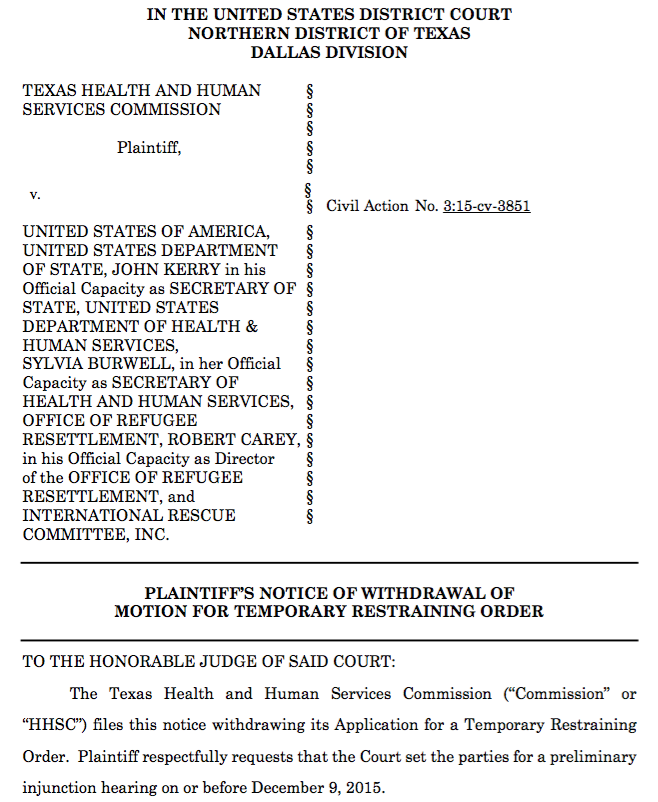 In the U.S. filing, the lawyers detail their current Texas resettlement plans: