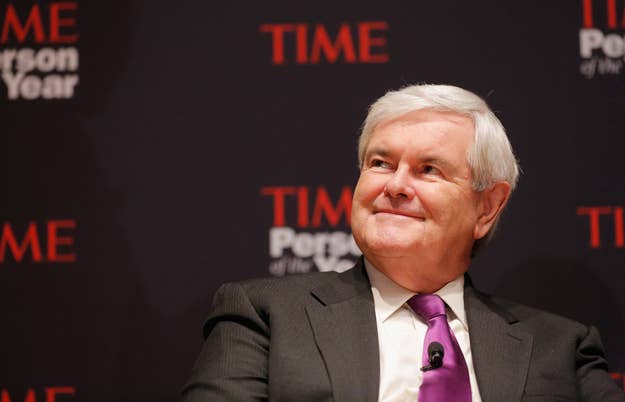 WASHINGTON — Former House Speaker Newt Gingrich said he can accept the "reality" of marriage between same-sex couples as a "legal document issued by the state" — as strong a sign as any that the landscape for marriage equality has changed dramatically in the past year.
"The momentum is clearly now in the direction in finding some way to ... accommodate and deal with reality. And the reality is going to be that in a number of American states -- and it will be more after 2014 -- gay relationships will be legal, period," Gingrich told The Huffington Post in a story published on Thursday.
Gingrich "continued to profess a belief that marriage is defined as being between a man and a woman," Sam Stein and Jon Ward report, but "suggested that the party (and he himself) could accept a distinction between a 'marriage in a church from a legal document issued by the state' -- the latter being acceptable."
Of the change, though, Gingrich said, "I think that this will be much more difficult than immigration for conservatism to come to grips with."
The move from the former House speaker comes a month after voters in Washington, Maryland and Maine voted in favor of marriage equality ballot measures and after voters elected a record number of out LGBT politicians to Congress, including the first out LGBT senator in Tammy Baldwin of Wisconsin.
Regarding the time when Gingrich served as House speaker and the Defense of Marriage Act, now before the Supreme Court, was put up for debate, he said, "I didn't think that was inevitable 10 or 15 years ago, when we passed the Defense of Marriage Act. It didn't seem at the time to be anything like as big a wave of change as we are now seeing."
Several others involved in the 1996 law's passage — including Rep. Bob Barr, who sponsored the legislation, and President Clinton, who signed it into law — have since said that they now oppose DOMA and support marriage equality.
In the interview, Gingrich acknowledged his half-sister, Candace Gingrich-Jones, who works at the Human Rights Campaign, the nation's largest LGBT political group. Stein and Ward report that Gingrich said he has gay friends who've gotten married in Iowa.
HRC's president, Chad Griffin called the move remarkable.
"Newt Gingrich has proven that leaders in the Republican party understand where the country is moving on marriage but he is also brave enough to say it out loud," Griffin told BuzzFeed. "It's remarkable that Gingrich admits he didn't see the coming power of the LGBT community and our allies back in 1996 but now understands the wave of change that's sweeping over the nation."
As the Supreme Court considers whether DOMA's federal definition limiting "marriage" to one man and one woman is constitutional, Griffin noted of Gingrich's changed view, "His comments give room for other Republican leaders to reflect on the direction in which the country is heading and get on the right side of history."
Robert Raben, a lobbyist who was Democratic counsel for the House subcommittee that considered DOMA in 1996, had only one word in response to Gingrich's comments: "Wow."
For Candace Gringrich-Jones, the move has been a long time coming. She has worked with HRC on its National Coming Out Day activities and more since 1995 and told BuzzFeed, "On a personal level, reading the interview made me proud of my brother."
Adding of her relationship, she noted, "The time my wife Rebecca and I have spent with Newt has had an effect and he has evolved on marriage. I know this was just one interview and I don't imagine he'll be Googling PFLAG anytime soon (www.pflag.org in case you do, Newt), but it is most definitely progress."
She also suggested that her family isn't alone, noting, "And while the rest of America may not get the spotlight my family does, this same progress is happening everywhere. It is inspiring to know that the conversations we as LGBT people have with our families and loved ones, neighbors, co-workers and classmates, can lead to real change in hearts and minds. It's not an easy journey, and it sure ain't over, but I hope our family's experience can give a little hope to those who are on the same path."
A spokesman for House Speaker John Boehner, who is leading the defense of DOMA before the Supreme Court, did not immediately respond to a request for comment.