New York Launching "First-Of-Its-Kind" Transgender Health Care Program
The state's attorney general, Eric Schneiderman, is teaming up with hospitals and advocates to educate about the law and best practices for transgender health services on Friday. A BuzzFeed News exclusive.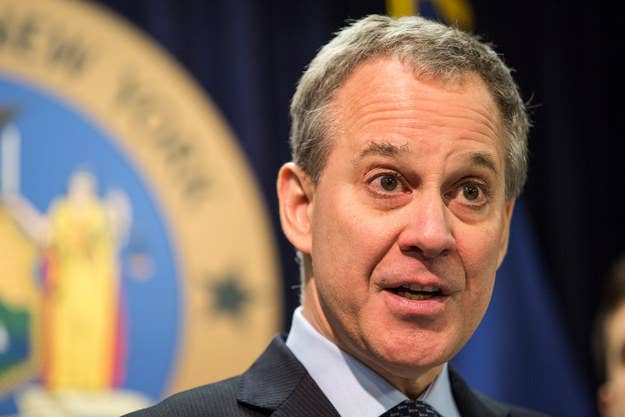 New York officials on Friday morning will be announcing a new public-private partnership aimed at improving health care services for transgender people in the state, BuzzFeed News has learned.
The initiative — launched between the New York Attorney General's Office, Greater New York Hospital Association, Mt. Sinai Health Systems, and Lambda Legal — will provide information and training to hospitals about both legal requirements and best practices for addressing the health needs of transgender people.
"My office is committed to ensuring equal and respectful access to medical care for all New Yorkers, regardless of their gender identity," New York Attorney General Eric Schneiderman said in a statement. "We are proud to partner with hospitals and health care centers across New York State to help educate and raise awareness around the specific needs and challenges transgender individuals face when seeking basic medical care."
According to information provided to BuzzFeed News about the "first phase" of the initiative, Schneiderman's office held briefings for members of the Greater New York Hospital Association ("GNYHA") in order to prepare for trainings that will be held within the group's member hospitals.
The training program, according to the information provided, is aimed at addressing: "the legal framework of protections for transgender individuals"; "the nature and extent of discrimination experienced by transgender individuals in accessing health care"; and "identification of best practices for hospitals."
In announcing the program, the New York Attorney General's Office pointed to a 2011 survey conducted by the National Center for Transgender Equality and National LGBTQ Task Force to highlight problems faced by transgender people in seeking health care. Specifically, the office notes, the problems include "harassment, denial of care, restrictions on access to gender-specific facilities, and invasion of privacy through inappropriate questions."
The president of GNYHA, Kenneth E. Raske, said that his group and member hospitals are "proud to work alongside Attorney General Schneiderman to promote best practices to ensure that all patients receive the best care, regardless of sexual orientation and gender identity."
Noting that the briefings, which included staff from Lambda Legal, focused on discussions with administrators who are likely to be involved with addressing transgender care issues — like diversity and quality officers, legal counsel, and compliance personnel — the Attorney General's Office described the briefings as having provided an opportunity to discuss the best practices in light of "implementation issues at member hospitals."
Lambda Legal's transgender rights project director, M. Dru Levasseur, said the group was "thrilled" that Schneiderman's office was taking on this "first-of-its-kind" program.
"We look forward to continuing to work together to help hospitals meet the needs of transgender patients across the state," Levasseur added.