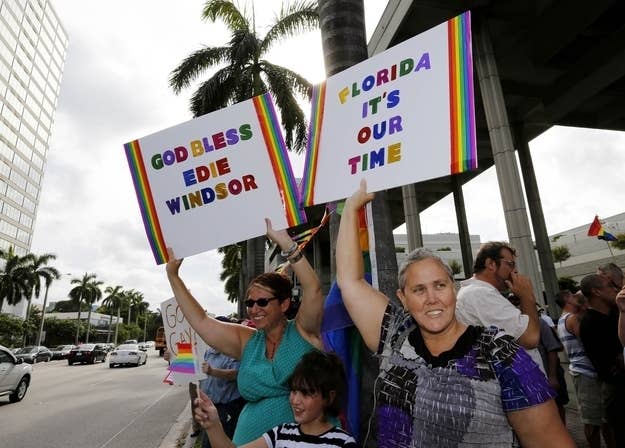 Efforts to change the marriage equality landscape across the country are coming fast and furious in the aftermath of last week's Supreme Court marriage rulings.
In the wake of the decisions striking down part of the Defense of Marriage Act and allowing the trial-court ruling finding California's Proposition 8 unconstitutional to stand, advocates in several states are gearing up efforts to expand that marriage equality map — which now stands at 13 states and DC.
Efforts being announced Wednesday bring together LGBT legal advocacy groups, former New Mexico Gov. Gary Johnson, and former NBA star Tim Hardaway on the side of pushing marriage equality momentum after the court's rulings.
NEW MEXICO: Wednesday morning, the National Center for Lesbian Rights and American Civil Liberties Union announced they have teamed up to ask the state supreme court in New Mexico to order state officials to allow same-sex couples to marry.
The state has no law banning same-sex couples from marrying, but Attorney General Gary King announced in June that he could not definitively say that gay couples could marry — meaning such a decision would need to be enacted into law through the legislature or be decided by a court. Lawsuits have been filed at the trial-court level prior to Wednesday seeking marriage licenses.
On Wednesday, though, six couples went directly to the state supreme court, seeking a ruling from the court — called a writ of mandamus — ordering state and county officials to apply the state's marriage license statutes "without regard to the sex or sexual orientation of the persons who seek enforcement or application of those statutes."
The new lawsuit also seeks a ruling that would order state and county officials to treat same-sex couples married in New Mexico or elsewhere "equally with all other married couples under the laws of New Mexico."
FLORIDA: Across the South, in Florida, advocates there plan to launch their petition drive Wednesday evening to reverse the state's marriage ban amendment by putting an amendment vote on the ballot in November 2014. The effort was announced in June by Equal Marriage Florida, which is being led by Miami political consultant Vanessa Brito.
In a coincidence of timing, former New Mexico Gov. Gary Johnson — who served as governor as a Republican and is now a Libertarian — is helping the Florida advocates with their effort. Johnson has been supportive of marriage equality since 2011, when he began running for president as a Republican and eventually ran as a Libertarian.
Tim Hardaway, the former NBA player who made headlines in 2007 for an anti-gay tirade, has made efforts to work with LGBT groups in the years since and will be signing the Florida petition to reverse the marriage ban at Wednesday evening's launch event, a spokesman for Johnson told BuzzFeed.
NEW JERSEY: In New Jersey, Lambda Legal and Garden State Equality filed a motion (available here) on Wednesday afternoon in an ongoing lawsuit asking the court there to "order that New Jersey allow same-sex couples to marry."
MICHIGAN: Already, on Monday of this week — and citing the recent Supreme Court DOMA ruling — a federal judge in Michigan rejected an attempt by state officials there to dismiss a lawsuit challenging that state's marriage amendment.
ARKANSAS: On Tuesday, a lawsuit (available here) was filed by an attorney in Pulaski County, Arkansas, seeking marriage equality for several couples in that state.
OTHER LAWSUITS: In addition to those five states, lawsuits are pending out of Illinois, Nevada, and Hawaii seeking marriage equality in those states.
LEGISLATIVE EFFORTS: Legislative efforts remain in Illinois, where the state House did not vote on a marriage equality bill passed by the Senate there this spring, and New Jersey, where Gov. Chris Christie previously vetoed a marriage equality bill passed by the legislature and an override vote is expected, as well. And, in Pennsylvania, lawmakers there announced last week that they aim to introduce a marriage equality bill later this year.
OTHER BALLOT EFFORTS: Finally, advocates in several states beyond Florida — with varying levels of strength and support — are planning efforts to go to the ballot seeking to overturn state marriage ban amendments. They include efforts in Arizona, Ohio, Oregon and Nevada.
Chad Griffin, the president of the Human Rights Campaign, left the Supreme Court building last week with a bold pronouncement that the organization's goal was to have marriage equality in all 50 states within the next five years.
If the week since the rulings in United States v. Windsor and Hollingsworth v. Perry is any sign, advocates across the country agree with that aim.
[Update: This article was updated to include information about a lawsuit filed in Arkansas and a motion filed in a lawsuit in New Jersey.]
Read The New Mexico Lawsuit: