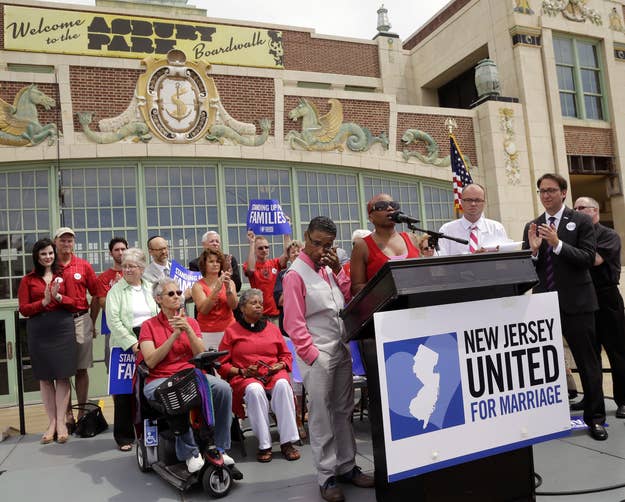 WASHINGTON — The New Jersey Supreme Court will decide in coming months whether same-sex couples can marry in the state, with arguments in the case to take place in early January 2014.
In a Friday order, the court accepted the "direct certification" of the appeal, including taking over consideration of whether to put on hold the trial-court decision that would allow same-sex couples to begin marrying on October 21.
Following Judge Mary Jacobson's September ruling that New Jersey's civil unions law did not give same-sex couples in the state all of the benefits of marriage because the couples are not eligible for federal benefits linked to state marriage licenses, Gov. Chris Christie's administration asked the state Supreme Court to hear the appeal directly, rather than the case first going to the court of appeals. Christie's lawyers also asked Jacobson to put her ruling on hold, called a stay, while the appeal effort was ongoing.
On Thursday, Jacobson ruled that she would not grant a stay in the case during the appeal, which the Christie administration immediately appealed.
The state Supreme Court in Friday's order both accepted the direct certification of the appeal and took over consideration of the stay request before the appeals court. The stay matter, per an earlier timeline set by the appeals court and adopted by the state Supreme Court, is expected to be resolved before the October 21 deadline set by Jacobson.
Under that appeals court schedule, the Christie administration had to file its arguments in support of the stay Friday and the plaintiffs will have to file their arguments in opposition to the stay by 9 a.m. Tuesday.
Under Friday's order by the state Supreme Court, the briefing on the marriage question itself will take place over the month of November and into the beginning of December, with the oral arguments to be set "for the session of January 6-7, 2014."