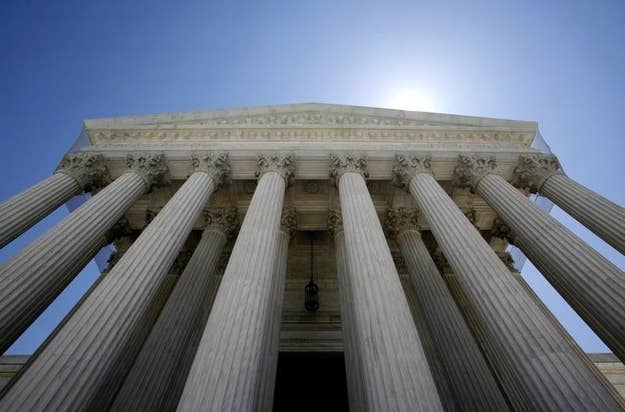 WASHINGTON — Nearly 300 employers — from private businesses to cities to law firms and professional organizations — filed a brief with the Supreme Court Wednesday urging the court to hold that the Defense of Marriage Act's federal definition of marriage be found unconstitutional.
"Our principles reflect, in the truest sense, our business judgment. By force of law, DOMA rescinds that judgment and directs that we renounce these principles or, worse yet, betray them," the employers write in Wednesday's amici curiae, or friends of the court, filing.
From Apple to Zynga and from Bangor, Maine, to Santa Monica, California, the brief was aimed at showing the broad support for the group's position against DOMA.
"The House of Representatives argues that Congress, through DOMA, sought to impose a uniform rule of eligibility for federal marital benefits," the employers write. "The perspective of the American employer who must implement DOMA is very different. Far from creating uniformity, DOMA obliges employers to treat an employee married to someone of the same sex and an employee married to someone of a different sex unequally."
The brief presents two main arguments: DOMA imposes "compliance burdens" on employers, and DOMA forces employers to "affirm discrimination they regard as injurious."
On the first:
Federal law provides to the working family many benefits and protections relating to health care, protected leave, and retirement. These protections provide security and support to an employee grappling with sickness, disability, childcare, family crisis, or retirement, allowing the employee to devote more focus and attention to his work.

DOMA thwarts these employee expectations, to the direct detriment of some married employees of amici, and, by extension, of amici ourselves. ...

DOMA forces amici to administer dual systems of benefits and payroll, and imposes on them the cost of the workarounds necessary to protect married colleagues.
As to the discrimination, the employers write:
DOMA imposes on amici not simply the considerable burden of compliance and cost. DOMA conscripts amici to become the face of its mandate that two separate castes of married persons be identified and separately treated. As employers, we must administer employment-related health-care plans, retirement plans, family leave, and COBRA. We must impute the value of spousal health-care benefits to our employees' detriment. We must treat one employee less favorably, or at minimum differently, when each is as lawfully married as the other. We must do all of this in states, counties, and cities that prohibit workplace discrimination on the basis of sexual orientation and demand equal treatment of all married individuals. This conscription has harmful consequences.
Oral arguments in the DOMA case — United States v. Windsor — are scheduled for March 27.