More Than 200 Congressional Democrats Call On Obama To Issue LGBT Workers' Order
"[T]here is no reason you cannot immediately act by taking this important step," the lawmakers write, asking Obama to sign an executive order banning federal contractors from anti-LGBT bias. [Updated March 20 with additional signatories.]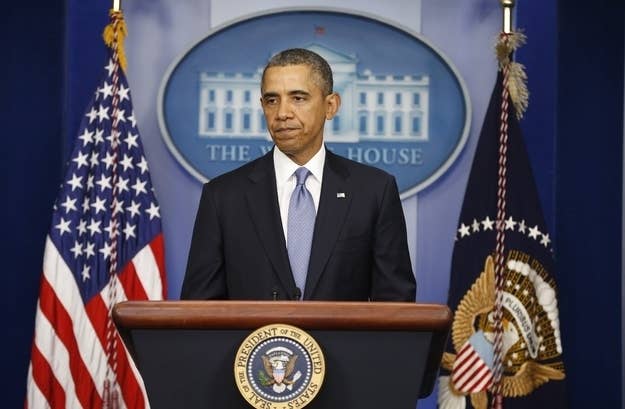 WASHINGTON — Nearly all Senate Democrats and roughly three-quarters of House Democrats are sending a letter to President Obama calling on him to sign an executive order banning federal contractors from discriminating against LGBT workers.
The move comes as the White House has maintained that Obama's preferred path is passage of Employment Non-Discrimination Act into law rather than signing the executive order. Advocates have pushed for the executive order in the wake of last fall's Senate passage of the ENDA, a bill that would ban most private employers from anti-LGBT discrimination.
The nearly 200 congressional Democrats, however, write, "We are committed to doing all that we can in Congress to get ENDA to your desk this year; however, there is no reason you cannot immediately act by taking this important step."
The effort was led by Sen. Jeff Merkley and Rep. Jared Polis, with support from Sens. Tom Harkin and Tammy Baldwin and Reps. Michael Michaud, David Cicilline, Sean Patrick Maloney, Mark Pocan, Kyrsten Sinema, Mark Takano, Frank Pallone, Lois Capps, Diana DeGette, Joe Garcia, Raul Grijalva, Mike Honda, Barbara Lee, Jerrold Nadler, and Adam Schiff.
The proposed order follows Obama's agreement in a 2008 candidate questionnaire that, if elected president, he would support a nondiscrimination policy for LGBT employees of federal contractors. Advocates and lawmakers have been pressing Obama to model the policy off an existing executive order, Executive Order 11246, that bans federal contractors from discriminating on the basis of race, color, religion, sex, or national origin.
Ten more senators joined this letter — the circulation of which for signatures was first reported earlier this month — than joined a similar Senate-only letter sent last February. The 49 Democrats who signed the letter did not include Majority Leader Harry Reid, but did include other members of the leadership: Sens. Dick Durbin, Chuck Schumer, and Patty Murray. Sen. Michael Bennet, who chairs the Democratic Senatorial Campaign Committee, did not sign the letter.
The other Democrats not signing the letter are Sens. Heidi Heitkamp, Joe Manchin, and Mark Pryor, as well as independent Sen. Angus King, who caucuses with the Democrats. [Update at 5:55 p.m.: Sen. Maria Cantwell, not listed as a signatory when the letter was released, is now signed on to the letter, a spokesman tells BuzzFeed.] [Update on March 20: Sen. John Walsh, not listed as a signatory when the letter was released, is now signed on to the letter, a spokesman tells BuzzFeed.]
On the House side, House Minority Leader Nancy Pelosi did not sign the letter; a spokesman told the Washington Blade that she would "send her own private letter" to Obama separately. But three other members of the Democratic leadership — Reps. Steny Hoyer, James Clyburn, and Xavier Becerra — did sign. Democratic National Committee chair, Rep. Debbie Wasserman Schultz, did not sign on to the letter, but Democratic Congressional Campaign Committee chair Steve Israel did sign.
The 152 House signatories this year are up from 110 last year, leaving 50 members of the Democratic caucus not having signed the letter. Three members — Reps. Emanuel Cleaver, Donna Edwards, and Maxine Waters — signed last year's letter but are not on this year's list.
[Update on March 20: Reps. Becerra, John Carney, Chaka Fattah, and Doris Matsui — not listed as signatories when the letter was released — are now signed on to the letter, an LGBT Equality Caucus staffer tells BuzzFeed.]