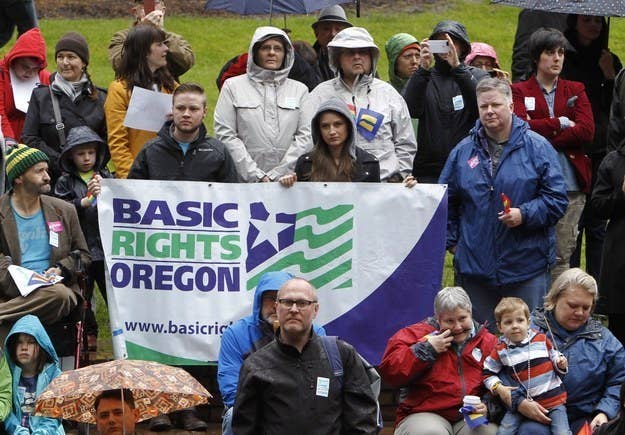 NEW YORK CITY — A group opposed to same-sex couples' marriage rights on Tuesday asked the Supreme Court to step in to stop such marriages in Oregon.
In a filing at submitted to Justice Anthony Kennedy on Tuesday, the National Organization for Marriage asked Kennedy to stop the trial court ruling in favor of marriage equality from going into effect while NOM appeals its request — denied by the trial court — to intervene in the case.
NOM requested the stay pending appeal from U.S. District Court Judge Michael McShane and from the 9th Circuit Court of Appeals. Both requests were denied, and same-sex couples have been marrying in Oregon since McShane issued his ruling in the case on May 19.
Kennedy, as the justice who handles such questions out of the 9th Circuit Court of Appeals, could resolve the question himself or refer it to the full court to consider the request.
In making their case, NOM's lawyers argue regarding the trial court decision striking down Oregon's ban on same-sex couples' marriages, "[T]his case involves not just a refusal by the federal government to accept a State's definition of marriage," as was the case when the Supreme Court struck down the Defense of Marriage Act last year, "but an outright abrogation of such a definition—by a single federal judge wielding a federal injunction in a non-adversarial proceeding."
That "non-adversarial proceeding" existed, NOM explains, because "not one of the named defendants in Oregon offered a defense" and, prior to the trial court's ruling, "the defendants announced they would not be appealing any adverse judgment." That, NOM states, is the reason it sought to intervene "on behalf of its Oregon members."
In summarizing its argument, NOM urges Kennedy — who has written the trio of Supreme Court opinions advancing gay rights since 1996 — that "[a] stay is urgently needed ... to minimize the enormous disruption to the State and its citizens of potentially having to 'unwind' hundreds more same-sex marriages should this Court ultimately conclude, as Applicant strongly maintains, that the district court's judgment and injunction exceed its constitutional authority."
A court spokesman tells BuzzFeed that although the petition was dropped off at the court on Tuesday — at 5:27 p.m., according to a time-stamped document provided to BuzzFeed by NOM — it "has not been accepted and docketed yet," as of 9:45 a.m. Wednesday morning.
In its Tuesday news release, NOM stated, "The National Organization for Marriage (NOM) today filed a motion with Supreme Court Justice Anthony Kennedy," but a court spokesman said the time stamp was merely "the police time stamp from dropping it off at the Court."
A court spokesman updates that "[t]he application has been filed" and docketed.
Per a court spokesman, "Justice Kennedy has called for a response in this case, due Monday, June 2, by 1 pm ET."