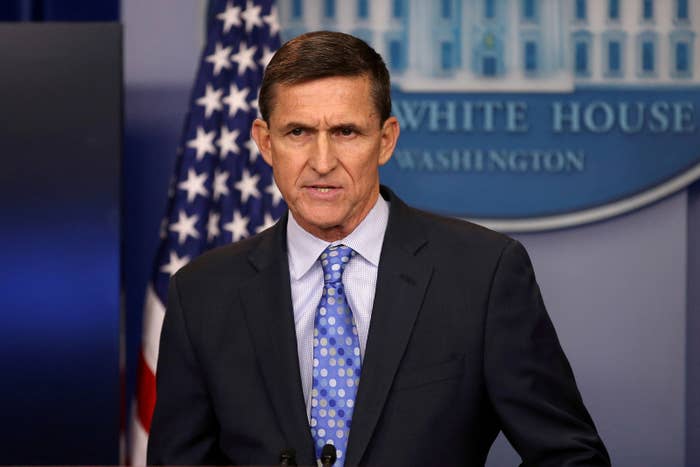 Michael Flynn's family has set up a legal defense fund and is now soliciting donations as multiple investigations scrutinize the actions of the former Trump national security adviser.
The family is setting up the fund because "[t]he enormous expense of attorneys' fees and other related expenses far exceed their ability to pay," according to a statement from Joe Flynn and Barbara Redgate, Flynn's brother and sister, respectively.
A source familiar with his legal representation said Flynn's "core team" is seven attorneys from Covington — including partners, counsel, and associates — with "numerous" others involved at certain points. The fees will "certainly be into the seven figures," according to the source.
Flynn, who played key roles in Trump's campaign and is a retired Army lieutenant general, has been under scrutiny in the various investigations relating to Russia's attempts to influence the 2016 election, including special counsel Robert Mueller's investigation. Flynn tweeted out the news about the legal defense fund first thing Monday.

"The costs of legal representation associated with responding to the multiple investigations that have arisen in the wake of the 2016 election place a great burden on Mike and his family," the website reads. "They are deeply grateful for considering a donation to help pay expenses relating to his legal representation."
Flynn's personal business dealings and his actions during the Trump transition have been an enormous source of coverage. There have been questions about foreign payments to Flynn, as well as other Flynn meetings with foreign officials.
Flynn turned over more than 600 pages of documents to congressional investigators in June in connection with their investigations. He has not, however, personally testified — earlier citing fear of prosecution.
In addition to Robert Kelner, the Covington partner who has been Flynn's lead counsel throughout the investigations, the primary attorneys representing Flynn include partner Stephen P. Anthony and counsel Brian D. Smith. Anthony is a white-collar criminal trial lawyer who previously worked in the Justice Department's Public Integrity Section. Smith, a former lawyer in the Clinton White House counsel's office, currently advises clients on investigations — including matters involving the Foreign Agents Registration Act. The three of them have signed various congressional correspondence, the source told BuzzFeed News.
In addition to the core team, "numerous" other Covington attorneys have been involved from time to time — when documents have needed to be reviewed, for example — the source told BuzzFeed News.
Related Links: