WASHINGTON — A federal judge on Friday declared Missouri's ban on same-sex couples' marriages unconstitutional, echoing a state court's conclusion earlier this week.
U.S. District Court Judge Ortrie Smith, a 1995 appointee of President Clinton, ruled that the ban violates the fundamental right to marriage and violates equal protection because it discriminates on the basis of sex.
Notably, Smith did not decide the case on the basis of sexual orientation discrimination, finding that a prior decision of the 8th Circuit Court of Appeals — in which appeals from federal courts in Missouri are heard — limited sexual orientation-based claims.
The decision orders the director of the Jackson County Department of Recorder of Deeds to issue marriage licenses to same-sex couples.
Earlier this week, a state court judge ruled that Missouri officials couldn't stop St. Louis officials from allowing same-sex couples to marry.
Missouri's attorney general announced he will appeal Friday's ruling.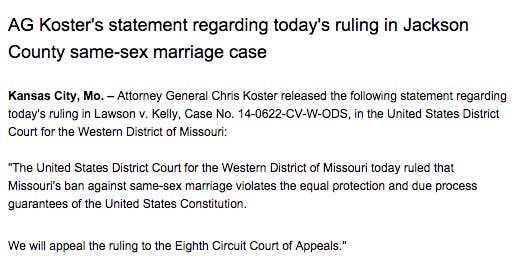 Jackson County, Missouri, announced it would begin issuing marriage licenses to same-sex couples on Friday afternoon.