Mississippi Governor Joins Attorney General In Ending Marriage Ban Defense
In a filing Tuesday, the Mississippi Attorney General's Office asks a federal appeals court to allow its lawyers to stop representing Mississippi Gov. Phil Bryant. [Update: The 5th Circuit granted the request on Wednesday, and Bryant's lawyer later acknowledged that the Supreme Court's ruling means that Mississippi's ban is no longer valid.]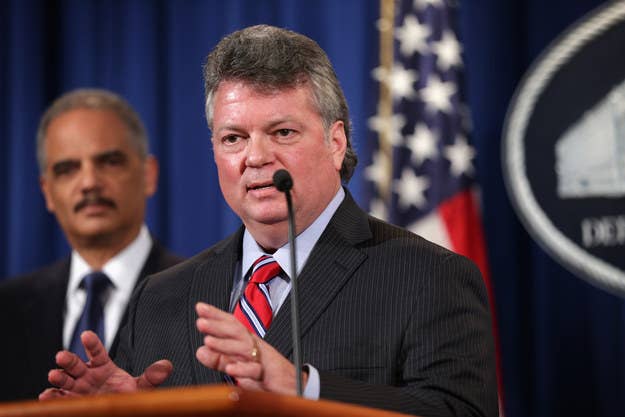 WASHINGTON — Mississippi Attorney General Jim Hood's office is asking a federal appeals court to let its lawyers stop representing the state's governor, Phil Bryant, in litigation over the state's ban on same-sex couples' marriages.
The move comes after Hood's office announced he did not oppose a request from same-sex couples challenging the state's ban asking the 5th Circuit Court of Appeals to end the state's ban formally. Bryant, however, "does oppose their motion."
The 5th Circuit, meanwhile, asked on Monday that "Bryant should state the reasons, if any, for opposition" to the same-sex couples' request by Wednesday, July 1.
In Tuesday's filing, the lawyers from Hood's office who are representing Bryant asked to withdraw as counsel for Bryant, writing, "Because [Hood and Bryant] have differing views regarding how to respond to the [same-sex couples]' motion and the Court's letter request," everyone — Hood, Bryant, and the lawyers — agrees that they "should withdraw as counsel for Defendant-Appellant Bryant, and proceed solely as counsel for Defendant-Appellant Hood going forward in this litigation."
Hood's office also filed a letter with the court urging the court to enter an order ending the state's marriage ban, in accordance with the Supreme Court's June 26 decision striking down marriage bans in four other states.
Mississippi AG Hood's letter: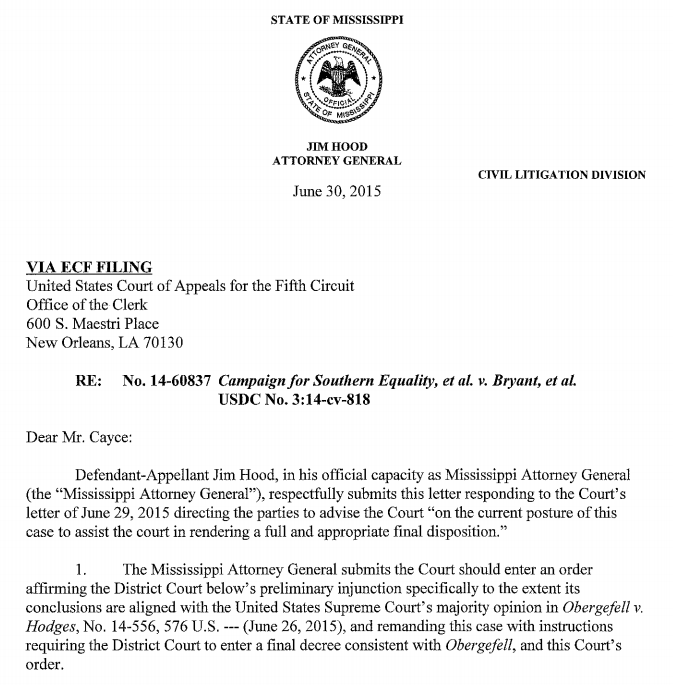 Update, 1:30 p.m. July 1: The 5th Circuit granted the motions to withdraw on Wednesday morning.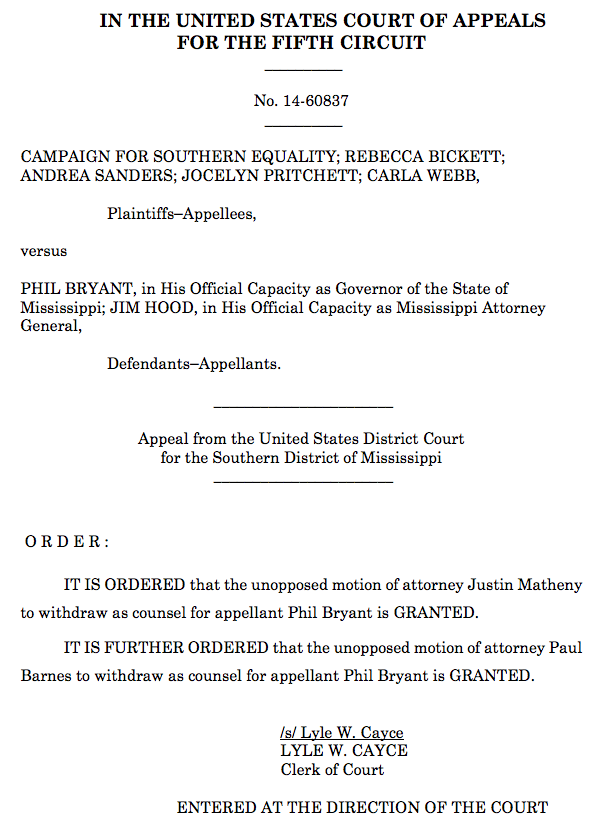 Update, 3:05 p.m. July 1: Mississippi Gov. Bryant acknowledged in a filing with the 5th Circuit on Wednesday afternoon that "Obergefell is now controlling."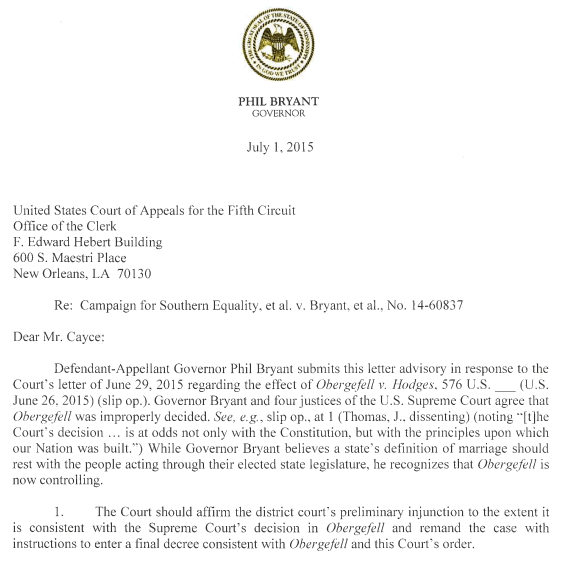 Update, 4:30 p.m. July 1: The plaintiffs' lawyer, Robbie Kaplan, responded to the Mississippi officials' filings, asking the 5th Circuit to act "without delay" to ensure the ban's formal end.