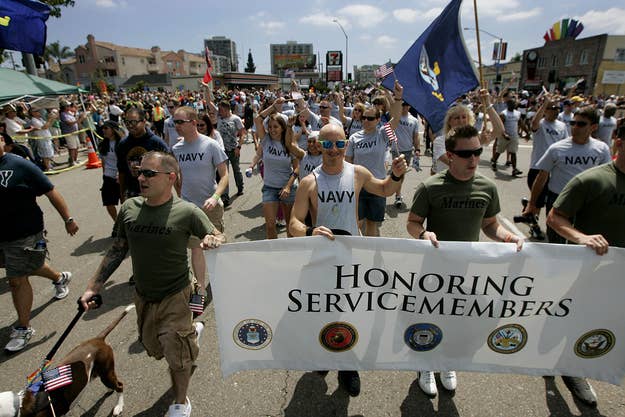 An association of military spouses announced Thursday that it is reviewing membership policies used to bar a lesbian wife from joining, even as Pentagon officials have quickly moved to distance themselves from the group.
"In response to recent interest in the membership requirements of our organization, we will review the issue at our next board meeting. This will be our first opportunity for our board to discuss the issue since it has been brought to our attention. We intend to review the request in a timely manner," the Association of Bragg Officers' Spouses said in a statement issued Thursday.
The group initially told Ashley Broadway that she did "not qualify" for membership in the group, as reported Tuesday by BuzzFeed. A representative of the group told Broadway that the reason she would not be able to join the group is that she does not have a military ID card, although that requirement — currently made available by the Pentagon only to opposite-sex spouses — was not listed in the group's bylaws.
Asked about the policy, a Pentagon official told BuzzFeed Wednesday that officers' spouses group at Fort Bragg is a non-federal entity and, as such, the Department of Defense "neither drafts, executes nor exercises control over non-federal entities or its governing documents." A second official noted that "the current [Fort] Bragg story is about membership in a non-federal entity organization."
Others confirm the appearance that the Pentagon has taken serious note of the matter. "We know firsthand that the Department of Defense Office of General Counsel is reviewing this situation," OutServe-SLDN communications director Zeke Stokes told BuzzFeed. OutServe-SLDN is a group representing and advocating for LGBT servicemembers and their families, and the Defense Department general counsel, Jeh Johnson, has been one of the key Pentagon officials involved in the "Don't Ask, Don't Tell" repeal process.
Regarding the issue of benefits available to same-sex couples, which could include offering ID cards to same-sex spouses, Pentagon spokesman Nate Christensen told BuzzFeed, "The Department is conducting a deliberative and comprehensive review of the possibility of extending eligibility for benefits, when legally permitted, to same-sex domestic partners. The benefits are being examined from a policy, fiscal, legal and feasibility perspective."
The review, which includes consideration of what changes could be made notwithstanding the Defense of Marriage Act, has been ongoing since the repeal of "Don't Ask, Don't Tell" took place in September 2011. LGBT advocates have since criticized the pace of that review.
The spouses club, although citing the ID card requirement to Broadway, is not a military organization and, hence, does not have any limitations based on DOMA that could be implicated in consideration of military benefits.
Any change at Fort Bragg won't necessarily be coming quick. The spouses group also noted in its statement, "As an all-volunteer board during this busy holiday season, we request your patience in allowing us to properly address and review this membership issue while fulfilling our obligations to our current membership as well as to our families."
OutServe-SLDN was not satisfied with Thursday's response. "'Equality can wait' has never been the answer, but that's the message the Association of Bragg Officers' Spouses is sending with its tepid and dismissive statement today. The group doesn't need a meeting; Ashley clearly qualifies under its existing, approved bylaws. It simply needs to accept Ashley into its membership, and it should do so immediately," Allyson Robinson, OutServe-SLDN's executive director, said.