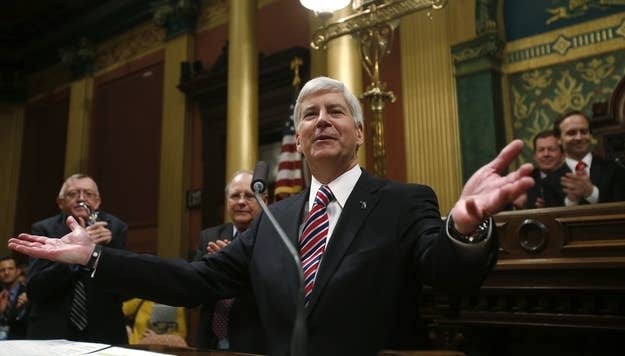 WASHINGTON — Michigan Gov. Rick Snyder announced Wednesday that the state will not be recognizing the marriages of the same-sex couples granted by four county clerks' offices over the weekend.
The more than 300 marriages, which followed a federal trial court ruling Friday finding Michigan's ban on same-sex couples' marriages to be unconstitutional, were conducted on Saturday before the 6th Circuit Court of Appeals put the ruling on hold while it considered whether to issue a stay of the trial court ruling during the course of the state's appeal.
On Tuesday, the 6th Circuit decided to put the trial court ruling on hold for longer, issuing a stay throughout the course of the appeal.
On Wednesday, Snyder stated that those marriages are legal but that, because the state's amendment banning recognition of such marriages is back on the books while the stay is in place, "the rights tied to these marriages are suspended" for the time being.
Snyder announced his view — which tracks the response of Utah Gov. Bob Herbert following a stay issued by the U.S. Supreme Court in that state's marriage case — Wednesday afternoon in a statement:
"After comprehensive legal review of state law and all recent court rulings, we have concluded that same-sex couples were legally married at county clerk offices in the time period between U.S. District Judge Freidman's ruling and the 6th U. S. Circuit Court of Appeals temporary stay of that ruling.

"In accordance with the law, the U.S. Circuit Court's stay has the effect of suspending the benefits of marriage until further court rulings are issued on this matter. The couples with certificates of marriage from Michigan courthouses last Saturday were legally married and the marriage was valid when entered into. Because the stay brings Michigan law on this issue back into effect, the rights tied to these marriages are suspended until the stay is lifted or Judge Friedman's decision is upheld on appeal."