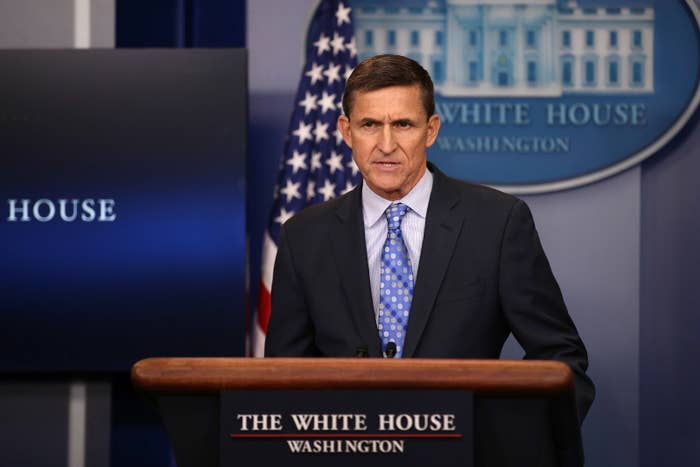 Michael Flynn will invoke his Fifth Amendment right against self-incrimination in refusing to comply with a Senate subpoena seeking records relating to the intelligence committee's investigation into the Trump campaign's Russia connections, a source close to Flynn tells BuzzFeed News.
The subpoena called for a response by Wednesday, but the source told BuzzFeed News that Flynn — President Trump's former national security adviser — will be responding on Monday.
Given the many calls to investigate and prosecute Flynn, the source said, it would be "highly imprudent for him to comply with the subpoena." Flynn will invoke his Fifth Amendment right against self-incrimination not to do so, the source added.
The Associated Press reported earlier Monday that "a person with direct knowledge of the matter" expected Flynn to take such steps on Monday.
As BuzzFeed News previously reported, Flynn's decision doesn't mean he will be going to jail for contempt of Congress. The process for such a prosecution is complex and rarely attempted — let alone successful.
UPDATE
The Associated Press and NPR published copies of the letter sent by Flynn's lawyer, Covington & Burling's Robert Kelner, on Monday afternoon, the authenticity of which was confirmed by BuzzFeed News.
The letter cites "reasonable cause to apprehend danger" from providing the information requested, due to the fact that "[m]ultiple members of Congress have demanded that he be investigated and even prosecuted," in invoking the Fifth Amendment privilege.
UPDATE
The leadership of the intelligence committee — Sens. Richard Burr and Mark Warner — issued a joint statement expressing disappointment in Flynn's decision.
"While we recognize General Flynn's constitutional right to invoke the Fifth Amendment, we are disappointed he has chosen to disregard the Committee's subpoena request for documents relevant and necessary to our investigation," they said. "We will vigorously pursue General Flynn's testimony and his production of any and all pertinent materials pursuant to the Committee's authorities."
This is a developing story. Please check back at BuzzFeed News for the latest.