WASHINGTON — Touting his extensive qualifications and strong past bipartisan support, President Barack Obama on Wednesday announced in an emotional ceremony that he is nominating Merrick Garland, a chief federal appeals court judge, to serve on the U.S. Supreme Court — a nomination Republicans were quick to say would go nowhere.
"I've selected a nominee who is widely recognized not only as one of America's sharpest legal minds, but someone who brings to his work a spirit of decency, modesty, integrity, even-handedness, and excellence," Obama said in announcing Garland, the current chief judge on the U.S. Court of Appeals for the D.C. Circuit, in a White House Rose Garden ceremony.

"These qualities, and his long commitment to public service, have earned him the respect and admiration of leaders from both sides of the aisle," the president said.
Noting that he had consulted with both Democratic and Republican senators, as well as advocacy groups and bar associations, Obama described Garland as "uniquely prepared to serve immediately."
"This is the greatest honor of my life," an emotional Garland told reporters, his voice cracking. "For me there could be no higher public service than serving as a member of the United States Supreme Court."
"I know that my mother is watching this on television and crying her eyes out," the judge said.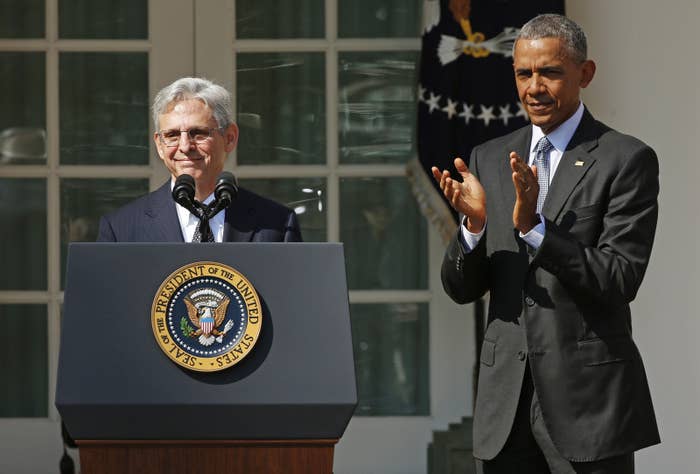 There will now be an actual person at the center of the fierce political debate over who should succeed Justice Antonin Scalia, who died on Feb. 13, and who should appoint the successor. The Republican line that has emerged since Scalia's death is that the November elections will enable the people to decide who they want nominating Scalia's successor.
Obama called on senators to give his nominee a fair hearing. "I said I would take this process seriously and I did," he said. "I chose a serious man and an exemplary judge."
He added, "To suggest that someone as someone as qualified and respected as Merrick Garland doesn't even deserve a hearing, let alone an up-or-down vote, to join an institution as important as the Supreme Court when two-thirds of Americans believe otherwise, that would be unprecedented."
"Fidelity to the constitution and the law has been the cornerstone of my professional life and it is the hallmark of the kind of judge I have tried to be for the past 18 years," Garland said. "If the Senate sees fit to confirm me to the position for which I have been nominated today I promise to continue on that course."
Garland, 63, is a surprising pick from a president who has discussed his desire to remake the federal courts — both in terms of traditional diversity but also in terms of experiential diversity.
Garland has the quintessential Supreme Court nominee résumé. After growing up in Illinois, he attended Harvard College and Harvard Law School; clerked for Supreme Court Justice William Brennan; became a partner at Arnold & Porter; and worked in the Clinton Justice Department, eventually overseeing the prosecutions of the Oklahoma City bombing and of the Unabomber.
Clinton initially nominated Garland for the D.C. Circuit in 1995, but his nomination initially stalled over a dispute not involving Garland himself. After being renominated in 1997, he was quickly confirmed on a 76–23 vote — with support from 31 Republicans — in a Republican-led Senate. Garland has served as the chief judge of the circuit since 2013.
In 2010, when Garland was under consideration for the vacancy created by Justice John Paul Stevens' retirement, SCOTUSblog's Tom Goldstein put the facts there — with a Democratic-led Senate — bluntly: "[T]o the extent that the President's goal is to select a nominee who will articulate a broad progressive vision for the law, Judge Garland would be a very unlikely candidate to take up that role."
Over at National Review, the prospect of Garland's nomination this time around was challenged by Carrie Severino, who pointed to the judge's prior vote seeking to have the full appeals court reconsider a three-judge panel's decision striking down a D.C. handgun ban ordinance as a sign that he is "not so moderate."
In the days after Scalia's death, his majority opinion for the sharply divided 5–4 Supreme Court in District of Columbia v. Heller — striking down the handgun ban after the District had appealed the D.C. Circuit ruling in a decision holding that the Second Amendment protects an individual's right to bear arms — was often pointed to as one of his most significant opinions.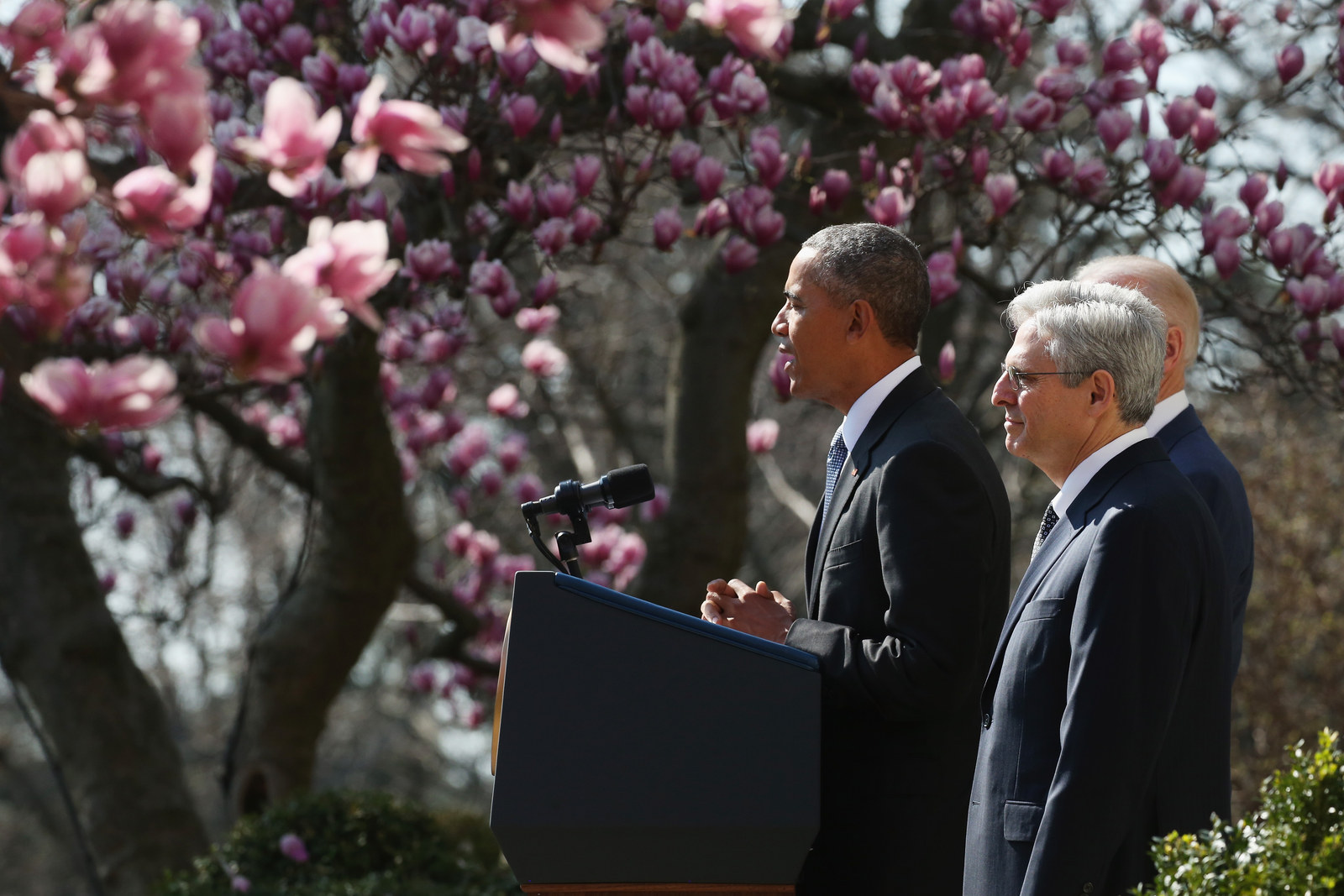 Obama will now press an uphill — if not unlikely — battle to have Merrick Garland replace Scalia on the bench.
Garland's nomination starts off differently than any other in modern American history.
Unlike any Supreme Court nominee since the practice began, the members of the Senate Judiciary Committee have — along party lines — stated that they do not intend to hold a hearing, let alone a vote, on the nominee. The committee's chair, Sen. Chuck Grassley of Iowa, has wavered on this point.
As Sen. Lindsey Graham, a Republican from South Carolina, acknowledged this past week, however, the committee was setting a "new rule" that "in the last year — at least of a lame-duck, eight-year term, I would say it's going to be a four-year term — that you're not going to fill a vacancy on the Supreme Court."
The nomination also will be moving forward or, more likely (at least at first), be stalled in the middle of ongoing sharp presidential primary contests, as well as a looming general election fight for the presidency. Both Hillary Clinton and Bernie Sanders have strongly backed Obama's prerogative to pick a nominee and criticized the Senate Republicans' peremptory response to the vacancy. Conversely, both Donald Trump and Ted Cruz, as Graham noted, have asked the Senate not to proceed on any Obama nominee for the vacancy.
After Obama's announcement, Grassley said he and his colleagues have no plans to change their positions, citing a desire for the public to weigh in. "A lifetime appointment that could dramatically impact individual freedoms and change the direction of the court for at least a generation is too important to get bogged down in politics," he said. "The American people shouldn't be denied a voice."
In a speech on the senate floor, Senate Majority Leader Mitch McConnell reiterated Grassley's sentiments, adding that though he recognized Garland's merits, the decision not to hold a hearing was to do with the timing of the nomination, and not the nominee. "This is about a principal, not a person," McConnell said repeatedly.
Senator Orrin Hatch, who in the past supported Garland for election to the Supreme Court, said in a floor speech that Garland is "a good man" who "shouldn't be brought up in ... the most toxic" election season of his 20 years in the senate. Yet Hatch signaled that he was open to moving Garland's nomination into a lame duck session.
In a statement, Attorney General Loretta Lynch, who had been mentioned as a possible contender for the vacancy, praised Garland and urged Congress to confirm him. "His impeccable credentials, steadfast fidelity to the law and firm devotion to the public interest make him an outstanding choice to sit on our nation's highest court, where I am certain he will serve with integrity and wisdom," she said.

David Mack and Ema O'Connor contributed to this report.