Mel Wymore Wants To Change The Way New Yorkers Think About Gender
Running for City Council on New York City's Upper West Side, Wymore would be the first out transgender person on the council. "You can do almost anything if you feel comfortable in your own skin," he tells BuzzFeed in an extensive interview.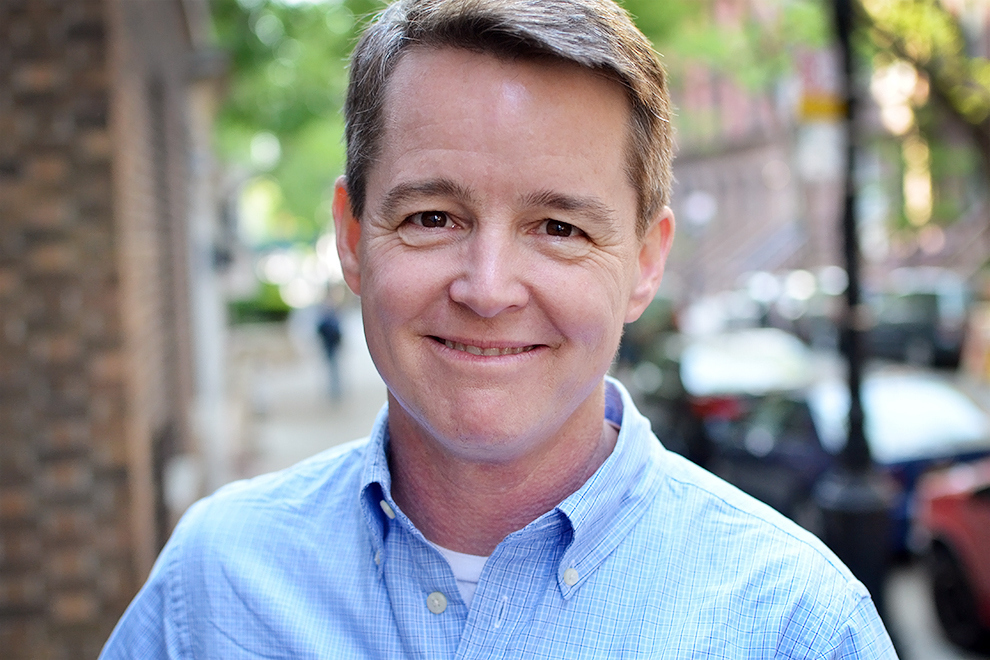 On September 10, New Yorkers will be casting their primary ballots for city offices — and potentially making history if they elect the first out transgender council member.
Though attention has been focused on the mayoral and comptroller campaigns, the race for the City Council seat on the Upper West Side, District 6, could end with the election of the first out transgender person on council, or in elected office in the state.
Wymore said he sees this race as part of his responsibility to address the issues about gender identity that took him decades to figure out and led to his eventual decision to transition from a woman, while serving as the head of the local community board.
"For people like me who have been very lucky to live in one of the most progressive communities on the planet, where I could be the chair of the community board and announce, 'Hey, I'm transitioning. I'll keep you posted,' ... I realized it's really my responsibility to bring that to other people — to bring that conversation out," he said.
"I have to do that because I don't want to have more people who take 35 years to figure out who they are. I certainly don't want it for my kids."
Out trans public officials are still very rare across the country, with only a handful of known out trans elected officials currently in office — none of whom are in a state legislature or Congress.
"Mel has literally spent decades serving his community and his neighborhood, so he's got the resume you want to see in a city council candidate," Gay & Lesbian Victory Fund vice president of communications Denis Dison said of the group's endorsement of Wymore.
The Victory Fund takes candidates' viability into account, and Dison said the group views Wymore as both viable and the best candidate in a crowded field to take the seat currently held by Gail Brewer.
But, the Victory Fund's primary aim is to increase the prevalence of out LGBT candidates and elected and appointed officials, and Wymore would be a notable change in the elective landscape.
"The fact that he'd also become a high-profile transgender leader is incredibly important," Dison said. "It would give him a level of prominence that probably no trans official has had in the U.S."
Part of the change the Victory Fund hopes to see from out elected officials is an increase in education and awareness about LGBT issues. Talking with BuzzFeed, Wymore made clear he's eager to take on that mantle for out trans officials as he talked about his aims in the race and the long and winding path that led him here and headed — he hopes — to join New York City Council in January 2014.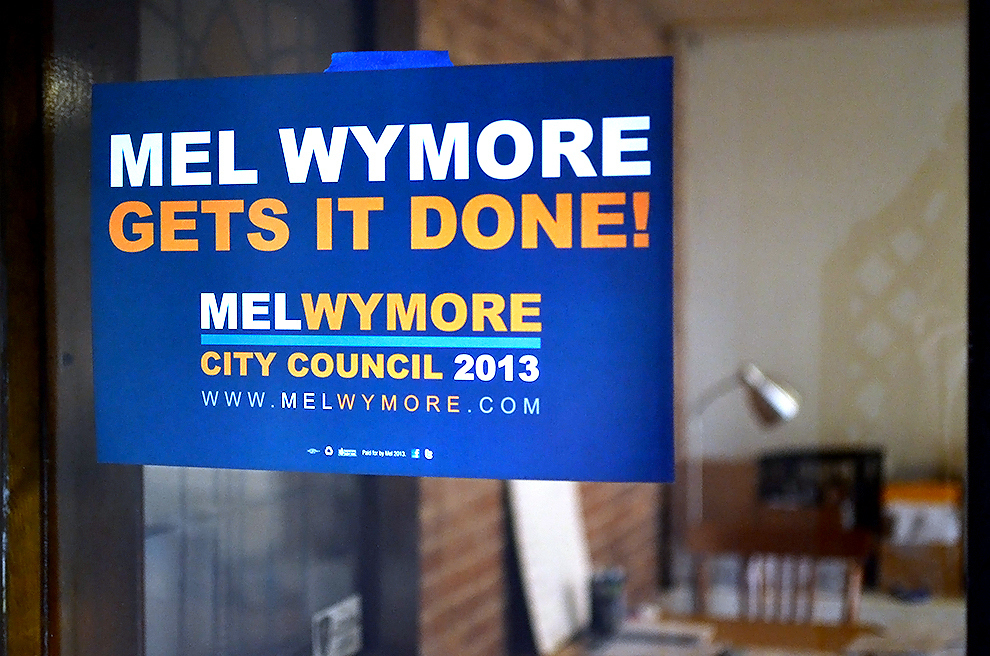 BuzzFeed: So, why are you running for City Council?
Mel Wymore: Running for City Council is a very natural progression of the work I've been doing in the community for more than 20 years. I started off very local, organizing my own block to start a food program for tenants of a building across the street who were missing out on services, particularly food and health care. Through that work, I got to know a lot of people in the community. I was asked to sit on Community Board 7, which is our, kind of a mini-City Council about 17 years ago, and I served on many committees after that. Eventually, I chaired the board itself.
Now I have an opportunity to take that knowledge and that experience, and also some of the skills that I have as an engineer, and perhaps bring some new conversations to policymaking [and] the way in which you bring people together to actually design the future as opposed to just advocate for policy on one side or another.
BuzzFeed: There are out gay and lesbian members of City Council, but you would be the first out trans member.
Wymore: I'd be the first out trans member of anything in New York state, in terms of elected office. There are some real role models in the trans world that have been active as district leaders in the Democratic Party or even in local community works in various boroughs, but, for the most part, no one has yet run for elective office in New York state, to our knowledge. You don't always know, because not everyone is out, but no one has run as an openly transgender person.
I'm excited about that, for a couple of reasons. I think that there's an opportunity to really give voice to a community that's really invisible in our society and is just starting to become a known community. And, secondly, because I feel that my perspective actually informs the way we can bring policy to a different level. I'm someone who really has seen many sides of life, and I think I can take on a lot of different perspectives and not just only representing a trans community, but really the whole continuum of what it means to be a human being, from a gender perspective certainly, but also from a perspective of what it means to be mainstream versus what it means to feel marginalized, what it means to feel that you are an activist versus someone who is in the privileged roles. It's probably good to have someone like that on the City Council.
BuzzFeed: We're at a point where there is a growing awareness of trans issues and lives.
Wymore: I started transitioning six years ago, and it's been a tsunami of awareness and change, in terms of the cultural understanding of gender. We have a long way to go because there's still a deep sense of otherness, I think, in people when they respond to meeting someone who is transgender. You actually have to meet [someone who is transgender] personally before that sense of otherness starts to fade.
Then, also, there's the issue of what it means to be transgender, because we live in a very binary society, meaning there's — we really breathe the air of 'there's two sides of the coin, there's the male side and there's the female side,' and so, the notion of a gender continuum is just beginning to become more commonplace in people's understanding and the cultural understanding of gender.
I think it's very exciting how quickly this is changing. It used to be when you saw a child who was "nonconforming," in terms of gender, and there was a path they were going to take. We all have this expectation: "There's a feminine, male-born child. That's gonna be a gay kid," and we have all these expectations of where they're gonna go. And, then there's the tomboy: "The tomboy is going to go through this butterfly transformation and turn into Mulan, who gets married to the prince." Those are the stories that we had, the expectation. And it was still always set in this very binary kind of world. [Now,] we see more and more parents … trying to create safe environments for their children to try and develop however they develop and not try to channel them in a particular path.
At the same time, there are people out there in tremendous pain because they live in a context or a world where it's not so easy to explain who they are, it's not so accepted.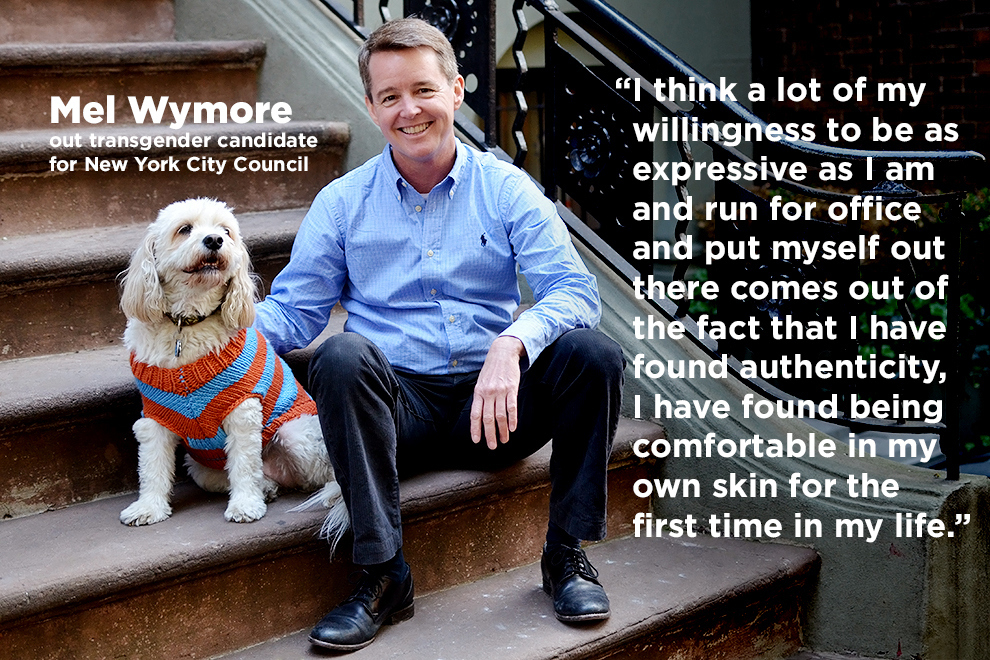 BuzzFeed: Tell me about that. A lot of people think about the process of transitioning as a very private process, but, with you, this is a very public version of that.
Wymore: That was very intentional on my part. I notice that a lot of people run away to transition. They want to leave their former identity and have everyone forget that former identity and then come back in a different identity or not come back at all. And, I felt that it's time for us to break that pattern and provide a real path for people. And, particularly, as a parent, as a mom, with two kids.
I think a lot about my own life, in terms of the experience my children will have and their children will have going forward in history. I could have stayed in the binary world. I could have said, "I'll just grow old and dress more butch" or whatever. I probably could have managed OK—but that wasn't going to be me. That never was me. I struggled for 30 years to figure out what's at the core of my lack of fulfillment around self-expression.
And, as much as the short-term pain that my children might have experienced as a result of my being as different as I am, the long-term benefit is that they will have complete permission and the standing and the grounding in their own lives to be whoever they are—and to also be a gift to everyone else to have their children and their friends be whoever they are.
BuzzFeed: But, you also were, as you noted, doing this in public. How did that work?
Wymore: For me, it was very important, extremely important to give people the room to ask questions without fear. Any question that they wanted to ask. Sometimes you have to be kinda brave. Believe me, I've had every question. And it's been a real gift. I've watched myself grow because of people's authentic questioning and being honest that they're struggling.
I've also watched our whole community grow together around being much more comfortable with gender. I was also the chair of the PTA of my kid's school at the same time, so I did this, openly, in two very different communities. One was a community of parents who were like, "Really? We're all going to do this?" But, they were up for it at the same time. And, the community as a whole was not only supportive of me as a chair, but really supportive of my children and allowing them to have whatever experience they were having.
"Well, aren't you worried about your kids?" [people asked.] Of course I'm worried about my kids, of course I am. But, I also believe that this is the right thing to do. I believe that when … you're holding something back, then we all lose. We hide things from each other because we don't think it's going to be accepted. When we can come out and be who we are and relate to each other, honestly and openly, we can create a different kind of space in our communities. That's what I want to create in my life.
BuzzFeed: How did you get to that point?
Wymore: As a parent leader, we brought in an organization called Yes Institute, and they're based in Florida, and what they do is teach communications courses in communities. They teach courses … on gender and orientation, creating safe spaces, real ways to communicate without value judgment. They came to my kids' school, and I participated in the course.
I had been trying to figure out what my issue was for a long time. I identified first as a straight woman and I got married and had children, and I struggled to find an internal sense of fulfillment and came out as a lesbian. But, even that, while it was an improvement, it wasn't really—I didn't hit the nail on the head.
While this course was there, I was still in this process of trying to understand why as a kid I was so happy and why as an adult I wasn't very happy. And they showed in this course, some clips of both Oprah Winfrey and Barbara Walters interviewing young trans kids, kids who were insisting that they weren't in the right body or something like that. And, I saw one of them, and the kid looked almost exactly like I did when I was six. And it was like, "Holy crap! This is my issue! It's gender!"
And literally, I was in shock. I actually flew down to take the course again, thinking "Is it possible that this is really what my issue is?" Of course, I'd already come out, and divorced, and all this stuff, so the prospect of doing it all over again was a little bit daunting. I went down and I sat in that course and I saw these clips again and I just, "OK, that is it. Now, what am I going to do with it?" I couldn't believe I hadn't figured it out before.
BuzzFeed: But, then you had to decide what to do about it.
Wymore: For a couple months I cogitated over it, and talked to friends and confidential relationships in my life, and realized that was the path I needed to take, and, if I was going to do it, I was going to do it big. I called the kids together and I said, "Looks like I'm not done yet. I'm going to go through this, and I don't know where I'm going to land."
At the time, I really didn't know where I was going to land. I didn't know if I was going to just masculinize a little bit and see if I was going to land at the very butch side of the lesbian continuum, or if I was going to keep going, but as I began, it was just clearer and clearer and clearer that this is where I wanted to be. I'm not a binary person; I don't see anyone as 100 percent on one side or the other of the gender continuum, but I ended up farther along than I probably first thought I would be.
I think a lot of my willingness to be as expressive as I am and run for office and put myself out there comes out of the fact that I have found authenticity, I have found being comfortable in my own skin for the first time in my life. You can do almost anything if you feel comfortable in your own skin — which is also the other piece of this. People think oftentimes, 'It's only about you. Why would you pursue your own selfish interests because it gives everyone else all this pain?' Especially as a parent, you get that a lot.
What people don't understand is it's not just about self-expression because you're dying when you're not able to be yourself. People who are not able to be themselves, it's not that they're not living, they're actually dying. And when you're a person that's living in a family or living in a community actively dying, it doesn't contribute to anyone.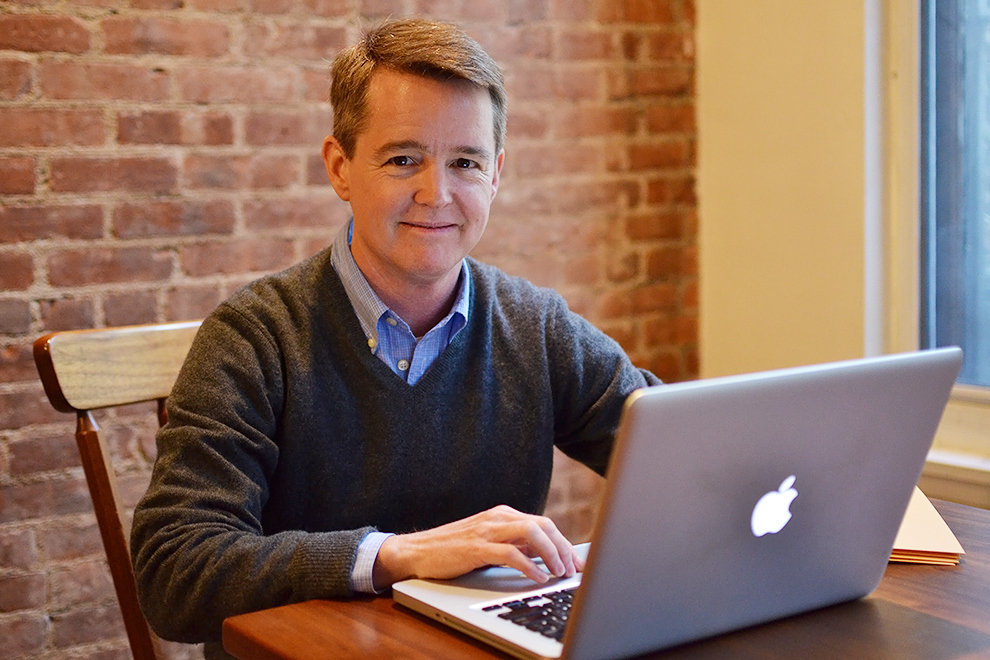 BuzzFeed: And then there's still active, brutal violence that remains. There have been all these advancements, on all LGBT fronts, and yet there is still this very high murder rate of transgender people.
Wymore: We win legal protections oftentimes before we gain cultural protections. Probably the most powerful thing we can do in terms of cultural change, really affecting cultural change is doing something like electing a transgender person to office. Why? Because people change their mind about difference and otherness when they relate to someone, when they see someone in the flesh—who they're actually sitting down to lunch with or having coffee with someone—who is in that class of otherness, whatever it is.
When that happens, like with me as community board chair—it's a small example, it's not a big legislative body, but—my openness to my colleagues on the community board, relating to me as a human being and getting work done in spite of the fact that I'm going through this transition really transformed the culture around gender in our community. And, it was a huge change.
BuzzFeed: As we advance, it's getting to the point—and we're seeing this in the mayor's race—where it's not enough just to be the out LGBT candidate, like Christine Quinn is, to get support from the LGBT community.
Wymore: It's not enough. I'm of two minds on that front. Anyone applying for any job needs to meet the requirements for that job. There's no question in my mind that Chris Quinn qualifies, absolutely, to run for mayor of New York City. Why? Because she served as speaker—the very next office in line is essentially what she is. So, she qualifies, and then you have to ask yourself, among the people who qualify, what other things does that person bring to the conversation?
And she brings a unique perspective and a voice that has not been heard. And she will and already has been opening pathways for all kinds of people who would not ever have considered themselves potential candidates for office, and they're going to see themselves in her. There's no question that there's a power in that role as a role model, and there's a power in having that voice in a leadership role, as a leader, as someone who's a really good leader. Even the conversation itself that we're having in this city is a groundbreaking conversation.
Just like in my campaign, we've never had this conversation: What does it mean to have a transgender person [running], and does it mean something about the community that we're having this?
BuzzFeed: What is that discussion?
Wymore: I believe there are real conversations happening in the community, grappling with itself essentially, about my viability as a candidate. Now, I am 100 percent sure that I am a viable candidate, or I wouldn't be running. But, I still think it's always a question for people, when you are the first, they gotta, "Wow, is he really gonna make that? Is it is really possible? Can we really do that?" And there's going to be an inflection point where that question is answered. And, you can feel it happening, you can feel people say, "Yeah, this is my favorite candidate, and I'm going to go ahead and say so." It takes courage. There's no question. It's not just me. The community is growing, and it's really fun to watch.
BuzzFeed: And then there's the LGBT community. I think we're finally starting to see a real change in the gay community's ability to engage on trans issues. What's your impression?
Wymore: I feel like the broader issue — and I apologize for being at this broad level — is really managing otherness. Even when you recognize yourself as an 'other,' say you came out as a gay person, you still want to belong to that group and find someone else to be 'other.' Gender is so deeply ingrained, binary notions of gender, so deeply ingrained in our cultural DNA. Transgender is about the end of the line of otherness, and so, if you're not that, it's easy to say — it's important to say, 'I'm not that.' For a long time, it was, I think, important to say, 'OK, I'm gay, but I'm not that.'
These issues of gender and orientation are very intertwined. If you really unpeel the onion here, it's coming down to, "Who am I, and who do I want to be with?" Orientation has to do with the direction of your attraction; the gender side is who do you want to be. As the gay and lesbian movement really matured, it was a natural progression for people to see that gender was also a component of this.
BuzzFeed: And do you think that is, generally, happening now?
Wymore: More representation and more togetherness?
BuzzFeed: Yeah.
Wymore: I think it's just beginning. I think it will happen very quickly. I think gender is going to happen way more quickly than sexual orientation happened, but I will say, it still comes as an afterthought in some of the big advocacy organizations. We have a long way to go, there's no question. I still think it comes down to representation: The more transgender people that are part of this larger conversation and stepping up as leaders, [the better].
Right now, it feels like there are pockets of huge awareness and real unconsciousness everywhere else. We just keep on pushing. It's a good reason to keep on pushing.
BuzzFeed: What excites you most about the prospect of being on City Council?
Wymore: I'm very excited about the idea of shifting the way politics works. Real change is going to be more cultural than it is legal, and it's going to start at the local level. And local government is where some of those groundbreaking, paradigm-shifting conversations are going to take place.
I'm very excited about bringing some of the tools that I have, both as a person who's gone through such transition in life and who sees policy-making as a great opportunity to design society, to design the community, to come together and say, "What do we want as a community? What do want as a city, one of the largest cities in the world?" I'm very excited about bringing that new sense of possibility and having that turn into something real.