Meet The Youngest And Oldest LGBT Delegates At The DNC
More than six decades separate Somah Haaland and Betty Ball, painting two differing pictures of LGBT equality. Both out delegates are first-time DNC delegates in Charlotte.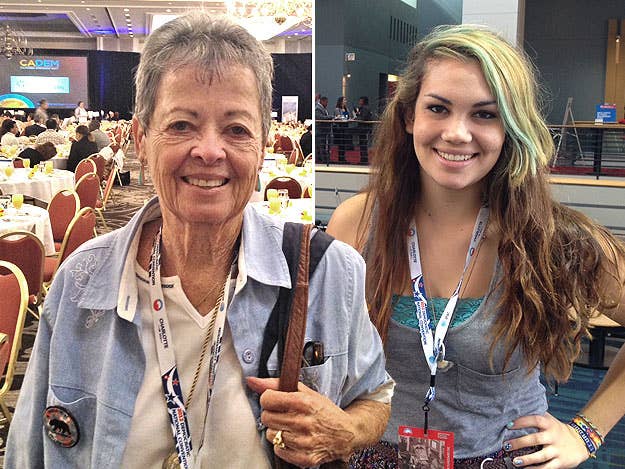 Charlotte, NC — Betty Ball and Somah Haaland are both first-time delegates at this year's Democratic National Convention. Both are excited to be attending and both are relative newcomers to politics.
Haaland turned 18 as she graduated from high school this spring. Ball, at 79, is retired and got involved in Democratic politics at age 70 — crediting then-President George W. Bush with inspiring her to get involved. With more than six decades separating their ages, they are the youngest and oldest LGBT delegates attending this year's convention.
They come from completely different eras. Haaland came out at 15; Ball didn't come out until after she retired.
"There were so many people who married, forced themselves to marry, just to be acceptable and could never get over being gay, so they'd get caught in a bathroom somewhere in a park, things of that sort," Ball said. Looking at delegates like Haaland, she said, "It's a healthier way this way."
Asked if she had expected to see the Democratic Party platform's include support for marriage equality in her lifetime, Ball, from San Marcos, California, said, "No, not in my lifetime."
Haaland — from Albuquerque, New Mexico — saw its inclusion as an expectation: "Equality is a right; it's not something that should be voted on."
Ball's life was different.
"I was born and raised in Texas. I've known all my life I was gay. I didn't know what you called it, but I knew that I was attracted to women more than to men." Because of the public environment, however, she said, "I did get married, thinking it would cure me of being gay — because I didn't want to be gay. But, it didn't work."
Ball married a man young. At 23, she got divorced and moved in with a woman.
"[I]t was very hard to be gay. You lived two lives. One life with your gay community, where you had your friends and your parties and your support system. And then your other life, where you worked, your heterosexual friends," she said. "And usually they didn't mix. You didn't even try to mix."
Looking at the differences between her life and Ball's, Haaland said, "It shows that we've come a long way, obviously. Already, we've made so much progress — in the same lifetime — which is awesome, but we still have so much farther to go."
Ball expressed great joy for the presence of people like Haaland at the convention.
"It's much, much better now, and I can only attribute that to more of the activist gay people, who were willing to march and work hard for it," she said. "I think it's marvelous! I think it's so much healthier that they can be out. I admire these young people very much."
A young activist, Haaland came out as bi at 15, and was a fall fellow for Organizing for America — the Obama campaign operation — in her junior year.
"We started Bulldogs for Obama — our high school mascot — and it ended up being the most active youth group in the whole nation," she said, which led to further involvement and her election as an at-large delegate.
Ball said she is looking forward to hearing Obama speak on Thursday night, adding, "but I [also] like Bill Clinton. I'm looking forward to hearing Michelle Obama — and Elizabeth Warren. She's a very admirable person."
As Ball marveled at Haaland's experience, Haaland looked even further forward.
"I know that one day I'm going to be telling my grandchildren, 'When I was 18, woman weren't allowed to marry other women and men weren't allowed to marry other men'," she said. "And they're going to be like, 'What? Why was that even an issue?'"