Meet Justice Gorsuch
On Monday morning, Chief Justice John Roberts swore in Neil Gorsuch as an associate justice of the Supreme Court. Later, at a public ceremony at the White House, Justice Anthony Kennedy performed the judicial oath for the newest justice.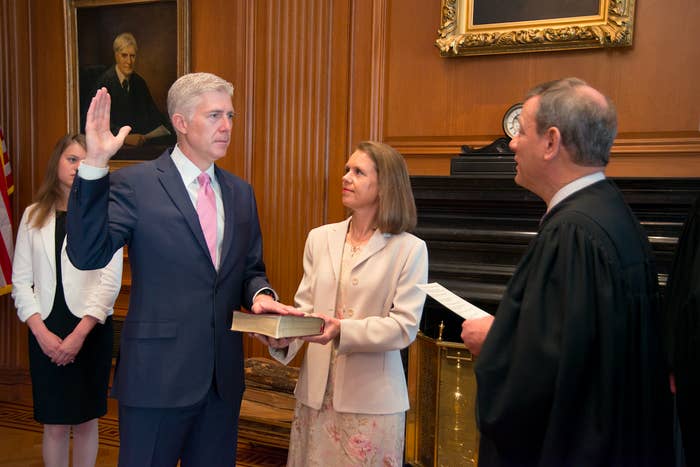 WASHINGTON — On Monday morning, Judge Neil Gorsuch became Justice Neil Gorsuch — taking the constitutional oath from Chief Justice John Roberts.
The 113th justice of the Supreme Court, Gorsuch becomes the ninth justice on the current court, which has had a vacancy since Justice Antonin Scalia died unexpectedly on Feb. 13, 2016.
Gorsuch was nominated to the Supreme Court by President Trump in January and was confirmed by then Senate on a 54-45 vote on April 7.
Later Monday morning, Gorsuch participated in a public swearing-in ceremony in the Rose Garden of the White House. That ceremony, where Gorsuch took the judicial oath, was performed by Justice Anthony Kennedy — one of the justices for whom Gorsuch clerked after law school.
The ceremony also gave Trump a chance to take a bit of a victory lap — he noted that Gorsuch's decisions on the Supreme Court will "protect our Constitution" today and "for many generations of Americans to come." Trump also highlighted that Gorsuch's confirmation came in the first 100 days of his presidency.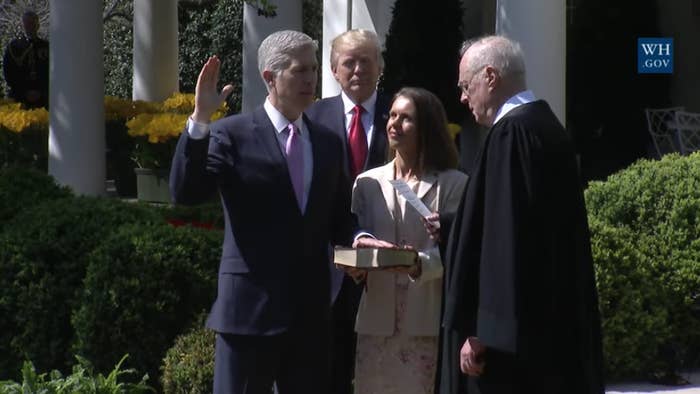 Gorsuch's nomination and confirmation followed the Senate Republican leadership's unwillingness to consider President Obama's 2016 nominee for the job, Judge Merrick Garland.
Trump's nominee faced his own difficulty, the subject of a successful filibuster by Senate Democrats on April 6. In response, Senate Majority Leader Mitch McConnell — backed by his fellow Republicans — changed the rules of the Senate so that only a simple majority is required to close debate on Supreme Court nominees.
Now that Gorsuch is on the Supreme Court, he will not have the slow summer months to get up to speed. Instead, he will be able to attend his first conference — the private meeting when the justices consider petitions asking the court to hear cases — on Thursday. He will be able to sit for his first arguments next Monday, April 17.