Mary Cheney Talks About Her Family's Personal Stake In Marriage Equality Fight
"This is an incredibly personal issue for me, one that couldn't possibly hit closer to home," Mary Cheney, the daughter of the former vice president, says in opposing a proposed amendment to ban same-sex couples in Indiana from marrying. Her sister, Liz Cheney, is running for Senate in Wyoming and opposes marriage equality.
WASHINGTON — Mary Cheney, the daughter of former Vice President Dick Cheney, went to Indiana this week to make the conservative case for marriage equality as the state debates a proposed amendment to ban same-sex couples from marrying.
Many political, business and education leaders in the state oppose the proposal, HJR-6, and Cheney's visit was a part of the effort against the measure.
"I believe that all families — regardless of how they look or how they're made or where they live — that all families deserve to be treated with the same respect, dignity, legal rights and recognitions as every other," she said in video from the event provided by Freedom Indiana. "I firmly believe that, and I certainly hope that our country will continue to move towards that goal."
The Cheney family has recently been in the news for their own internal differences on the subject. Liz Cheney, the former vice president's elder daughter, is challenging Wyoming Sen. Mike Enzi in the state's 2014 Republican primary, and in so doing has stated her opposition to marriage equality — a move that prompted Mary Cheney's wife, Heather Poe, to criticize Liz Cheney on Facebook.
Mary Cheney's involvement in the Freedom Indiana campaign, in the midst of this family fight over the issue, is one of the first times she has become involved in a political campaign surrounding marriage equality.
She noted that — unlike many states where the movement is toward marriage equality — the proposed Indiana amendment would be a move in the other direction.
Of Freedom Indiana's campaign against the proposal, which must be passed by the legislature for a second time before being put to the people for a vote, Mary Cheney said, "While certainly a step in the right direction, defeating HJR-6 won't get us there. Not even close."
Freedom Indiana campaign manager Megan Robertson said in a statement, "We were honored to have Ms. Cheney visit Indiana and voice her opposition to HJR-6, the proposed amendment that would permanently destroy legal protections for so many Hoosier families."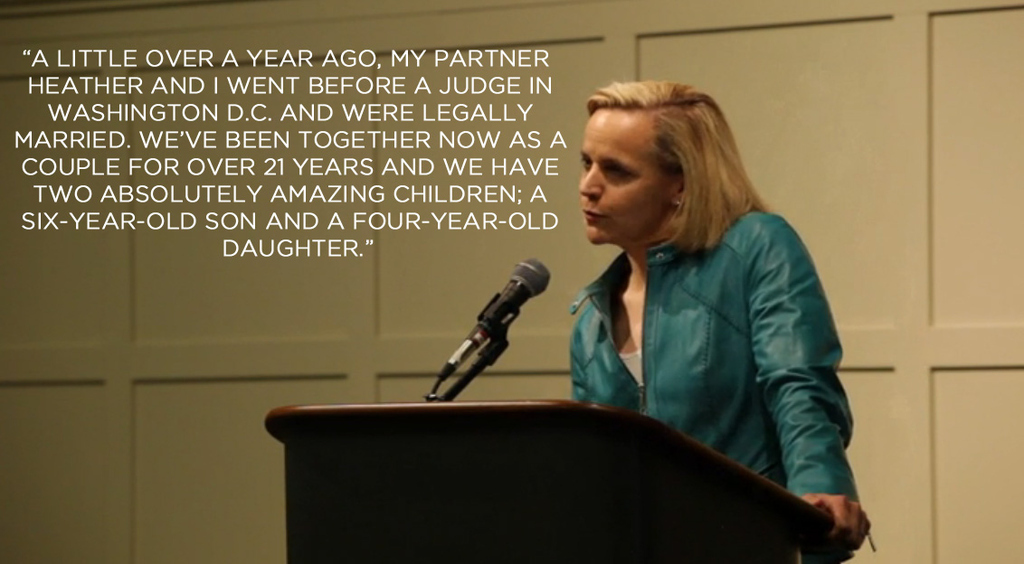 Watch Mary Cheney's full comments: