Married Same-Sex Couples In Utah Sue For State Recognition
"[E]ven one day more of our marriage not being recognized as legal is too much," the lead plaintiff in the case, JoNell Evans, says. The ACLU filed a lawsuit Tuesday, asking a state court to order Utah officials to recognize the roughly 1,300 marriages entered into by same-sex couples there.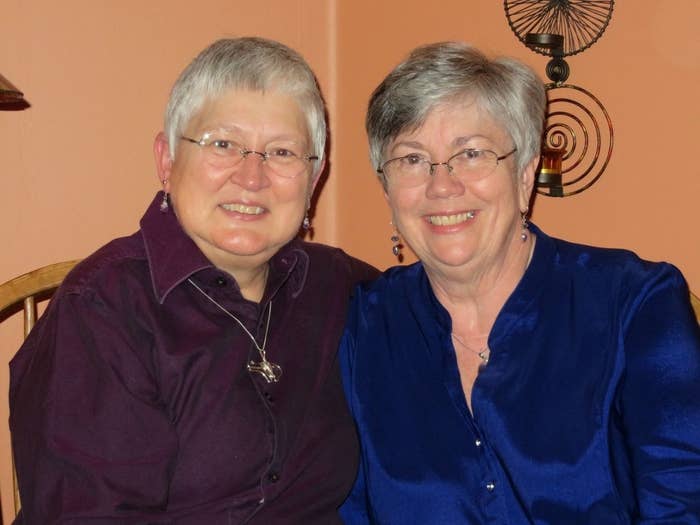 WASHINGTON — Four same-sex couples married in Utah during the brief period when the state allowed such marriages are suing Utah Gov. Gary Herbert and Attorney General Sean Reyes, asking a state court to require the state government to recognize the roughly 1,300 marriages entered into during that time.
"We're fairly private people, and we try to live our lives quietly," JoNell Evans — who, along with her wife, Stacia Ireland, are the lead plaintiffs in the case — told BuzzFeed Monday night. "We enjoy our quiet little home life, but we felt so strongly that this was something that we needed to do because even one day more of our marriage not being recognized as legal is too much. And you never know what tomorrow will bring."
They speak from experience: Ireland's history of heart problems are front and center in their minds as the marriage they entered into on Dec. 20, 2013, hangs in limbo in the state.
Although the state recognized the marriages of same-sex couples following the Dec. 20, 2013, court ruling in Kitchen v. Herbert striking down the state's ban on such marriages, Herbert announced that Utah would not recognize the marriages during the appeal of the case following the Supreme Court's order putting a stay on the trial court judgment during the appeal.
For Evans and Ireland, that is not an acceptable answer.
In the lawsuit, filed Tuesday, the ACLU argued, "By properly availing themselves of their legal right to marry and completing the necessary steps to solemnize their marriages, Plaintiffs – like any legally married different-sex couples – acquired certain property and liberty interests under Utah law attendant upon and arising from their marriages."
The ACLU goes on to argue that Utah's recognition of those marriages "do not depend on the ultimate outcome of the Kitchen litigation in federal court" because, they argue, the Utah Constitution's due process guarantees prohibit Utah from "interfer[ing]" with the state-related liberty and property rights relating to their marriages, which is of particular concern because of Ireland's health problems.
"We had a commitment ceremony in 2007 in front of several friends, but it didn't have that legal component to it," Evans said. "As we got older, that became more and more important to us, as we had health problems that occurred in 2010 when Stacia had a heart attack."
Referencing the legal documents that same-sex couples have been told by lawyers to prepare in the absence of legal marriage rights, Evans said, "Luckily, we already had all of our paperwork drawn up, including the medical power of attorney. So, we rushed to the hospital, but in the panic to go there, we had to make sure we grabbed that paperwork."
Ireland emphasized that, noting, "We had to be in the presence of mind to think about taking it with us because we knew that there was the chance that if something serious did happen to me that JoNell might not be able to make decisions for me."
"And we've known people that that has happened to," Evans said. "While I was never excluded, I was not treated fully as a spouse would be. I think people tried to be respectful within the limits of the rules of the hospital."
So, marriage was key for them, they said, although Evans acknowledged, "We were getting to the point where we thought in our lifetime in Utah, we wouldn't see it happen."
But, it did on Dec. 20, 2013, when U.S. District Judge Robert Shelby struck down the marriage amendment, Amendment 3, and refused to put his ruling on hold while the state sought to appeal his decision — leading couples to begin marrying in Salt Lake County immediately.
"To get that message come across that immediately it was possible for us, it didn't feel real at first," Evans said. The couple heard that the first couple already had married and so they rushed over to the Salt Lake County Clerk's Office and got their marriage license. "And, in fact, Salt Lake Mayor Ralph Becker married us that night," she added.
Joy was the theme of the day, they said. "Every time, you would hear people just cheer out in the hallway, and you knew someone else just got married, 'Yay!' And five minutes later there'd be another big cheer," Ireland said.
"We were just on cloud nine for a week. And then Stacia had severe chest pain on New Year's Day, and we didn't have to grab our legal papers," Evans said.
"As soon as we got there, they asked me who JoNell was, and I said, 'She's my wife," Ireland said. "Immediately, [they] let her sign papers. They took me back, but they allowed her to sign papers, talk to her, any of that. It was a very different feeling from the first time."
"The change was just overwhelming to us almost," Evans said, pausing for the first time in the interview. "I don't know the right word for it. We were almost stunned by how easily they accepted that we were married. And, I think it's because people really have changed over the last 10 years since Amendment 3 was passed. People don't want to stand in the way of us taking care of each other and loving each other, and now the law, at that point, gave them the legal right to just accept our marriage."
Then, however, when the Supreme Court issued the stay, halting Shelby's order during the appeal, Gov. Herbert said the state would not recognize the marriages of same-sex couples married during the period between Shelby's order and the Supreme Court's stay.
The day after Herbert's announcement, Ireland said, she had to go in for another medical procedure, "So we were thrown back into that world of uncertainty, and we debated, 'Do we need to bring these documents with us again?' Just in case. It was not a dangerous procedure, but any time there's a medical procedure, there's always the slight chance that something could go wrong."
They chose not to bring the documents, Evans noted, saying, "It was more an act of defiance. I said, 'No, I'm not going to bring our wills and other documents. I refuse to.' Because as far as I'm concerned, our marriage is valid."
Now, through the ACLU's suit, they hope the state will be forced to treat them that way.
Update at 5:40 p.m.: Gov. Gary Herbert responded to the lawsuit through spokesman Marty Carpenter, who said in a statement: "Governor Herbert has said throughout this process that his responsibility is to follow the law. That is exactly what the administration is doing and we respect the rights of those who disagree to take their grievances before a judge."